UW News
Science
---
May 5, 2021
Ice core data from Greenland shows why air pollution is dropping more slowly than sulfur emissions reductions. As cloud droplets become less acidic, the chemical reaction that turns sulfur dioxide into sulfate aerosol gets more efficient. The new results can improve the models that project air quality and climate change.
---
The newest experiment at CERN, the European Organization for Nuclear Research, is now in place at the Large Hadron Collider in Geneva. FASER, or Forward Search Experiment, was approved by CERN's research board in March 2019. Now installed in the LHC tunnel, this experiment, which seeks to understand particles that scientists believe may interact with dark matter, is now undergoing tests before data collection commences next year.
---
May 3, 2021
The U.S. Geological Survey, the University of Washington-based Pacific Northwest Seismic Network, and state emergency managers on Tuesday, May 4, will activate the system that sends earthquake early warnings throughout Washington state. This completes the rollout of ShakeAlert, an automated system that gives people living in Washington, Oregon and California advance warning of incoming earthquakes.
---
A team, which includes researchers from the University of Washington, demonstrated that over the course of three years, a genetically engineered switchgrass could break down an explosive chemical in plots of soil at a military range.
---
April 29, 2021
Five faculty members and one affiliate professor at the University of Washington are among 120 new members and 30 international members elected to the National Academy of Sciences: Anna Karlin, professor of computer science and engineering; Rachel Klevit, professor of biochemistry; Randall LeVeque, professor emeritus of applied mathematics; Julie Theriot, professor of biology; Rachel Wong, professor of biological structure; and Julie Overbaugh, professor at the Fred Hutchinson Cancer Research Center and a UW affiliate professor of microbiology.
---
April 27, 2021
Scientists at the University of Washington, in collaboration with The Nature Conservancy, are raising sunflower sea stars in captivity, with the goal of learning more about this species and exploring eventual reintroduction to the wild, if determined to be advisable.
---
April 21, 2021
When people think of misinformation, they often focus on popular and social media. But in a paper published April 12 in the Proceedings of the National Academy of Science, University of Washington faculty members Jevin West and Carl Bergstrom write that scientific communication — both scientific papers and news articles written about papers — also has the potential to spread misinformation.
---
April 20, 2021
A new study led by UW researchers borrowed image-analysis methods from engineering to spot the minute movements of a stony coral.
---
April 13, 2021
In the Cascadia subduction zone, medium- and large-sized "intraslab" earthquakes, in which the slip happens within the oceanic plate and below the continental plate, will likely produce only a few detectable aftershocks, according to a new study from the University of Washington and the U.S. Geological Survey.
---
April 7, 2021
The first results from the Muon g-2 experiment hosted at Fermi National Accelerator Laboratory show fundamental particles called muons behaving in a way not predicted by the Standard Model of particle physics. These results confirm an earlier experiment of the same name performed at Brookhaven National Laboratory. Combined, the two results show strong evidence that our best theoretical model of the subatomic world is incomplete. One potential explanation would be the existence of undiscovered particles or forces.
---
March 31, 2021
As carbon dioxide continues to rise, multiple changes in the leaves of tropical plants may help these ecosystems perform better under climate change than previous studies had suggested.
---
March 25, 2021
Scientists from the University of Washington are testing the viability of making maple syrup in the Pacific Northwest. Long associated with Canada or Vermont, this sweet forest product that has graced many a breakfast table may be part of this region's future.
---
March 22, 2021
Lightning strikes in the Arctic tripled from 2010 to 2020, a finding University of Washington researchers attribute to rising temperatures due to human-caused climate change. The results, researchers say, suggest Arctic residents in northern Russia, Canada, Europe and Alaska need to prepare for the danger of more frequent lightning strikes.
---
March 18, 2021
Thanks to 20 years of observations from thousands of citizen scientists, University of Washington researchers have discovered distinct patterns in the mass strandings of by-the-wind sailor jellies. Specifically, large strandings happened simultaneously from the northwest tip of Washington south to the Mendocino coast in California, and in years when winters were warmer than usual.
---
March 17, 2021
The future of an equitable and sustainable global ocean, or "Blue Economy," depends on more than natural or technological resources. A new study finds that socioeconomic and governance conditions such as national stability, corruption and human rights greatly affect different regions' ability to achieve a Blue Economy — one that is socially equitable, environmentally sustainable and economically viable.
---
March 12, 2021
In a study published Feb. 15 in Nature Chemistry, a research team led by Munira Khalil, professor and chair of chemistry at the University of Washington, has captured the rapid motions of solvent molecules that impact light-driven electron transfer in a molecular complex for the first time. This  information could help researchers learn how to control energy flow in molecules, potentially leading to more efficient clean energy sources.
---
March 2, 2021
A new method to rate tornado warnings shows that nighttime tornadoes in the U.S. have a lower probability of detection and a higher false-alarm rate than other events. Summertime tornadoes, occurring in June, July or August, also are more likely to evade warning.
---
February 25, 2021
Writing in the New England Journal of Medicine that they "do not believe that ignoring race will reduce health disparities" but rather that "such an approach is a form of naive 'color blindness' that is more likely to perpetuate and potentially exacerbate disparities," five Black geneticists set out to explain the pitfalls of leaving race…
---
February 24, 2021
The Arctic Ocean's Beaufort Sea has increased its freshwater content by 40% over the past two decades. When conditions change this freshwater will travel to the Labrador Sea off Canada, rather than through the wider marine passageways that connect to seas in Northern Europe. This has implications for local marine environments and global ocean circulation.
---
A new study published Feb. 24 in the journal Royal Society Open Science documents the earliest-known fossil evidence of primates. These creatures lived less than 150,000 years after the Cretaceous-Paleogene mass extinction event that killed off non-avian dinosaurs and saw the rise of mammals.
---
February 23, 2021
To understand how Puget Sound has changed, we first must understand how it used to be. But unlike most major estuaries in the U.S., long-term monitoring of Puget Sound fish populations did not exist until 1990. Now researchers have discovered an unconventional method to help fill in gaps in the data: old vessel logbooks.
---
February 19, 2021
A team of engineers, including one at the University of Washington, has developed a technique that allows for the precise placement of molecules formed from folded DNA in not only a specific location but also in a specific orientation
---
After more than 15 years serving as Vice Provost for Research, Mary Lidstrom will step down from her position on Aug. 31, 2021, with plans to return full time to the faculty, concentrate on her research, and establish mentoring and diversity, equity and inclusion programs.
---
February 18, 2021
The Polymer Physics Prize from the American Physical Society and a dissertation award from the Society for American Archaeology.
---
February 17, 2021
After years in development, an earthquake early warning system known as ShakeAlert is on the cusp of being released in Oregon and Washington. Harold Tobin, director of the Pacific Northwest Seismic Network, answers questions about the coming rollout.
---
February 10, 2021
How's the snow on Northwest mountains this year? Overall a little deeper than normal, but it depends where you look. A new collaboration between the University of Washington, the Northwest Avalanche Center lets you see how the current snow depth compares to past years for nine sites in Washington and two in Oregon.
---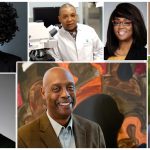 Seven University of Washington scientists are included in Cell Mentor's list of 1,000 inspiring Black scientists, published in December 2020. Cell Mentor is a collaborative resource between Cell Press and Cell Signaling Technology.
---
February 9, 2021
Even if all countries meet their Paris Agreement goals for reducing emissions, Earth has only a 5% chance of staying below 2 C warming this century, a previous study showed. But reductions about 80% more ambitious, or an average of 1.8% drop in emissions per year rather than 1% per year, would be enough to meet the Paris Agreement's temperature goal.
---
February 8, 2021
Morales has authored a seven-part series for Ars Technica on quantum mechanics for a general audience. One article in the series is rolling out each week from Jan. 10 to Feb. 21. Morales sat down with UW News to talk about the series, quantum mechanics and what he hopes the public can learn about this seemingly odd and possibly intimidating realm of science.
---
February 4, 2021
Human-caused warming is responsible for increasing the risk of a glacial outburst flood from Peru's Lake Palcacocha, threatening the city below. This study is the first to directly link climate change with the risk of flooding from glacial lakes, which are growing in number and size worldwide.
---
February 1, 2021
Single-celled organisms in the open ocean use a diverse array of genetic tools to detect sunlight, even in tiny amounts, and respond. The discovery of these new genetic "light switches" could also aid in the field of optogenetics, in which a cell's function can be controlled with light exposure.
---
January 27, 2021
A new University of Washington paper quantifies the tradeoffs between hydroelectric generation capacity and the impacts on river connectivity for thousands of current and projected future dams across Brazil. The findings confirm that small hydropower plants are far more responsible for river fragmentation than their larger counterparts due to their prevalence and distribution.
---
Sleep cycles in people oscillate during the 29.5-day lunar cycle: In the days leading up to a full moon, people go to sleep later in the evening and sleep for shorter periods of time. The team, led by researchers at the University of Washington, observed these variations in both the time of sleep onset and the duration of sleep in urban and rural settings — from Indigenous communities in northern Argentina to college students in Seattle, a city of more than 750,000. They saw the oscillations regardless of an individual's access to electricity, though the variations are less pronounced in individuals living in urban environments.
---
A University of Washington-led team has revisited and comprehensively reinterpreted the radio telescope observations underlying a widely reported 2019 claim that phosphine gas was present in the atmosphere of Venus. In a paper accepted to the Astrophysical Journal, they report that sulfur dioxide, a common gas in the atmosphere of Venus, is likely what was detected instead of phosphine.
---
January 22, 2021
A study accepted by the Planetary Science Journal shows that the planets of the TRAPPIST-1 system share similar densities. That could mean they all contain roughly the same ratio of materials thought to be common to rocky planets, such as iron, oxygen, magnesium and silicon — though they appear to differ notably from Earth.
---
January 18, 2021
Researchers at the University of Washington have developed a technique to modify naturally occurring biological polymers with protein-based biochemical messages that affect cell behavior. Their approach, published the week of Jan. 18 in the Proceedings of the National Academy of Sciences, uses a near-infrared laser to trigger chemical adhesion of protein messages to a scaffold made from biological polymers such as collagen, a connective tissue found throughout our bodies.
---
January 14, 2021
Astronomers have catalogued 126 years of changes to a binary star system called HS Hydrae. Analyzing observations from astro-photographic plates in the late 1800s to TESS observations in 2019, they show that the two stars in HS Hydrae began to eclipse each other starting around a century ago, peaking in the 1960s. The degree of eclipsing then plummeted over the course of just a half century, and will cease around February 2021.
---
January 12, 2021
Using physical therapy combined with a noninvasive method of stimulating nerve cells in the spinal cord, University of Washington researchers helped six Seattle area participants regain some hand and arm mobility.
---
January 11, 2021
Fish populations tend to do better in places where rigorous fisheries management practices are used, and the more measures employed, the better for fish populations and food production, according to a new paper published Jan. 11 in Nature Sustainability.
---
December 23, 2020
A study co-authored by UW's Sunny Jardine finds that farmed Atlantic salmon, often labeled and sold as Pacific salmon or rainbow trout, is the second-most-consumed mislabeled seafood product in the U.S. Although not the most frequently mislabeled seafood, salmon's popularity means it has one of the biggest environmental impacts.
---
Next page