UW News
News releases
---
June 18, 2019
The first book documenting all of the known species of fishes that live in the Salish Sea is now available.
---
A new article published by researchers from University of Puget Sound and University of Washington reports that, based on analysis of public wastewater samples in at least one Western Washington population center, cannabis use both increased and substantially shifted from the illicit market since retail sales began in 2014.
---
Of the many papers and presentations scheduled for AbSciCon2019, the conference on astrobiology and the search for life in space happening in Bellevue the week of June 24, the UW's Dominic Sivitilli's is perhaps unique — he'll discuss his research into how octopuses "think."
---
June 13, 2019
The burgeoning field of personal genetics appeals to people who want to learn more about themselves, their family and their propensity for diseases. More and more consumers are using services like 23andMe to learn about their genetic blueprint.
---
June 12, 2019
This week in the arts, partake in the Design Show reception at the Jacob Lawrence Gallery or the MFA + MDes Thesis Exhibition at the Henry, attend a DMA recital, and more! 2019 School of Art + Art History + Design Graduation Exhibitions Each year we celebrate graduating Art and Design undergraduate and graduate students…
---
June 11, 2019
UW researchers have figured out how to take a person from a 2D photo or a work of art and make them run, walk or jump out of the frame. The system also allows users to view the animation in three dimensions using augmented reality tools.
---
June 10, 2019
A record 5,900 graduates, along with 50,000-plus family members, friends, faculty and other observers, are expected to attend the 144th University of Washington commencement ceremonies at 12:30 p.m. Saturday, June 15, at Husky Stadium.
---
The Pacific Northwest English Study, headed by UW linguist Alicia Beckford Wassink, is about to begin a new, three-year research project listening to voices from throughout the region and is looking for participants.
---
Why did a giant hole appear in the sea ice off Antarctica in 2016 and 2017, after decades of more typical sea ice cover? Years of Southern Ocean data have explained the phenomenon, helping oceanographers to better predict these features and study their role in global ocean cycles.
---
June 6, 2019
Uncovering the "hidden history" of two eastern Tennessee communities is the goal of Off the Map, a project with high school students led by Katie Headrick Taylor, a University of Washington assistant professor of education.
---
June 5, 2019
The planet will warm by about 3 degrees Celsius (5.4 degrees Fahrenheit) above pre-industrial levels by the end of the century if the U.S. and other nations meet only their current commitments under the Paris climate agreement to reduce emissions of heat-trapping gases. According to a paper by U.S. and U.K. scientists published in Science Advances today, accelerating ambition to reduce global warming emissions to meet the Paris Agreement's goal of limiting temperature rise to well below 2 degrees Celsius could prevent thousands of extreme heat-related deaths in cities across the U.S.
---
June 4, 2019
This week in the arts, partake in the #HEREproject  – a celebratory interactive art installation honoring places around campus that have defined our #HuskyExperience and set us on our path, attend one of the 2019 School of Art + Art History + Design Graduation Exhibitions, attend a performance by UW Symphony and Choirs, and more! ASUW…
---
An ample buffet of freshwater food, brought on by climate change, is altering the life history of one of the world's most important salmon species.
---
June 3, 2019
Two films by UW faculty members — business professor Jeff Shulman and English professor David Shields — will have screenings in Seattle in coming days — both with strong connections to the city.
---
May 30, 2019
Sixteen UW students and alumni were awarded Fulbright U.S. Student Program scholarships for the 2019-20 academic year, and one has been named an alternate, joining about 1,900 students and recent graduates from around the country to study and teach abroad this coming year.
---
May 29, 2019
This week in the arts, visit one of the School of Art + Art History + Design exhibitions, attend the premier of "Lynch: A History'" – an official selection in SIFF's documentary competition, see "Nina Simone: Four Women" at the Seattle Rep., and more! You Are Not Invited: A Critical Survey of Seattle Art History…
---
A collaborative group led by the University of Washington has released a set of research papers, fact sheets and modeling tools to help agencies incorporate traditional knowledge and human dimensions into Pacific herring management.
---
May 24, 2019
Recent notable books by University of Washington faculty explore mindful international travel, men seeking work as day laborers, and activist teachers.
---
University of Washington researchers used the paper folding art of origami to develop a novel solution to help reduce the forces associated with impact — like in car crashes, football helmets, landing spacecraft and more.
---
May 23, 2019
In a paper published May 23 in Science, a team of international researchers from Simon Fraser University, University of Washington and other institutions reveals that the iconic abundance of fishes on reefs is fueled by an unlikely source: tiny, bottom-dwelling reef fishes.
---
Chemical signatures imprinted on tiny stones that form inside the ears of fish show that two of Alaska's most productive salmon populations, and the fisheries they support, depend on the entire watershed.
---
May 21, 2019
This week in the arts, stop by one of the School of Art + Art History + Design's Graduation Exhibitions, see The Learned Ladies performed in the United States' first Theatre in the Round, attend IMPFest XI,  featuring UW Jazz Studies faculty, students and seasoned professionals of international renown, and more! 2019 School of Art…
---
Sometimes when science gets stuck, art can come to the rescue. Such is the case, a new study shows, with the UW Design Help Desk, which guides faculty, students and staff in improving the more artistic aspects of presenting research or reports — figures, diagrams, posters and such.
---
May 20, 2019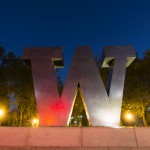 In a paper published May 20 in the journal Nature Materials, a team of researchers from the University of Washington unveiled a new strategy to keep proteins intact and functional in synthetic biomaterials for tissue engineering. Their approach modifies proteins at a specific point so that they can be chemically tethered to the scaffold using light. Since the tether can also be cut by laser light, this method can create evolving patterns of signal proteins throughout a biomaterial scaffold to grow tissues made up of different types of cells.
---
May 16, 2019
University of Washington researchers have defined for the first time what children mean when they say technology is "creepy."
---
May 15, 2019
This week in the arts, partake in an audio augmented reality (AR) experience with hundreds of others on Red Square, explore the newly redesigned ARTSUW website, attend JACK Quartet, and more! Inspiring arts exploration: ArtsUW website redesigned with students in mind "We want the arts to be part of the DNA of every student's experience." That…
---
Researchers at the UW have created a new smartphone app that can detect fluid behind the eardrum by simply using a piece of paper and the phone's microphone and speaker.
---
May 14, 2019
The University of Washington today announced a new $5 million initiative to strengthen recruitment and support of Ph.D. students. Mark Richards, the university's provost and executive vice president for academic affairs, introduced the effort during the Provost Town Hall this afternoon.
---
May 13, 2019
Hala Annabi, associate professor in the UW Information School, is creator of the new "Autism @ Work Playbook," a resource to guide organizations toward creating well-supported employment opportunities for individuals on the autism spectrum.
---
An article by University of Washington sociology professor Alexes Harris focuses on the role of the private sector in collecting court-imposed fines and fees.
---
May 10, 2019
Early results from a faculty-led survey on the University of Washington's three campus estimate the extent of food and housing insecurity among students.
---
May 9, 2019
The University of Washington and its Clean Energy Institute named Kevin Klustner executive director of the Center for Advanced Materials and Clean Energy Technologies, or CAMCET. When complete, CAMCET will be a 340,000-square-foot building that will bring together UW scientists and engineers with industry, civic and nonprofit partners to accelerate clean energy solutions for a healthy planet.
---
May 8, 2019
Just over one-third of the world's 246 longest rivers remain free-flowing, according to a new study published May 8 in Nature. Dams and reservoirs are drastically reducing the diverse benefits that healthy rivers provide to people and nature across the globe.
---
This week in the arts, examine up-close a selection of Peruvian textiles from the Henry's collection, attend a lecture about Nordic innovation at the Nordic Museum, go to a graduation exhibition at the Jacob Lawrence Gallery, and more! From the Collection: Peruvian Textiles May 9, 6:30 pm | Henry Art Gallery Quipus, knotted strings used for…
---
May 3, 2019
Researchers at the University of Washington, the U.S. Naval Research Laboratory and the Pacific Northwest National Laboratory discovered that they can use extremely high pressure and temperature to introduce other elements into nanodiamonds, making them potentially useful in cell and tissue imaging, as well as quantum computing.
---
May 2, 2019
In a paper published May 2 in Nature Communications, a University of Washington team reports that two major forces have shaped bat skulls over their evolutionary history — echolocation and diet — generating a huge diversity of skull shapes across 1,300 bat species today.
---
May 1, 2019
In oxygen-poor parts of the ocean, some microorganisms survive by breathing arsenic. This holdover from the ancient Earth was not thought to still exist in the open ocean.
---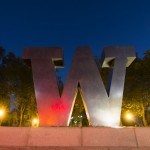 Americans appear more willing to support a pathway to citizenship for undocumented immigrants if that path includes serving in the United States military, according to new research from UW political scientists Sophia Jordán Wallace and Geoffrey Wallace.
---
Lifelong chemical records stored in the canine teeth of an elusive group of harbor seals show that the seals remain in freshwater their entire lives and are likely a distinct population from their relatives in the ocean. Their home territory, Iliamna Lake, is in the heart of the proposed Pebble Mine project.
---
April 30, 2019
A new study published April 30 in the Proceedings of the National Academy of Sciences identified three factors critical in the rise of mammal communities since they first emerged during the Age of Dinosaurs: the rise of flowering plants; the evolution of tribosphenic molars in mammals; and the extinction of non-avian dinosaurs, which reduced competition between mammals and other vertebrates in terrestrial ecosystems.
---
Previous page
Next page