UW News
Honors and awards
---
July 19, 2018
The University of Washington's School of Oceanography is ranked No. 1 in the world on the Global Ranking of Academic Subjects list for 2018. The ranking, released this week, was conducted by researchers at the Center for World-Class Universities of Shanghai Jiao Tong University.
---
July 17, 2018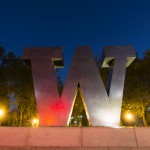 Fourteen scientists, physicians and engineers from the University of Washington have been elected this year to the Washington State Academy of Sciences.
---
July 16, 2018
The University of Washington has been recognized as a "Great College to Work For" by The Chronicle of Higher Education for the fifth consecutive year. The UW received accolades in five categories.
---
June 28, 2018
Daniel Schwartz, a University of Washington professor of chemical engineering and director of the Clean Energy Institute, received the Presidential Award for Excellence in Science, Mathematics and Engineering Mentoring (PAESMEM) from the White House Office of Science and Technology Policy and the National Science Foundation this week.
---
June 6, 2018
A team from the University of Washington's GIX program are competing to win the $1 million Anu & Naveen Jain Women's Safety XPRIZE.
---
May 29, 2018
Two renowned global rankings released this week place the University of Washington fourth among U.S. public institutions.
---
May 15, 2018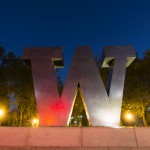 Karen Goldberg, an affiliate professor of chemistry at the University of Washington, has been elected to the National Academy of Sciences.
---
May 1, 2018
Victoria Meadows, University of Washington astrobiologist, professor of astronomy and leader of NASA's UW-based Virtual Planetary Laboratory, has been named recipient of the 2018 Frank Drake Award from the SETI Institute. She is the first woman to receive the award.
---
April 27, 2018
The University of Washington this week ranked No. 5 on the Forbes list of Best Value Colleges 2018. The UW rose from 23rd place in the 2016 ranking.
---
April 24, 2018
Seven University of Washington researchers have been selected as Washington Research Foundation fellows. This fellowship funds 10 researchers who work in STEM fields to perform mentored research projects over the next three years.
---
April 12, 2018
The National Science Foundation today named Kristina Olson, University of Washington associate professor of psychology, winner of this year's Alan T. Waterman Award. The Waterman Award is the U.S. government's highest honor for an early career scientist or engineer, recognizing an outstanding scientist under the age of 40 or within 10 years of receiving…
---
April 10, 2018
A University of Washington professor has been awarded the prestigious Albert Schweitzer Medal for his work for developing noninvasive tools for monitoring human impacts on wildlife. Samuel K. Wasser was honored in a ceremony in Washington, D.C., Tuesday evening. The award was presented by Washington Sen. Maria Cantwell.
---
April 6, 2018
A University of Washington professor is among the 173 scholars, artists and scientists from the U.S. and Canada recognized this year by the Guggenheim Foundation. Christian Lee Novetzke, associate director, Henry M. Jackson School of International Studies, and director, Center for Global Studies, was among the winners chosen from more than 3,000 applicants.
---
April 3, 2018
Three University of Washington undergraduates are among 211 students nationwide named as 2018 Goldwater Scholars. One UW student received honorable mention.
---
March 9, 2018
UW music professor Huck Hodge talks about the Charles Ives Living Award, bestowed on him by the American Academy of Arts and Letters.
---
March 8, 2018
Megan Ming Francis, UW associate professor of political science, has been named a fellow with the Thurgood Marshall Institute. The institute is a multidisciplinary research and advocacy policy center within the NAACP's Legal Defense and Educational Fund.
---
March 2, 2018
Charles Simic, one of America's most celebrated poets, will give the 2018 Theodore Roethke Memorial Poetry Reading on April 12. Simic will be the 54th poet to appear in the series since its inception in 1964.
---
February 21, 2018
Quintard Taylor, UW professor emeritus of history and recipient of a lifetime achievement honor from Washington State Historical Society, discusses his work and this unusual moment in American history.
---
The Peace Corps today announced that University of Washington ranked No. 2 among large schools on the agency's 2018 Top Volunteer-Producing Colleges and Universities list. There are 74 UW alumni currently volunteering worldwide.
---
February 20, 2018
The University of Washington ranked second in the country in producing Fulbright Scholars. Fulbrights were awarded to 11 researchers at UW's Seattle campus, and to three faculty members at UW Bothell.
---
February 15, 2018
Five faculty members at the University of Washington have been awarded early-career fellowships from the Alfred P. Sloan Foundation. The new Sloan Fellows, announced Feb. 15, include Maya Cakmak, assistant professor of computer science and engineering; Jiun-Haw Chu, assistant professor of clean energy and physics; Arka Majumdar, assistant professor of electrical engineering and physics; Jessica Werk, assistant professor of astronomy; and Chelsea Wood, assistant professor of aquatic and fishery sciences.
---
January 3, 2018
An essay by Laurie Marhoefer, UW assistant professor of history, has been named the most memorable of the year 2017 by the editors and readers of The Conversation US.
---
December 22, 2017
The University of Washington is ranked No. 7 on Kiplinger's 300 Best College Values for 2018 among public universities, released Dec. 22.
---
December 11, 2017
Bloomberg News columnist Noah Smith has listed a paper by UW economist Fabio Ghironi as among "must-read" papers and books on economics in the year 2017.
---
December 3, 2017
Kim Nasmyth, a professor of biochemistry at the University of Oxford and former postdoctoral researcher at the University of Washington, is one of five recipients of the 2018 Breakthrough Prize in Life Sciences. Nasmyth and other prize recipients were honored by the Breakthrough Prize Foundation at a ceremony December 3 at NASA's Ames Research Center in Mountain View, California.
---
November 28, 2017
A team of University of Washington students and faculty has won Amazon's inaugural Alexa Prize, a university competition designed to produce an artificial intelligence agent capable of coherent and sustained conversation with humans.
---
Two faculty members in the University of Washington College of Engineering have been elected as 2018 fellows of the Institute of Electrical and Electronics Engineers. Tom Furness, professor of industrial and systems engineering, was honored for "leadership in virtual and augmented reality" and Siddhartha "Sidd" Srinivasa, professor in the Paul G. Allen School of Computer Science & Engineering, was recognized for "contributions to robotic manipulation and human-robot interaction."
---
November 22, 2017
Eight University of Washington researchers are among the 396 new fellows of the American Association for the Advancement of Science, announced this week.
---
Edwina Uehara, dean of the University of Washington School of Social Work, and social work professor Karen Fredriksen Goldsen have been named fellows of the American Academy of Social Work and Social Welfare. The two are among 14 new fellows to be inducted by the organization, which honors scholarship, leadership and high-impact work in the…
---
November 2, 2017
Three federal grants announced this week will provide total funding of $1.1 million to Washington Sea Grant, based at the University of Washington's College of the Environment, for research that will sustainably further shellfish and finfish aquaculture in the state
---
October 25, 2017
The University of Washington climbed to the No. 10 spot on the U.S. News & World Report's Best Global Universities rankings, tied with Johns Hopkins University and Yale University. The UW is now second among American public institutions — an improvement from last year's No. 3 slot. "I am proud to see the University of…
---
October 16, 2017
The University of Washington is No. 25 in the world — No. XX among U.S. public institutions — according to a new list released Monday by the Center for World University Rankings.
---
October 6, 2017
Three University of Washington faculty members are among those honored with an NIH High-Risk, High-Reward Research grant, which fund exceptionally creative scientists proposing to use highly innovative approaches to tackle major challenges in biomedical research.
---
October 2, 2017
The Nobel Assembly at the Karolinska Institute has awarded the 2017 Nobel Prize in Physiology or Medicine jointly to Jeffrey C. Hall — an alumnus of the University of Washington — along with Michael Rosbash and Michael W. Young "for their discoveries of molecular mechanisms controlling the circadian rhythm," according to an announcement Monday morning.
---
September 28, 2017
The University of Washington is listed at No. 7 on the Reuters Top 100: The World's Most Innovative Universities, released Wednesday.
---
September 6, 2017
For the second consecutive year, the University of Washington has been ranked No. 25 on the Times Higher Education world rankings for 2018, released Tuesday. It is tied with the London School of Economics and Political Science.
---
August 23, 2017
The University of Washington is ranked No. 13 in the world — No. 3 among public universities — on the 2017 Academic Ranking of World Universities, released this month.
---
August 16, 2017
MIT Technology Review has named Franziska Roesner, University of Washington professor of computer science and engineering, one of 35 "Innovators Under 35" for 2017.
---
August 1, 2017
William Streitberger, UW professor of English, has been honored for his book "The Masters of Revels and Elizabeth I's Court Theatre." Decades in the making, the book was published in 2016 by Oxford University Press.
---
July 31, 2017
The University of Washington has been recognized by three separate publications in rankings focused on access for low-income students, affordability and value.
The New York Times' College Access Index ranked the UW 18th in the nation – ninth among public institutions – in its assessment of "which top universities are doing the most to promote the American Dream."
---
Previous page
Next page