UW News
Education
---
February 19, 2019
This video takes a look at the UW's revenue and operating budget from the 2018-2019 academic year. We explain where the money comes from and how it is spent.
---
January 30, 2019
UW News talks with Renée Cheng, new dean of the UW College of Built Environments, about her background and plans for the college. Cheng joined the UW on Jan. 1.
---
January 28, 2019
The Stroum Center for Jewish Studies, in the UW Jackson School of International Studies, was well represented at the 50th annual conference of the Association for Jewish Studies Dec. 16-18 in Boston.
---
January 22, 2019
Recent notable books by University of Washington faculty members explore the importance of Hebrew to modern America, remember the 1919 Seattle General Strike and look at issues in education, among other topics. Practical advice for healthy travel, near or far A new book by Dr. Christopher Sanford offers simple, practical recommendations for those traveling…
---
December 12, 2018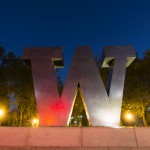 In 2016, Seattle Public Schools pushed back the start times for the district's 18 high schools by 55 minutes, from 7:50 a.m. to 8:45 a.m. And as hoped, teenagers used the extra time to sleep in.
---
November 26, 2018
What is a "book" in the digital age — and what will it become? Amaranth Borsuk, assistant professor in the UW Bothell School of Interdisciplinary Studies, discusses the idea of "the book," from clay tablets and papyrus scrolls to the hyperlinked, multimedia format of the digital age. She has her own new book out on the topic, titled "The Book."
---
A new study from the University of Washington's Institute for Learning & Brain Sciences (I-LABS) shows that parents who learn how and why to speak "parentese" can have a direct impact on their children's vocabulary.
---
November 19, 2018
A timely new University of Washington political science class asks: How do we separate fact from fiction these days? How do we know what is true?
---
November 13, 2018
Ralina Joseph, associate professor of communication, discusses here new book "Postracial Resistance: Black Women, Media, and the Uses of Strategic Ambiguity," published this October by New York University Press.
---
October 25, 2018
In her new book, Kathryn Rogers Merlino, UW associate professor of architecture, argues for the environmental benefit of reusing buildings rather than tearing them down and building anew.
---
October 16, 2018
Today, Britain is not known as a land of camps, but through much of the 20th century — from after World War I to the 1980s —  the country was home to dozens of refugee camps housing thousands of Belgians, Jews, Basques, Poles, Hungarians, Anglo-Egyptians, Ugandan Asians and Vietnamese. As University of Washington history professor…
---
October 12, 2018
In a new UW-authored book, a cartoon robot takes young readers on a School of Oceanography voyage to explore the deep ocean.
---
October 10, 2018
When Rainier Beach High School was proposed to close in 2008, community members rallied around a new vision for the school, which has since nearly doubled its enrollment and introduced a more rigorous curriculum.
---
October 8, 2018
A new book by University of Washington history professor George Behlmer seeks to improve understanding of the British colonial era by "reconsidering the conduct of islanders and the English-speaking strangers who encountered them."
---
September 25, 2018
A UW study found that mindfulness lessons, offered to parents at two early childhood centers, helped adults learn how to manage their emotions and behaviors while supporting their child's development.
---
September 18, 2018
Margaret O'Mara, UW professor of history, explores the impact of a December 1968 computer presentation that came to be called "the mother of all demos" in an essay and podcast from the news website The Conversation.
---
Patrick Dobel, professor emeritus of the UW Evans School of Public Policy & Governance, discusses his new book, "Public Leadership Ethics: A Management Approach."
---
August 28, 2018
An exploration of UW Libraries' Labor Archives of Washington with labor archivist Conor Casey.
---
August 21, 2018
University of Washington researchers argue that further study of why infants persist, and to what end, may shed new light on how they learn and what the future yields.
---
June 14, 2018
The early years are when the brain develops the most, forming neural connections that pave the way for how a child — and the eventual adult — will express feelings, embark on a task, and learn new skills and concepts. Scientists have even theorized that the anatomical structure of neural connections forms the…
---
June 1, 2018
Art and design can amaze, inform, entertain, challenge or even gently baffle the viewer — and the annual thesis exhibition for Master of Fine Arts and Master of Design at the Henry Art Gallery reliably offers a little of each.
---
May 24, 2018
What makes a good artificial reef, for divers, and for marine life? University of Washington landscape architecture students have done designs for a state-funded project to replace the artificial reef at the Redondo Beach dive site. They will present and discuss their work in a public meeting May 30, in Des Moines. The landscape architecture…
---
May 15, 2018
Family-focused science lessons, robotics for young children and touch-based programming for the visually impaired are among the University of Washington research videos featured in the STEM for All Video Showcase, funded by the National Science Foundation. The weeklong online event, in its fourth year, highlights more than 200 projects from universities around the country…
---
May 2, 2018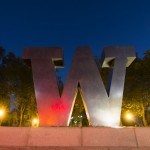 Issues of race and racism permeate American culture and media more than ever. The UW's Center for Communication, Difference and Equity will hold a three-day conference May 10-12 to explore these issues and foster engagement and support among academics.
---
March 28, 2018
As the 50th anniversary approaches of the murder of civil rights leader Dr. Martin Luther King, UW historian Michael Honey reminds us in a new book that economic justice and labor rights were always part of King's progressive message.
---
March 8, 2018
Megan Ming Francis, UW associate professor of political science, has been named a fellow with the Thurgood Marshall Institute. The institute is a multidisciplinary research and advocacy policy center within the NAACP's Legal Defense and Educational Fund.
---
March 5, 2018
Immigrant rights, environmental concerns and racial, class, gender and sexual justice will be the focus of a daylong conference hosted by the Harry Bridges Center for Labor Studies March 10 at the UW.
---
March 2, 2018
Charles Simic, one of America's most celebrated poets, will give the 2018 Theodore Roethke Memorial Poetry Reading on April 12. Simic will be the 54th poet to appear in the series since its inception in 1964.
---
February 22, 2018
When scientists have conducted research in Native American communities, the process and the results have sometimes been controversial. There have been a few well-known cases, such as the 1979 Barrow Alcohol Study, in which researchers examined substance use in the tiny Arctic Circle town and issued findings to the press, before briefing the…
---
February 21, 2018
Quintard Taylor, UW professor emeritus of history and recipient of a lifetime achievement honor from Washington State Historical Society, discusses his work and this unusual moment in American history.
---
January 25, 2018
Dan Berger, associate professor in the UW Bothell School of Interdisciplinary Arts and Sciences, discusses his new book, "Rethinking the American Prison Movement."
---
December 21, 2017
For African-American students, data, alongside societal attitudes and stereotypes, often present a negative picture: a wide academic achievement gap separating them from their white peers. Higher rates of discipline and absenteeism. Discrimination by other students, teachers and the larger community. And just last summer, a study indicated that black girls, from an early…
---
December 7, 2017
UW is among the first schools to announce public commitments through the American Talent Initiative. The UW aims to graduate an additional 125 low- to low-middle-income students per cohort by 2025.
---
The Anthropocene epoch — the proposed name for this time of significant human effect on the planet and its systems — represents a new context in which to study literature. A new book of essays co-edited by Jesse Oak Taylor, UW associate professor of English, argues that literary studies, in turn, also can help us better understand the Anthropocene.
---
December 1, 2017
Three University of Washington astrobiologists will discuss their research and introduce the new 3-D IMAX movie "The Search for Life in Space" at 7 p.m. Wednesday, Dec. 6, in the PACCAR Theater of the Pacific Science Center.
---
November 30, 2017
Ana Gómez-Bravo created a class about Spanish food and culture a few years ago as a way to teach the language, but found no appropriate textbook for the material — so she wrote one herself. Her book "Comida y cultura en el mundo hispánico" — "Food and Culture in the Hispanic World" — was published in October by Equinox Publishing.
---
October 25, 2017
The University of Washington climbed to the No. 10 spot on the U.S. News & World Report's Best Global Universities rankings, tied with Johns Hopkins University and Yale University. The UW is now second among American public institutions — an improvement from last year's No. 3 slot. "I am proud to see the University of…
---
October 16, 2017
The University of Washington is No. 25 in the world — No. XX among U.S. public institutions — according to a new list released Monday by the Center for World University Rankings.
---
October 9, 2017
Eight dance pieces on the themes of inequity and injustice comprise the UW Chamber Dance Company's concert "The Body Politic," Oct. 12-15 at Meany Theater.
---
October 2, 2017
Cities and counties concerned about immigrant rights should closely examine law enforcement's collaboration with federal immigration authorities — and the role a for-profit company has in drafting language used in many law enforcement policy manuals — according to a new report from the UW's Center for Human Rights.
---
Previous page
Next page