UW News
Education
---
July 28, 2021
Soil, particularly in urban areas, can hold contaminants that are unhealthy for people who handle it or eat things grown in the ground. Chemicals left behind by vehicles, air pollution and heavy industry can show up in the ground and in plants. Melanie Malone, assistant professor in UW Bothell's School of Interdisciplinary Arts & Sciences investigates these contaminants and their prevalence in shared garden spaces.
---
July 13, 2021
To understand how the UW's transition to online-only classes affected college students' mental health in the spring of 2020, UW researchers surveyed 147 UW undergraduates over the 2020 spring quarter.
---
June 15, 2021
Prof. Emily Levesque's course "Great Heroes and Discoveries of Astronomy" — part of The Great Courses, a popular online learning platform — takes viewers on a tour of the biggest advancements in one of humanity's oldest sciences and the people behind them.
---
April 29, 2021
Recent honors to UW faculty include a Golden Apple Award for teaching innovation from Seattle television station KCTS and a Leading the Narrative award for community engagement from the Society of Behavioral Medicine.
---
April 6, 2021
University of Washington experts in education and psychology offer tips for families on the return to in-person school after a year of remote learning.
---
March 29, 2021
Juliet Sperling, an assistant professor of art history, talks about Jacob Lawrence and her new course "Art and Seattle: Jacob Lawrence," the first UW course to examine his legacy at the UW and beyond.
---
March 11, 2021
Amid a growing mental health crisis among teens and young adults nationwide, a pilot program teaching mindfulness and coping techniques to students at the University of Washington has helped lower stress and improve emotional well-being.
---
February 5, 2021
Systemic racism has for generations undermined the health of individuals and communities across America, a public health crisis that has made the pandemic even more deadly and destructive for people of color. Recognizing that nurses play a central role in and hold major responsibility for the health of individuals and communities hit hard by historic…
---
January 25, 2021
A talk with Robert Edmonds, professor emeritus in the School of Environmental and Forest Sciences, who has written a new history of UW forestry research and education called "Saving Forest Ecosystems: A Century Plus of Research and Education at the University of Washington."
---
October 20, 2020
The University of Washington moved up two spots to No. 8 on the U.S. News & World Report's Best Global Universities rankings, released Tuesday. The UW maintained its No. 2 ranking among U.S. public institutions.
---
October 1, 2020
Recent honors to UW faculty have come from the American Institute for Aeronautics & Astronautics, the American Society of Composites, the Coalition for Excellence in Maternal and Child Health Epidemiology and the Dance Educators Association of Washington.
---
August 10, 2020
In his latest book, Rick Bonus discusses how Pacific Islander students at the UW used the ocean as a metaphor to create community for themselves and change their university.
---
June 29, 2020
A talk with Eric Madfis of UW Tacoma about his new book "How to Stop School Rampage Killing: Lessons from Averted Mass Shootings and Bombings," published this spring by Palgrave MacMillan.
---
June 23, 2020
When schools closed because of the coronavirus, Real Dawgs Read, a UW program that asks kids to read 30 minutes a day over 30 separate days, was there to fill the gap. During a special session between March 25 and June 5, it experienced its highest level of participation — with 3,240 readers taking part.
---
June 11, 2020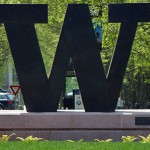 The University of Washington has removed the requirement of standardized test scores, such as the SAT and ACT, for incoming students beyond the fall of 2021. The requirement had already been temporarily removed for the fall 2021 incoming class due to the lack of available testing sites in light of the COVID-19 outbreak.
---
June 10, 2020
Researchers examined 15 years of records of student performance, education and demographics for chemistry courses at the University of Washington. They found that underrepresented students received lower grades in the general chemistry series compared to their peers and, if the grade was sufficiently low, were less likely to continue in the series and more likely to leave STEM. But if underrepresented students completed the first general chemistry course with at least the minimum grade needed to continue in the series, they were more likely than their peers to continue the general chemistry series and complete this major step toward a STEM degree.
---
April 16, 2020
When the UW announced it was moving its spring quarter 2020 classes entirely online to combat the novel coronavirus, instructors across campus faced a new, uncharted challenge.
---
April 7, 2020
A talk with James Banks, UW professor emeritus of education, about his new book of essays, and three other education books are also noted.
---
April 3, 2020
A UW study abroad program empowers students from all disciplines to apply their skills to real-life problems.
---
April 1, 2020
UW Notebook visits with the producer of "Crossing North," a podcast by the Scandinavian Studies Department, and notes other podcasts on campus and an appearance by David Montgomery on the podcast "Undark."
---
March 27, 2020
With the university's spring quarter beginning Monday, UW staff and student workers in the Student Technology Loan Program spent the week-long spring break gathering, checking and cleaning some 300 laptops and tablets for distribution – and, for the first time, shipping many of those devices to the homes of UW students across the country.
---
March 9, 2020
Students from different backgrounds in the United States enter college with equal interest in STEM fields — science, technology, engineering and mathematics. But that equal interest does not result in equal outcomes. Six years after starting an undergraduate STEM degree, roughly twice as many white students finished it compared to African American students. A new…
---
February 3, 2020
Notable new books by UW faculty members include studies of military cultural education programs and equitable collaboration between schools and families. Also, National Endowment for the Humanities support for a coming book on an 18th century India poet, an honor for a work about postwar Japan — and a National Jewish Book Award.
---
A study by the Institute for Learning & Brain Sciences at the University of Washington finds the value of using "parentese," an exaggerated speaking style that conveys total engagement with a child.
---
January 30, 2020
The University of Washington has long boasted one of the country's top programs in atmospheric sciences. Now, the UW is also teaching undergraduates how to share that knowledge online and on TV as a broadcast meteorologist.
---
January 6, 2020
A conversation with UW psychology professor Sheri Mizumori about the UW-based program Broadening the Representations of Academic Investigators in NeuroScience — or BRAINS for short — designed to accelerate career advancement for postdoctoral researchers and assistant professors from underrepresented populations.
---
October 31, 2019
After years of preparation, a tiny satellite built by UW students is scheduled to launch early Saturday, Nov. 2, from a NASA flight facility in Virginia. The launch will be broadcast live on NASA TV.
---
September 10, 2019
A report released Sept. 10 — the product of research led by the University of Washington — gives Seattle and King County a "D" in getting youth active through sport, play and outdoor recreation.
---
September 5, 2019
A new study from the University of Washington finds that, based on brain activity, people who live in communities where multiple languages are spoken can identify words in yet another language better than those who live in a monolingual environment.
---
July 29, 2019
In a pilot study led by the UW, researchers explored art-based mindfulness activities that schools could use to reduce headaches, a common side effect of stress in adolescent girls. After three weeks of twice-weekly mindfulness and art therapy sessions, eight teenage girls reported experiencing significantly fewer headaches.
---
July 17, 2019
This Friday, teams of 5th- through 12th-grade students from across Washington state will complete a challenge in Kane Hall to mimic the 1969 Apollo moon landing, using drones and Lego robots.
---
July 5, 2019
Recent notable books by UW faculty members explore how the U.S. government has historically used credit to create opportunity, how "reproductive slavery" has left lasting ramifications and how technology design benefits from human values.
---
June 27, 2019
UW astronomy professor Rory Barnes shows off the astronomy department's Mobile Planetarium to colleagues at AbSciCon2019, the national conference on astrobiology in Bellevue. He takes it to schools with a presentation on astrobiology for K12 students.
---
May 30, 2019
The annual thesis exhibition by graduating art and design students with the UW School of Art + Art History + Design reliably brings together the dreamy and the practical to cohabit at the Henry Art Gallery. This year's exhibit features the work of 10 artists and 11 designers, and will be at the Henry through June 23.
---
May 24, 2019
Recent notable books by University of Washington faculty explore mindful international travel, men seeking work as day laborers, and activist teachers.
---
April 26, 2019
Engineering Discovery Days is a yearly event that invites Washington state fourth- through eighth-graders to have fun leaning about STEM with the College of Engineering.
---
April 19, 2019
A new space race is underway, characterized by the intersecting trends of democratization, commercialization and militarization. Saadia Pekkanen, UW professor of international relations, is lead guest editor for a group of essays addressing such issues and more published online this month in the American Journal of International Law.
---
April 11, 2019
Emily Levesque, UW assistant professor of astronomy, is gathering material for a new book to be called "The Last Stargazers: True Tales of the Colorful and Vanishing World of Observational Astronomy."
---
March 18, 2019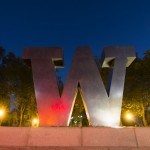 The UW Information School is taking a leading role in helping people better navigate this era of increasing online fakery and falsehood. On March 19, the school will welcome 200-some Seattle-area high school students for "MisInfo Day," a daylong workshop on how to navigate the misinformation landscape, from Jevin West and Carl Bergstrom, the faculty duo behind "Calling BS in the Age of Big Data."
---
March 5, 2019
The University of Washington is launching a reading instruction study this summer, a two-week "camp" targeting children entering kindergarten in the fall that aims to teach early literacy skills and measure brain activity before and after instruction.
---
Next page