UW News
Science
---
August 14, 2018
A new study led by the University of Washington uses data gathered by floating drones in the Southern Ocean over past winters to learn how much carbon dioxide is transferred by the surrounding seas. Results show that in winter the open water nearest the sea ice surrounding Antarctica releases significantly more carbon dioxide than previously believed.
---
August 9, 2018
In a paper published online July 23 in the journal Nature, a UW-led research team reports that the 2-D form of tungsten ditelluride can undergo "ferroelectric switching." Materials with ferroelectric properties can have applications in memory storage, capacitors, RFID card technologies and even medical sensors — and tungsten ditelluride is the first exfoliated 2-D material known to undergo ferroelectric switching.
---
August 7, 2018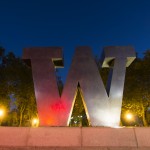 The NIH has awarded a $6.5 million, five-year grant to the University of Washington and partner institutions to establish the Center for Reproducible Biomedical Modeling. The center's primary goal is to develop more effective predictive models of biological systems, which are used in research and medicine.
---
August 3, 2018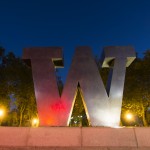 The U.S. Department of Energy has awarded an expected $10.75 million, four-year grant to the University of Washington, the Pacific Northwest National Laboratory and other partner institutions for a new interdisciplinary research center to define the enigmatic rules that govern how molecular-scale building blocks assemble into ordered structures and give rise to complex hierarchical materials.
---
August 1, 2018
A team led by the University of Washington has created an environmentally friendly way to remove color from dyes in water in a matter of seconds.
---
July 30, 2018
A University of Washington report provides the best projections yet for sea-level rise due to climate change at 171 sites along Washington's coasts.
---
July 25, 2018
In a paper published online this spring in the journal Nature Photonics, scientists at the University of Washington report that a prototype semiconductor thin-film has performed even better than today's best solar cell materials at emitting light.
---
July 23, 2018
Observations over the eastern U.S. show why emissions reductions haven't achieved the same results in winter as they have in summer.
---
July 18, 2018
New research suggests the Atlantic Ocean is transitioning back to its slower phase, which means average global air temperatures will go back to rising more quickly.
---
July 9, 2018
Earth's oxygen levels rose and fell more than once hundreds of millions of years before the planetwide success of the Great Oxidation Event about 2.4 billion years ago, new research from the University of Washington shows.
---
July 2, 2018
Regions of Arctic water are becoming ice-free in late summer and early fall. A new study is the first to consider potential impacts on the marine mammals that use this region and identify which populations will be the most vulnerable to ships.
---
June 28, 2018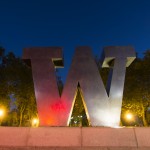 Daniel Schwartz, a University of Washington professor of chemical engineering and director of the Clean Energy Institute, received the Presidential Award for Excellence in Science, Mathematics and Engineering Mentoring (PAESMEM) from the White House Office of Science and Technology Policy and the National Science Foundation this week.
---
June 27, 2018
In a paper published April 5 in the journal Endangered Species Research, scientists at the University of Washington announced that, for a Galápagos penguin, beak size is nearly a perfect indicator of whether a bird is male or female.
---
June 25, 2018
Researchers with the UW-led Virtual Planetary Laboratory are central to a group of papers published by NASA researchers today in the journal Astrobiology outlining the history — and suggesting the future — of the search for life on exoplanets, or those orbiting stars other than the sun.
---
June 21, 2018
More than 100 scientists and crew from more than 20 U.S. research institutions, including the UW, will depart in August for a month-long expedition to study how the ocean absorbs carbon from the atmosphere.
---
June 18, 2018
Tracking of two great white sharks reveals for the first time that in the open ocean they spend more time deep inside warm-water eddies.
---
June 15, 2018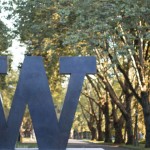 A new analysis suggests the value of structured research programs for undergraduates extends to society as a whole by encouraging participants to seek advanced degrees in scientific and technological fields.
---
June 14, 2018
Anchovies, herring, sardines and other forage fish play an essential role in the food web as prey for seabirds, marine mammals and larger fish like salmon. When ground into fishmeal and oil, they are also a key food source for farmed seafood and land-based livestock such as pigs and poultry. As seafood consumption outpaces the…
---
June 11, 2018
A study of global maize production in 2100 shows dramatic increases in the variability of corn yields from one year to the next under climate change, making simultaneous low yields across multiple high-producing regions more likely, which could lead to price hikes and global shortages.
---
A new study led by the University of Washington considers which food type is more environmentally costly to produce: livestock, farmed seafood or wild-caught fish.
---
June 6, 2018
A team from the University of Washington's GIX program are competing to win the $1 million Anu & Naveen Jain Women's Safety XPRIZE.
---
June 5, 2018
A new University of Washington-led paper pinpoints starvation as the cause of death for hundreds of thousands of Cassin's auklet seabirds in late 2014 to early 2015.
---
May 25, 2018
Astronauts at the International Space Station are spending more time away from Earth, but they still need their daily serving of vegetables. In the quest to find a viable way for crew to grow their own veggies while orbiting — and possibly one day on the moon or Mars — student researchers are sending broccoli…
---
May 24, 2018
What makes a good artificial reef, for divers, and for marine life? University of Washington landscape architecture students have done designs for a state-funded project to replace the artificial reef at the Redondo Beach dive site. They will present and discuss their work in a public meeting May 30, in Des Moines. The landscape architecture…
---
May 23, 2018
The oldest ice core so far provides 800,000 years of our planet's climate history. A UW field survey in Antarctica has pinpointed a location where an entire million years of undisturbed ice might be preserved intact.
---
May 17, 2018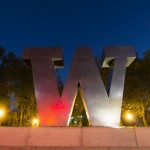 With the grand opening of the new $171 million Life Sciences Building just months away, it's time to fill the building with faculty. That was the idea behind a $3 million Washington Research Foundation (WRF) grant to hire four biology professors. It's called a cluster hire and will help maintain the University of Washington's leading reputation in primary research and life sciences.
---
May 15, 2018
If an entire forest dies, new research shows, it has ricocheting effects in the atmosphere that can affect vegetation on the other side of the country.
---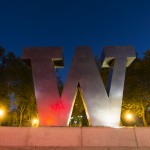 Karen Goldberg, an affiliate professor of chemistry at the University of Washington, has been elected to the National Academy of Sciences.
---
Engineers at the University of Washington have created RoboFly, the first wireless flying robotic insect. This might be one small flap for a robot, but it's one giant leap for robot-kind.
---
May 14, 2018
Aspects of an otherwise Earthlike planet's tilt and orbital dynamics can severely affect its potential habitability — even triggering abrupt "snowball states" where oceans freeze and surface life is impossible, according to new research from UW astronomers.
---
May 10, 2018
The UW School of Oceanography has a new vessel, named after marine biologist, author and conservationist Rachel Carson. It will explore Puget Sound and nearby coasts.
---
May 8, 2018
UW glaciologist Knut Christianson is part of a massive collaboration that will collect on-the-ground data about a key Antarctic glacier that shows signs it could be collapsing into the sea.
---
May 7, 2018
New research in plants shows that a gene called MUTE is required for the formation of stomata — the tiny pores that are critical for gas exchange, including releasing the oxygen gas that we breathe.
---
May 3, 2018
In a study published online May 3 in the journal Science, a University of Washington-led team announced that it has discovered a method to encode information using magnets that are just a few layers of atoms in thickness. This breakthrough may revolutionize both cloud computing technologies and consumer electronics by enabling data storage at a greater density and improved energy efficiency.
---
May 2, 2018
Researchers at the University of Washington and Seattle University have created CrowdFit, a platform for exercise planning that relies on crowdsourcing from nonexperts to create workout regimens guided by national exercise recommendations and tailored around user schedules and interests.
---
May 1, 2018
Victoria Meadows, University of Washington astrobiologist, professor of astronomy and leader of NASA's UW-based Virtual Planetary Laboratory, has been named recipient of the 2018 Frank Drake Award from the SETI Institute. She is the first woman to receive the award.
---
Parents don't need to fear their children playing with iPads and other devices, researchers say. Mindful play with an adult, combined with thoughtful design features, can prove beneficial to young developing minds. New research shows that thoughtfully designed content that intentionally supports parent-child interactions facilitated the same kind of play and development as analog toys.
---
April 27, 2018
Oceanographer Cecilia Peralta Ferriz is spending the academic year in Tromsø, Norway, to collaborate with colleagues who study flow out of the Arctic Ocean.
---
April 25, 2018
About twice each decade, the United Nations' Intergovernmental Panel on Climate Change, or IPCC, looks at what is known about the science of climate change, the extent to which human activities are changing the Earth's climate, and what risks these changes pose to human and natural systems. Organized into three working groups, each assessment is…
---
Researchers at the University of Washington, working with researchers from the ETH-Zurich, Purdue University and Virginia Commonwealth University, have achieved an optical communications breakthrough that could revolutionize information technology. They created a tiny device, smaller than a human hair, that translates electrical bits (0s and 1s of the digital language) into light, or photonic bits, at speeds 10s of times faster than current technologies.
---
Next page