UW News
Research
---
November 29, 2018
University of Washington researchers contributed to the Fourth National Climate Assessment that considers impacts, risks and adaptation across the United States.
---
Three researchers from the University of Washington Department of Psychology say existing practices overlook the importance of culture, and suggest how individuals and institutions can be more inclusive.
---
November 28, 2018
University of Washington researchers in the Center for Neurotechnology are studying how brain-computer interfaces affect whether patients feel they are in charge of their own actions.
---
November 27, 2018
In a comprehensive study of healthy corals published Nov. 22 in the journal Nature Communications, a team of scientists from the University of Washington Bothell, Pennsylvania State University and Oregon State University report that coral bacteria are a surprisingly diverse bunch — and that different sections of the coral body can host unique communities of bacteria.
---
November 26, 2018
What is a "book" in the digital age — and what will it become? Amaranth Borsuk, assistant professor in the UW Bothell School of Interdisciplinary Studies, discusses the idea of "the book," from clay tablets and papyrus scrolls to the hyperlinked, multimedia format of the digital age. She has her own new book out on the topic, titled "The Book."
---
A new, free tool with temperature and precipitation records across Washington, Oregon, Idaho and western Montana as far back as 1881 lets users play around to discover significant trends. It also includes historical snow records for Washington state.
---
November 20, 2018
Not all stars are like the sun, so not all planetary systems can be studied with the same expectations. New research from a University of Washington-led team of astronomers gives updated climate models for the seven planets around the star TRAPPIST-1.
---
November 19, 2018
Here in what is called the Anthropocene era, humans and our urban environments appear to be driving accelerated evolutionary change in plants, animals, fungi, viruses and more — changes that could affect key ecosystem functions and thus human well-being. These interactions between evolution and ecology are called "eco-evolutionary feedback." The National Science Foundation has awarded…
---
A study by an international team of researchers, including from the University of Washington, determines that carved stone tools, also known as Levallois cores, were used in Asia 80,000 to 170,000 years ago. With the find — and absent human fossils linking the tools to migrating populations — researchers believe people in Asia developed the technology independently, evidence of similar sets of skills evolving throughout different parts of the ancient world.
---
November 14, 2018
The first assessment of polar bears that live in the biologically rich Chukchi Sea region that spans the U.S. and Russia, finds that the population is healthy and not yet suffering from declining sea ice.
---
The University of Washington Climate Impacts Group and regional tribal partners have developed a collection of resources that may be useful to tribes at any stage in the process of evaluating their vulnerability to climate change. The project is a partnership among tribes, tribal associations, universities and the federal government.
---
November 13, 2018
In a paper published Oct. 8 in the journal Nano Letters, a team from the University of Washington and the National Tsing Hua University in Taiwan announced that it has constructed functional metalenses that are one-tenth to one-half the thickness of the wavelengths of light that they focus. Their metalenses, which were constructed out of layered 2D materials, were as thin as 190 nanometers — less than 1/100,000ths of an inch thick.
---
Ralina Joseph, associate professor of communication, discusses here new book "Postracial Resistance: Black Women, Media, and the Uses of Strategic Ambiguity," published this October by New York University Press.
---
November 8, 2018
The first study of common ragweed's future U.S. distribution finds the top allergen will expand its range northward as the climate warms, reaching new parts of upstate New York, Vermont, New Hampshire and Maine, while retreating from current hot spots.
---
November 7, 2018
To better understand how state governments across the United States execute their diverse responsibilities, look at their internet footprint, says a new study by researchers at the University of Washington, Harvard University, and Northeastern University.
---
Researchers from the University of Washington have shown how Magellanic penguins fare during the winter months when they spend months at sea feeding. They have discovered that oceanographic features are more likely to negatively impact the body conditions of Magellanic penguin females, but not males, when the penguins return to their nesting grounds in spring.
---
November 2, 2018
UW oceanographer Jody Deming is a leader of a new, interdisciplinary effort that addresses the theme of "ocean memory."
---
Massive wildfires, which may be getting more intense due to climate change and a long history of fire-suppression policies, have strikingly unequal effects on minority communities, a new study shows.
---
October 30, 2018
An international team of researchers, including from the University of Washington, has completed a 3D virtual reconstruction of a Neandertal thorax a model that indicates an upright individual with greater lung capacity and a straighter spine than today's modern human.
---
First-of-its kind research, led by the University of Washington, Northeastern University and Harvard University, delves into public perceptions of gun violence and the leading causes of death in the U.S.
---
October 29, 2018
Recent notable books by UW faculty members study politics and culture in post-World War II Japan, explore regime change, nonprofit management, documents from the ancient world and more.
---
October 25, 2018
Provost Mark Richards answers questions surrounding the topic of his welcome lecture, Tuesday afternoon in the HUB Lyceum.
---
UPS announced today that it will be pilot-testing deliveries with cargo e-bikes in downtown Seattle. This test is expected to last a year, and the University of Washington's Urban Freight Lab at the Supply Chain Transportation and Logistics Center will help UPS evaluate the study's outcomes.
---
In her new book, Kathryn Rogers Merlino, UW associate professor of architecture, argues for the environmental benefit of reusing buildings rather than tearing them down and building anew.
---
The University of Washington will lead one of three teams that will partner with the Honda Research Institute to explore the mechanisms behind curiosity and seek advances in artificial cognition. The UW-led team will receive $2.7 million over the next three years to generate a mathematical model of curiosity.
---
October 24, 2018
Jiun-Haw Chu, a University of Washington assistant professor of physics and faculty member at the UW's Clean Energy Institute, has been named a 2018 fellow by the David and Lucile Packard Foundation for his research on quantum materials — substances that exhibit novel combinations of quantum-mechanical properties that could one day transform information technology.
---
A new University of Washington initiative seeks to advance research on the health benefits of time spent in nature, connecting academic researchers with pediatricians, childcare providers, mental health practitioners and others who work with various populations on critical health issues.
---
October 23, 2018
In a 20-year study, UW researchers and colleagues have found that nearly 600,000 pounds of sockeye salmon carcasses tossed to the left side of a small, remote stream in southwest Alaska, helped trees on that side of the stream grow faster than their counterparts on the other side.
---
October 19, 2018
A study led by the University of Washington is the first large-scale trial of hundreds of PTSD patients, including veterans and survivors of sexual assault, to measure whether patient preference in the course of treatment impacts the effectiveness of both cognitive behavioral therapy and use of selective serotonin reuptake inhibitors, a type of antidepressant often prescribed for PTSD.
---
October 17, 2018
UW atmospheric scientists leave next week for a six-week field campaign in South America to study the most intense storms on the planet.
---
October 16, 2018
Today, Britain is not known as a land of camps, but through much of the 20th century — from after World War I to the 1980s —  the country was home to dozens of refugee camps housing thousands of Belgians, Jews, Basques, Poles, Hungarians, Anglo-Egyptians, Ugandan Asians and Vietnamese. As University of Washington history professor…
---
October 12, 2018
In a new UW-authored book, a cartoon robot takes young readers on a School of Oceanography voyage to explore the deep ocean.
---
The University of Washington's Urban Freight Lab at the Supply Chain Transportation and Logistics Center has been looking for solutions to Seattle's traffic congestion: Parcel lockers that aren't owned by a specific company could alleviate the strain. Now the researchers have identified five viable locker locations at three different Seattle Link light rail stations for a future pilot test.
---
October 10, 2018
Researchers at the University of Washington have developed a new machine-learning system, called Prescience, which uses input from patient charts and standard operating room sensors to predict the likelihood that a patient will develop hypoxemia — a condition when blood oxygen levels dip slightly below normal. Prescience also provides real-world explanations behind its predictions.
---
October 9, 2018
Engineers at the University of Washington have developed 3D printed devices that can track and store their use — without using batteries or electronics. Instead, this system uses a method called backscatter, through which a device can share information by reflecting signals that have been transmitted to it with an antenna.
---
A new study led by the University of Washington found that while dead whales are valuable sources of fat and protein for some polar bears, this resource will likely not be enough to sustain most bear populations in the future when the Arctic becomes ice-free in summers.
---
October 8, 2018
A new analysis that uses high-resolution data for 24 ocean regions in Africa, Europe, North and South America and Australasia shows that 14 percent of the overall seafloor shallower than 1,000 meters (3,280 feet) is trawled. The paper shows that the footprint of bottom-trawl fishing on continental shelves and slopes across the world's oceans often has been substantially overestimated.
---
A new book by University of Washington history professor George Behlmer seeks to improve understanding of the British colonial era by "reconsidering the conduct of islanders and the English-speaking strangers who encountered them."
---
October 3, 2018
On a small island in Indonesia, University of Washington researchers found evidence of nutmeg as residue on ceramic potsherds and is estimated to be 3,500 years old — about 2,000 years older than the previously known use of the spice.
---
October 2, 2018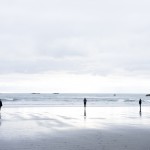 Former Interior Secretary Sally Jewell brings a lifetime of experience in business, nonprofits, government and the outdoors to the University of Washington, where one of her tasks is to help shape the future of EarthLab, a new university-wide institute that seeks to connect scholars with community partners to solve our most difficult environmental problems.
---
Previous page
Next page