UW News
Research
---
March 26, 2019
A University of Washington-led study provides a fuller picture of the relationship between nitrogen oxides — the tailpipe-generated particles at the center of the Volkswagen scandal, also known as NOx, — and PM2.5, the microscopic particles that can lodge in lungs.
---
Researchers have developed a new approach to map huckleberry distribution across Glacier National Park that uses publicly available satellite imagery. Tracking where huckleberry plants live now — and where they may move under climate change — can help biologists predict where grizzly bears will also be found.
---
March 21, 2019
The University of Washington, the Pacific Northwest National Laboratory and Microsoft Quantum announced this week that they have joined forces in a new coalition, the Northwest Quantum Nexus, to bring about a revolution in quantum research and technology.
---
The first survey of methane vent sites off Washington's coast finds 1,778 bubble columns, with most located along a north-south band that is in line with a geologic fault.
---
UW and Microsoft researchers have demonstrated the first fully automated system to store and retrieve data in manufactured DNA — a key step in moving the technology out of the research lab and into commercial data centers.
---
March 19, 2019
Sea-level rise associated with climate change is a concern for many island and coastal communities. While the dangers may seem far off for large coastal cities like Miami or New Orleans, the advancing oceans are already displacing some small indigenous communities, and many others are at risk around the world.
---
March 13, 2019
UW researchers have created a novel system that can measure platelet function within two minutes and can help doctors determine which trauma patients might need a blood transfusion upon being admitted to a hospital.
---
March 12, 2019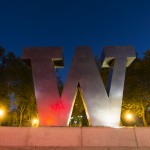 Eight researchers at the University of Washington have been named 2019 Washington Research Foundation Postdoctoral Fellows.
---
Students of color who attend schools with a culture and mission statements that emphasize the value of diversity show better cardiovascular health than peers whose schools do not express such values, according to a new study.
---
March 11, 2019
When coyote parents are habituated to humans, their offspring are more habituated, too — potentially leading to negative interactions between coyotes and humans.
---
Black and Hispanic Americans bear a disproportionate burden from air pollution generated mainly by non-Hispanic white Americans, according to new research from a team led by the University of Washington and the University of Minnesota.
---
Researchers at the University of Washington have developed a robotic system that can feed people who need someone to help them eat.
---
March 5, 2019
On March 5, the CERN research board approved a new experiment at the Large Hadron Collider in Geneva to search for evidence of fundamental dark matter particles. UW scientists are part of this endeavor, the Forward Search Experiment — or FASER — which seeks to answer one of the outstanding questions in particle physics: What is dark matter made of?
---
The University of Washington is launching a reading instruction study this summer, a two-week "camp" targeting children entering kindergarten in the fall that aims to teach early literacy skills and measure brain activity before and after instruction.
---
March 4, 2019
A new website from the UW's Jevin West and Carl Bergstrom, the duo behind the popular "Calling BS" class, asks viewers to choose which of two realistic face photos is real and which is a complete fake.
---
Research by UW's Stephen Warren suggests that some icebergs are green because they contain frozen, iron-rich seawater from certain regions of East Antarctica.
---
February 27, 2019
As gray wolves return to eastern Washington, a new study finds that one species of deer is changing its behavior to spend more time away from roads, at higher elevations and in rockier landscapes.
---
February 25, 2019
In a paper published Feb. 25 in the journal Nature, a University of Washington-led team of physicists report that it has developed a new system to trap individual excitons — bound pairs of electrons and their associated positive charges. Their system could form the basis of a novel experimental platform for monitoring excitons with precision and potentially developing new quantum technologies.
---
February 20, 2019
A new study outlines more than a decade of success in reducing seabird bycatch in Alaska's longline fisheries, and where there's still room for improvement
---
Recess, for most children, is synonymous with freedom. A break from class that has nothing to do with learning and everything to do with play. For children with autism, the playground can be an isolating experience. The spontaneous soccer games, roving packs of friends and virtual buffet of activities can be chaotic, frustrating and confusing….
---
February 13, 2019
Researchers at the University of Washington wanted to know how Magellanic penguin parents in South America balance the dietary demands of multiple chicks. As they report in a paper published Jan. 23 in the journal Animal Behaviour, when a Magellanic penguin parent returns to its nest with fish, the parent tries to feed each of its two chicks equal portions of food, regardless of the youngsters' differences in age or size.
---
February 12, 2019
A study led by the University of Washington pinpoints which riverside routes in Washington, Oregon, Idaho and western Montana will be the most important for animals trying to navigate a changing climate.
---
February 11, 2019
New research by the University of Washington and U.S. Geological Survey suggests many lakes pose little threat to global carbon levels, at least for now.
---
February 8, 2019
A new University of Washington computer model can predict underwater conditions in Puget Sound and off the coast of Washington three days into the future.
---
February 7, 2019
The Zwicky Transient Facility, based at the Palomar Observatory, has identified over a thousand new objects and phenomena in the night sky, including more than 1,100 new supernovae and 50 near-Earth asteroids. University of Washington scientists are part of the ZTF team and led the development of the collaboration's alert system, which informs science teams of possible new objects or changes to known objects in the sky.
---
February 6, 2019
The legalization of marijuana in Washington state in 2012 gave parents the opportunity for a new teachable moment. Many say that as society has become more permissive, they want information and advice.
---
February 4, 2019
A UW-led team has found that early spring rainfall warms up a thawing permafrost bog in Alaska and promotes the growth of plants and methane-producing microbes.
---
January 31, 2019
Scientists have just discovered a dinosaur relative that lived in Antarctica 250 million years ago. The iguana-sized reptile's genus name, Antarctanax, means "Antarctic king."
---
January 28, 2019
Exposure to nature, even through a brief gardening activity, can improve well-being among women in prison, a UW Tacoma-led study finds.
---
The Stroum Center for Jewish Studies, in the UW Jackson School of International Studies, was well represented at the 50th annual conference of the Association for Jewish Studies Dec. 16-18 in Boston.
---
January 23, 2019
A team of ocean robots developed at the UW is the first group of self-guided ocean instruments to travel under an ice sheet and come back to report long-term observations.
---
A center housed at the University of Washington offers a new way for scientists to get their hands on state-of-the-art equipment to study the effects of natural disasters. The RAPID Facility, which is the first of its kind in the world, contains over 300 instruments that are available for researchers around the world to use.
---
January 16, 2019
Three teams led by University of Washington researchers — Scott Dunham, Hugh Hillhouse and Devin MacKenzie — have received competitive awards totaling more than $2.3 million from the U.S. Department of Energy Solar Energy Technologies Office for projects that will advance research and development in photovoltaic materials, which are an essential component of solar cells and impact the amount of sunlight that is converted into electricity.
---
A new study has found that since the early 1980s, a pattern of ocean temperatures and atmospheric circulation has offset most of the impact of warming on the West's mountain snowpack.
---
January 15, 2019
A new University of Washington study suggests that the children most apt to socially transition to the gender "opposite" their sex at birth are those who already demonstrate the strongest "cross-gender" identities, and that the transitions don't appear to alter a child's gender identity or preferences.
---
January 14, 2019
The UW is part of an international program that has revolutionized ocean measurements. This fall, the program made its 2 millionth measurement, reporting temperature and salinity in the top mile of the world's oceans.
---
January 10, 2019
On Jan. 10 at the 2019 American Astronomical Society meeting in Seattle, an international team of astronomers announced that they have identified the type of companion star that made its partner in a binary system, a carbon-oxygen white dwarf star, explode. Through repeated observations of SN 2015cp, a supernova 545 million light years away, the team detected hydrogen-rich debris that the companion star had shed prior to the explosion.
---
If Washington state were to establish a public bank, what type of bank might work best? One that can provide targeted products and services to local governments across the state, says a new report by UW researchers from the Evans School of Public Policy & Governance.
---
January 9, 2019
UW researchers have developed a smartphone app that uses sonar to monitor someone's breathing rate and sense when an opioid overdose has occurred.
---
January 8, 2019
As part of a University of Washington-led project, NASA's Hubble Space Telescope has produced a stunningly detailed portrait of the Triangulum Galaxy, displaying a full spiral face aglow with the light of nearly 25 million individually resolved stars.
---
Previous page
Next page