UW News
Research
---
May 14, 2018
Aspects of an otherwise Earthlike planet's tilt and orbital dynamics can severely affect its potential habitability — even triggering abrupt "snowball states" where oceans freeze and surface life is impossible, according to new research from UW astronomers.
---
It's a challenge to write a biography of a man who was functionally illiterate and whose papers were mostly destroyed, but UW lecturer Taso Lagos has achieved it with his new book, "American Zeus: The Life of Alexander Pantages, Theater Mogul."
---
May 10, 2018
The UW School of Oceanography has a new vessel, named after marine biologist, author and conservationist Rachel Carson. It will explore Puget Sound and nearby coasts.
---
May 8, 2018
UW glaciologist Knut Christianson is part of a massive collaboration that will collect on-the-ground data about a key Antarctic glacier that shows signs it could be collapsing into the sea.
---
May 7, 2018
New research in plants shows that a gene called MUTE is required for the formation of stomata — the tiny pores that are critical for gas exchange, including releasing the oxygen gas that we breathe.
---
May 3, 2018
In a study published online May 3 in the journal Science, a University of Washington-led team announced that it has discovered a method to encode information using magnets that are just a few layers of atoms in thickness. This breakthrough may revolutionize both cloud computing technologies and consumer electronics by enabling data storage at a greater density and improved energy efficiency.
---
May 2, 2018
Researchers at the University of Washington and Seattle University have created CrowdFit, a platform for exercise planning that relies on crowdsourcing from nonexperts to create workout regimens guided by national exercise recommendations and tailored around user schedules and interests.
---
May 1, 2018
Victoria Meadows, University of Washington astrobiologist, professor of astronomy and leader of NASA's UW-based Virtual Planetary Laboratory, has been named recipient of the 2018 Frank Drake Award from the SETI Institute. She is the first woman to receive the award.
---
Parents don't need to fear their children playing with iPads and other devices, researchers say. Mindful play with an adult, combined with thoughtful design features, can prove beneficial to young developing minds. New research shows that thoughtfully designed content that intentionally supports parent-child interactions facilitated the same kind of play and development as analog toys.
---
April 26, 2018
Want to prevent kids from using drugs and make it stick into young adulthood? Get the community involved and intervene before they're teens, say researchers from the University of Washington. A new, longitudinal study from the UW Social Development Research Group shows that young adults who grew up in communities that used a coordinated,…
---
April 25, 2018
Researchers at the University of Washington, working with researchers from the ETH-Zurich, Purdue University and Virginia Commonwealth University, have achieved an optical communications breakthrough that could revolutionize information technology. They created a tiny device, smaller than a human hair, that translates electrical bits (0s and 1s of the digital language) into light, or photonic bits, at speeds 10s of times faster than current technologies.
---
The World Register of Marine Species has named the Mariana snailfish one of its 10 "remarkable new species" discovered in 2017. The team that discovered and named the small fish includes Mackenzie Gerringer, a postdoctoral researcher at the UW's Friday Harbor Laboratories.
---
April 24, 2018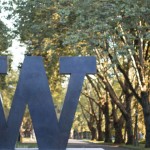 Seven University of Washington researchers have been selected as Washington Research Foundation fellows. This fellowship funds 10 researchers who work in STEM fields to perform mentored research projects over the next three years.
---
April 19, 2018
Vikram Prakash says his weekly "ArchitectureTalk" podcast got its start, as many things do, from a student's idea.
---
Engineers at the University of Washington have developed a new HD video streaming method that doesn't need to be plugged in. Their prototype skips the power-hungry components and has something else, like a smartphone, process the video instead.
---
April 18, 2018
By using a keyboard to provide tactile feedback along with with a screen reader, blind and low-vision users were three times more successful at navigating complex modern webpages, similar to a typical Airbnb booking site.
---
April 17, 2018
Daniel Bessner, assistant professor in the Jackson School, has a new book from Cornell University Press: "Democracy in Exile: Hans Speier and the Rise of the Defense Intellectual."
---
April 12, 2018
The National Science Foundation today named Kristina Olson, University of Washington associate professor of psychology, winner of this year's Alan T. Waterman Award. The Waterman Award is the U.S. government's highest honor for an early career scientist or engineer, recognizing an outstanding scientist under the age of 40 or within 10 years of receiving…
---
Planets orbiting "short-period" binary stars, or stars locked in close orbital embrace, can be ejected off into space as a consequence of their host stars' evolution, according to new research from the University of Washington.
---
April 9, 2018
This week, the Axion Dark Matter Experiment (ADMX) announced that it has achieved the necessary sensitivity to "hear" the telltale signs of dark matter axions. This technological breakthrough is the result of more than 30 years of research and development, with the latest piece of the puzzle coming in the form of a quantum-enabled device that allows ADMX to listen for axions more closely than any experiment ever built.
---
April 3, 2018
Bowhead whales are constantly changing their tune, unlike the only other whale species that sings, the humpback.
---
April 2, 2018
Earth has had moderate temperatures throughout its early history, and neutral seawater acidity. This means other rocky planets could likely also maintain this equilibrium and allow life to evolve.
---
March 29, 2018
During a recent survey of supermassive stars, an international team of astronomers discovered a star that is in quite a hurry. As they report in a new paper, the team tracked one yellow supergiant star cruising along at about 300,000 miles per hour, a velocity that would get you from the Earth to the Moon in about 48 minutes.
---
March 28, 2018
As the 50th anniversary approaches of the murder of civil rights leader Dr. Martin Luther King, UW historian Michael Honey reminds us in a new book that economic justice and labor rights were always part of King's progressive message.
---
A University of Washington-led project spanning countries, years and institutions has attempted to reconstruct what the southern end of the world looked like during the Triassic period, 252 to 199 million years ago.
---
March 26, 2018
In a study published March 26 in Physical Review Letters, collaborators of the MAJORANA DEMONSTRATOR have shown they can shield a sensitive, scalable 44-kilogram germanium detector array from background radioactivity. This accomplishment is critical to developing a much larger future experiment to study the nature of neutrinos.
---
March 22, 2018
A pair of anglerfish, a species never before seen alive by humans, was recorded recently on camera by researchers aboard the LULA1000, a submersible operated by the marine science-focused Rebikoff-Niggeler Foundation.
---
March 21, 2018
With a new $700,000 grant awarded from the NOAA Ocean Acidification Program, scientists from the University of Washington's Applied Physics Laboratory, Washington Sea Grant and the Joint Institute for the Study of the Atmosphere and Ocean have teamed with federal and tribal partners to study the social and ecological vulnerabilities of Olympic Coast ocean acidification.
---
March 15, 2018
Researchers at the University of Washington and the Allen Institute for Brain Science have developed a new method to classify and track the multitude of cells in a tissue sample. In a paper published March 15 in the journal Science, the team reports that this new approach — known as SPLiT-seq — reliably tracks gene activity in a tissue down to the level of single cells.
---
Researchers at the University of Washington have developed a set of tools to make MRI studies of our central nervous system easier to share.
---
March 14, 2018
African-American voters who dislike and feel threatened by Donald Trump and his presidency are more likely to vote and to engage with politics, according to new research from the UW and California State University, Sacramento.
---
March 9, 2018
UW music professor Huck Hodge talks about the Charles Ives Living Award, bestowed on him by the American Academy of Arts and Letters.
---
Think about the last time you looked for a new apartment or house. Maybe you asked your friends or colleagues about where they lived. You thought about your route to work, or that neighborhood you always drive through on your way to your kid's soccer practice. Many of these places were familiar to you,…
---
March 8, 2018
The UW Jackson School of International Studies presents "Trump in the World: International Implications of the Trump presidency," a series of public lectures and discussions Tuesday afternoons through spring quarter.
---
March 7, 2018
A University of Washington study finds that women authors are significantly under-represented in high-profile academic journals.
---
March 6, 2018
High in Mongolia's Gobi Desert, the climate is so dry and cold that glaciers shrank during the last ice age. Dating of rock deposits shows how glaciers in this less-studied region can behave very differently as the climate shifts.
---
March 2, 2018
A new study almost 20 years in the making provides some of the strongest evidence yet of the "speciation reversal" phenomenon in two lineages of common ravens.
---
February 27, 2018
The largest and oldest Chinook salmon — fish also known as "kings" and prized for their exceptional size — have mostly disappeared along the West Coast, according to a new study led by the University of Washington.
---
February 22, 2018
If online shopping continues to grow at its current rate, there may be twice as many trucks delivering packages in Seattle's city center within five years, a new report projects — and double the number of trucks looking for a parking space.
---
When scientists have conducted research in Native American communities, the process and the results have sometimes been controversial. There have been a few well-known cases, such as the 1979 Barrow Alcohol Study, in which researchers examined substance use in the tiny Arctic Circle town and issued findings to the press, before briefing the…
---
Previous page
Next page