UW News
Research
---
December 3, 2021
Underwater microphones show that killer whales, or orcas, have spent more time in the Arctic Ocean in recent years. The increasingly ice-free Arctic Ocean may give orcas more opportunity to hunt for prey off the west and north coasts of Alaska.
---
November 22, 2021
Children as young as age 6 develop stereotypes that girls aren't interested in computer science and engineering, according to new research from the University of Washington and the University of Houston.
---
November 10, 2021
A new effort to reconstruct Earth's climate since the last ice age, about 24,000 years ago, highlights the main drivers of climate change, and how far out of bounds human activity has pushed the climate system.
---
November 8, 2021
University of Washington researchers looked at almost 56,000 political ads from almost 750 news sites between September 2020 and January 2021.
---
October 29, 2021
An oceanographer at the University of Washington is part of a new project to study how glacial dust, created as glaciers grind the rock beneath them into a powder, reacts with seawater to remove carbon dioxide from the atmosphere.
---
October 28, 2021
Results show that by the end of this century, lower-oxygen water on the Pacific Northwest coast will pose the biggest threat to Dungeness crabs. And while these crabs start as tiny, free-floating larvae, it's the sharp-clawed adults that will be most vulnerable.
---
In a rare stroke of luck, researchers from the University of Washington, the University of California, Berkeley, and the University of California, Santa Barbara, were able to track a group of black-tailed deer during and after California's third-largest wildfire, the 2018 Mendocino Complex Fire. The megafire, which torched more than 450,000 acres in northern California, burned across half of an established study site, making it possible to record the movements and feeding patterns of deer before, during and after the fire.
---
October 27, 2021
Many animals have tusks, from elephants to walruses to hyraxes. But one thing tusked animals have in common is that they're all mammals — no known fish, reptiles or birds have them. But that was not always the case. In a study published Oct. 27 in the Proceedings of the Royal Society B, a team of paleontologists at Harvard University, the Field Museum, the University of Washington and Idaho State University traced the first tusks back to dicynodonts — ancient mammal relatives that lived before the dinosaurs.
---
October 20, 2021
UW students created a rover that can inspect sewer pipes or culverts for any damage that could prevent fish from using them during migration.
---
October 6, 2021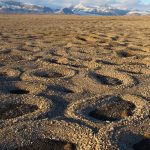 A University of Washington researcher is part of an international team that has used modern tools to explain repeating patterns of stones that form in frost-prone landscapes.
---
October 5, 2021
In a Policy Forum piece published Oct. 1 in Science, a group led by Nesra Yannier at Carnegie Mellon University is advocating for a fresh look at active learning and its potential as classrooms and lecture halls again fill with students. Two co-authors from the University of Washington's Department of Biology — assistant teaching professor Elli Theobald and lecturer emeritus Scott Freeman — highlight the role that active learning methods have in promoting equity STEM education.
---
To better identify and prevent future pandemics, the University of Washington has become a partner in a five-year global, collaborative agreement with the U.S. Agency for International Development. The newly launched Discovery & Exploration of Emerging Pathogens – Viral Zoonoses, or DEEP VZN project, has approximately $125 million in anticipated funding and will be led…
---
October 1, 2021
New research by the University of Washington shows that states eased pandemic restrictions, such as gathering limits and business closures, based on politics as much as COVID-19 death rates or case counts. 
---
September 30, 2021
A new study has found that recent bigleaf maple die-off in Washington is linked to hotter, drier summers that predispose this species to decline. These conditions essentially weaken the tree's immune system, making it easier to succumb to other stressors and diseases.
---
September 29, 2021
University of Washington oceanographer Parker MacCready is one of 59 new fellows elected this year by the American Geophysical Union.
---
September 28, 2021
For researchers around the world working to understand and treat Alzheimer's and eventually find a cure, data from clinical exams of patients suffering from this complex neurodegenerative disease needs to be standardized and accessible. Since 1999, that's what the National Alzheimer's Coordinating Center (NACC), housed in the UW School of Public Health's Department of Epidemiology,…
---
On Sept. 28, the National Science Foundation announced $15 million, five-year grant to integrate AI tools into the scientific research and discovery process. The award will fund the Accelerated AI Algorithms for Data-Driven Discovery Institute — or A3D3 Institute — a partnership of nine universities, led by the University of Washington.
---
September 27, 2021
The UW Climate Impacts Group, along with nine community, nonprofit and university partners, is launching a program of community-led, justice-oriented climate adaptation work across Washington, Oregon, Idaho and Montana. The Northwest Climate Resilience Collaborative will be founded with a five-year, $5.6 million grant from the National Oceanic and Atmospheric Association. The program will be one of eleven across the country funded through NOAA's Regional Integrated Sciences and Assessments program.
---
September 22, 2021
A team from the University of Washington and University of California San Diego has received the Golden Goose Award from the American Association for the Advancement of Science.
---
September 21, 2021
A team of paleontologists from the University of Washington and its Burke Museum of Natural History and Culture excavated four dinosaurs in northeastern Montana this summer. The four dinosaur fossils are: the ilium — or hip bones — of an ostrich-sized theropod, the group of meat-eating, two-legged dinosaurs that includes Tyrannosaurus rex and raptors; the hips and legs of a duck-billed dinosaur; a pelvis, toe claw and limbs from another theropod that could be a rare ostrich-mimic Anzu, or possibly a new species; and a Triceratops specimen consisting of its skull and other fossilized bones.
---
September 14, 2021
New research by the University of Washington and New York University explored gender, racial and ethnic differences among teens who think about and/or attempt suicide, as well as associated behavioral and environmental factors.
---
University of Washington glaciologists will join colleagues from around the country in a new effort to retrieve an ice core more than 1 million years old from East Antarctica, to better understand the history of our planet's climate and predict future changes.
---
September 13, 2021
A team led by UW studied whether hanging out with conversational agents, such as Alexa or Siri, could affect the way children communicate with their fellow humans.
---
September 9, 2021
The National Science Foundation has announced it will fund a new endeavor to bring atomic-level precision to the devices and technologies that underpin much of modern life, and will transform fields like information technology in the decades to come. The five-year, $25 million Science and Technology Center grant will found the Center for Integration of Modern Optoelectronic Materials on Demand — or IMOD — a collaboration of scientists and engineers at 11 universities led by the University of Washington.
---
September 7, 2021
The new Cascadia Coastlines and Peoples Hazards Research Hub, led by Oregon State University and the University of Washington, will study coastal hazards and community resilience. The National Science Foundation awarded $18.9 million for the hub over five years.
---
August 25, 2021
A new analysis of 2.5-billion-year-old rocks from Australia finds that volcanic eruptions may have stimulated population surges of marine microorganisms, creating the first puffs of oxygen into the atmosphere. This would change existing stories of Earth's early atmosphere, which assumed that most changes in the early atmosphere were controlled by geologic or chemical processes.
---
The University of Washington and Carnegie Mellon University have announced an expansive, multi-year collaboration to create new software platforms to analyze large astronomical datasets generated by the upcoming Legacy Survey of Space and Time, or LSST, which will be carried out by the Vera C. Rubin Observatory in northern Chile. The open-source platforms are part of the new LSST Interdisciplinary Network for Collaboration and Computing — known as LINCC — and will fundamentally change how scientists use modern computational methods to make sense of big data.
---
August 19, 2021
A study led by Harvard and the University of Washington surveyed children, teens and their families about the stresses of the pandemic, and ways to cope.
---
August 11, 2021
A study published Aug. 11 in the Proceedings of the Royal Society B by researchers at the University of Washington and Stony Brook University reports on how bats and pepper plants in Central America have coevolved to help each other survive.
---
August 5, 2021
New research by scientists at the University of Washington and Duke University is shedding light on how the nasal passage of dolphins and whales shifts during embryonic development from emerging at the tip of the snout to emerging at the top of the head as a blowhole. The findings, published July 19 in the Journal of Anatomy, are an integrative model for this developmental transition for cetaceans.
---
Firefighters have reported that Western wildfires are starting earlier in the morning and dying down later at night, hampering their ability to recover and regroup before the next day's flareup. A study by University of Washington and U.S. Forest Service scientists shows why: The drying power of nighttime air over much of the Western U.S. has increased dramatically in the past 40 years.
---
Astronomers have long suspected that superflares, extreme radiation bursts from stars, can cause lasting damage to the atmospheres — and thus habitability — of exoplanets. A new study published in the Monthly Notices of the Royal Astronomical Society reports that they pose only a limited danger to planetary systems.
---
August 2, 2021
Seeing the urgent need for change, a team of scientists from leading research universities, conservation organizations and government laboratories across the West has produced a synthesis of the scientific literature that clearly lays out the established science and strength of evidence on climate change, wildfire and forest management for seasonally dry forests. The goal is to give land managers and others across the West access to a unified resource that summarizes the best-available science so they can make decisions about how to manage their landscapes.
---
A study published June 16 in Biotropica by a team of researchers at the University of Washington, the UW Burke Museum of Natural History and Culture, WWF Hong Kong and the University of Colombo has provided an important road map to conserving rough-nosed horned lizards in Sri Lanka.
---
July 29, 2021
Climate change is further exacerbating human-wildlife conflicts by straining ecosystems and altering behaviors, both of which can deepen the contacts — and potential competition — between people and animals. In an article published July 30 in the journal Science, Briana Abrahms, an assistant professor of biology at the University of Washington and its Center for Ecosystem Sentinels, calls for expanding research into the many ways that climate change will impact the complex interplay between human activities and wildlife populations.
---
The UW will lead a new artificial intelligence research institute that will focus on fundamental AI and machine learning theory, algorithms and applications for real-time learning and control of complex dynamic systems, which describe chaotic situations where conditions are constantly shifting and hard to predict.
---
July 27, 2021
A model of the eastern California forests of the Sierra Nevada looks at the longer-term future of wildfires under future climate change scenarios. Results show an initial roughly decade-long burst of wildfire activity, followed by recurring fires of decreasing area — a pattern that could apply to other hot, dry forests in the West.
---
July 26, 2021
Two University of Washington scientists have developed a statistical framework that incorporates key COVID-19 data — such as case counts and deaths due to COVID-19 — to model the true prevalence of this disease in the United States and individual states. Their approach, published the week of July 26 in the Proceedings of the National Academy of Sciences, projects that in the U.S. as many as 60% of COVID-19 cases went undetected as of March 7, 2021, the last date for which the dataset they employed is available.
---
July 23, 2021
Public health researchers have learned a lot about how the pandemic affected workers and exacerbated existing health disparities that exist in many communities. However, there's still a lot we don't know about the experience of workers deemed essential in the food industry and who were at higher risk of contracting COVID-19, such those working in…
---
July 22, 2021
UW researchers have developed a method that uses a gaming graphics card to control plasma formation in their prototype fusion reactor.
---
Next page