UW News
Education
---
May 19, 2016
More than 500 people gathered May 18 on the University of Washington campus to celebrate the start of construction on the New Burke Museum. The Burke is Washington's oldest museum and since 1899 has been the State Museum of Natural History and Culture; soon it will be Washington's newest museum. Opening in 2019, the New…
---
May 10, 2016
Some adults learn a second language better than others, and their secret may involve the rhythms of activity in their brains. New findings by scientists at the University of Washington demonstrate that a five-minute measurement of resting-state brain activity predicted how quickly adults learned a second language. The study, published in the June-July issue of…
---
April 29, 2016
The upcoming season finale of TLC's popular program "Who Do You Think You Are," airing May 1, will feature UW professor Devin Naar helping television star Lea Michele learn about her Sephardic Jewish ancestry.
---
For some young men of color, college might seem a world away. To an African-American boy growing up in poverty, a Latino son of migrant farmworkers or a young Native American man living on a remote reservation, the path to post-secondary education can be hard to visualize. And once on campus, the reality can be…
---
April 19, 2016
A daylong colloquium, "Shakespeare, Music and Memory" will bring scholars and musicians to the University of Washington campus April 29 for lectures ending with a concert of Shakespeare-themed songs by the School of Music's Collegium Musicum ensemble. The free events were organized by JoAnn Taricani, associate professor and chair of the School of Music's Division…
---
April 4, 2016
Many brain studies show that bilingual adults have more activity in areas associated with executive function, a set of mental abilities that includes problem-solving, shifting attention and other desirable cognitive traits. Now new findings reveal that this bilingualism-related difference in brain activity is evident as early as 11 months of age, just as babies are…
---
March 29, 2016
The University of Washington will create an undergraduate minor in real estate studies thanks to a $5.4 million gift from retired Windermere Real Estate founder John Jacobi and his wife, Rosalind. The Jacobis' gift will also support two new endowed faculty chairs at the Runstad Center for Real Estate Studies in the UW's College of Built Environments.
---
March 15, 2016
For the 22nd time in the past 23 years, the University of Washington ranked as the No. 1 primary care medical school in the country, according to U.S. News & World Report's 2017 Best Graduate School rankings released Tuesday. The rural medicine and family medicine programs have also led the nation since those rankings began in 1992. In a…
---
March 8, 2016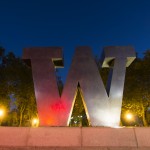 The evolving nature of the public sector will be the topic when professionals and scholars from the UW's Evans School for Public Policy & Governance and around the world gather in Seattle March 17-22 for the 77th annual conference of the American Society for Public Administration.
---
March 7, 2016
A longhouse-style building opened on the University of Washington campus in March 2015, on land where the longhouses and village of the Duwamish tribe once stood. Intellectual House, or wǝɫǝbʔaltxʷ, is a tangible recognition of the area's original inhabitants. And it is a catalyst for the university's recent efforts to ramp up Indigenous learning in…
---
March 3, 2016
The Andrew W. Mellon Foundation has awarded the University of Washington a three-year, $750,000 grant to support guest artists in developing new works, and to better integrate arts disciplines into the broader university curriculum.
The grant will support a Creative Fellowships Initiative, under which guest performing artist fellows will be recruited from around the world for one- to three-year residencies in dance, music and theater.
---
February 25, 2016
The latest installment of Information School professor Joe Janes' podcast series Documents that Changed the World discusses 168 powerful words condemning slavery that were excised from the Declaration of Independence at the last minute.
---
February 24, 2016
The University of Washington and Gonzaga University have signed an agreement to continue, enhance and expand medical education and research in Spokane.
---
February 18, 2016
David Levy of the UW Information School discusses his new book, "Mindful Tech: How to Bring Balance to our Digital Lives," published in January by Yale University Press.
---
For the second year in a row, the University of Washington produced the most Peace Corps volunteers among large universities with 72 Huskies currently serving around the world. The UW is also ranked No. 4 among graduate schools with 16 alumni currently volunteering. "Community engagement – here and across the globe – is part of what makes…
---
February 17, 2016
A new program based at the University of Washington will bring together educational institutions, K-12 teachers and informal education organizations to inspire, teach and recruit the next generation of students in science, technology, engineering and mathematics. The new Northwest Earth and Space Sciences Pipeline, or NESSP, has begun a $10 million, five-year cooperative agreement with NASA…
---
February 4, 2016
People expressing the wish to resist constant online connectivity — dubbed "pushback" by University of Washington Information School researchers — is manifested as powerfully in images as in text, further study has found.
---
Pursuing scientific or engineering careers in industry, government or private research after getting a Ph.D. used to be considered a one-way ticket out of academia. But new UW research finds numerous benefits — to students, researchers and academic institutions looking to diversify their faculty — in making that return trip easier.
---
January 22, 2016
The UW has signed on to a new report and initiative encouraging changes to the college admissions process to promote greater ethical and intellectual engagement on the part of prospective students.
---
January 19, 2016
Jennifer Cohen, senior associate athletic director at the University of Washington, has been named interim athletic director, UW President Ana Mari Cauce announced Tuesday. Cohen steps in for Scott Woodward, who announced earlier this month he would be taking a position at Texas A&M University. Cohen's appointment is effective Feb. 1. "With her years of…
---
January 15, 2016
Dance professor Juliet McMains discusses her book "Spinning Mambo into Salsa: Caribbean Dance in Global Commerce," published by Oxford University Press.
---
January 11, 2016
In December, the University of Washington's Department of Bioengineering began accepting applications for its newest graduate degree program, the Master of Applied Bioengineering. The one-year, full-time program begins in August, and will train students to apply engineering design and entrepreneurship skills to address unmet clinical needs and to transform biomedical research into technologies for improving health care. The degree will position graduates to respond to market-based demands of industry, medicine and translational research.
---
January 6, 2016
DO-IT, a University of Washington program, is looking for high school students with disabilities to apply to be program scholars. Applicants must be a current high school sophomore or junior in Washington, have an aptitude and interest in attending college, have any disability, and must be motivated to participate and interested in interacting with other…
---
January 5, 2016
Today's college graduates tend to be highly trained and employable but often lack a key skill needed for post-college life: how to identify and ask their own questions, according to a new study.
---
December 29, 2015
From a new president and lasers cooling liquids to spotting rare sea creatures and major collaborations, great things have happened at the University of Washington in 2015. Here's a look back at the top stories of the year. These stories were chosen based on the total number of views they received on our website and are not in any particular order….
---
December 14, 2015
The UW will offer a new Master of Science in Data Science program to provide students with advanced technical expertise in managing, modeling and visualizing big data to meet the growing needs of industry and research.
---
UW historian James Gregory's new collaborative digital project, "Mapping American Social Movements through the 20th Century" uses data visualization and interactive maps to depict the progress of various social movements — with more to come.
---
November 25, 2015
Effective teachers don't just impact their own students' achievement, they can significantly improve the performance of their fellow teachers' students, new research shows.
---
November 13, 2015
The University of Washington held its first ever Innovation Summit today in Shanghai, China. The event brought together industry leaders from China and the United States, who discussed how they are turning ideas into impact, connecting academia to industry and helping solve the world's most pressing problems.
---
November 10, 2015
Melinda Bargreen is a Seattle-based freelance arts writer who spent 31 years as classical music critic for The Seattle Times. She is the author of "Classical Seattle: Maestros, Impresarios, Virtuosi, and Other Music Makers," published this fall by University of Washington Press. Bargreen is a University of Washington alumna, with a bachelor of arts in…
---
October 22, 2015
UW historian Michael Honey and filmmaker Errol Webber have produced a documentary about the life of Methodist minister and civil rights activist Rev. James Lawson that will be screened in Tacoma on Oct. 28, Seattle on Oct. 29
---
October 19, 2015
Margaret O'Mara, UW associate professor of history, discusses her new book, "Pivotal Tuesdays: Four Elections that Shaped the Twentieth Century."
---
October 12, 2015
Continuing a recent string of noteworthy accolades, the University of Washington held its place at No. 5 in the world on the National Taiwan University Ranking of Scientific Papers, which was released Friday. The ranking is based on performance of scientific papers in three major categories — research productivity, research impact and research excellence. "One…
---
A new group at the UW School of Law will spend the academic year studying existing and emerging markets for marijuana, to assist and inform the state as it prepares to blend current medical and recreational markets for cannabis.
---
October 7, 2015
A groundbreaking new report provides a sobering picture of the state of urban education in America, especially when it comes to educational opportunities for poor students and students of color, who now make up the majority of America's public school students nationwide. The report provides the first citywide assessment of the changing and complex public…
---
September 28, 2015
A diverse coalition of public and private colleges and universities including the University of Washington is coming together with the goal of improving the college admission application process for all students.  The Coalition is developing a free platform of online tools to streamline the experience of planning for and applying to college. The initial iteration…
---
September 23, 2015
Chinese President Xi Jinping presented the gift of a dawn redwood tree to the Global Innovation Exchange (GIX), a new partnership between the University of Washington and Tsinghua University, during a ceremony at Microsoft headquarters Wednesday.
---
September 16, 2015
The University of Washington is the most innovative public university in the world, according to a new ranking by Reuters released Wednesday. The UW is ranked fourth overall, behind only Stanford, MIT and Harvard. "Innovation and turning ideas into action are at the center of everything we do," UW Interim President Ana Mari Cauce said….
---
September 10, 2015
Faculty members from several departments at the University of Washington will share $2.25 million in research funds from the National Science Foundation to study and apply the principles of evolution "in real time." Their studies are a part of the BEACON Center for the Study of Evolution in Action. Founded in 2010, this NSF science…
---
September 4, 2015
Two professors from the University of Washington and Oklahoma State University have been awarded a grant from the National Science Foundation to bring six Native American undergraduate students to their first scientific meeting. The students will attend the Jan. 2016 annual meeting of the Society for Integrative and Comparative Biology in Portland, Oregon. Known commonly…
---
Previous page
Next page