UW News
Education
---
September 25, 2017
It has become an almost essential element of academic life, from college lecture halls to elementary classrooms: the group assignment. Dreaded by some, loved by others, group projects typically aim to build teamwork and accountability while students learn about a topic. But depending on the assignment and the structure of the groups, a project…
---
September 12, 2017
The University of Washington College of Education's work to expand access to high-quality early learning opportunities across the country is being strengthened with a $10 million grant from the Bill & Melinda Gates Foundation. Over the next four years, the grant will support the College in generating tools and methods needed to launch…
---
September 5, 2017
The biggest risk to public-private partnerships in governing is not financial or technical, but political, says UW Evans School professor Justin Marlowe in his fourth guide to financial literacy, published by Governing magazine.
---
August 28, 2017
Children who read and write at home — whether for assignments or just for fun — are building long-term study and executive function skills, according to a paper from the University of Washington. And while home literacy activities have already been associated with higher test scores, the new study shows these activities also provide…
---
August 24, 2017
Information School Dean Harry Bruce talks about his job and life as he prepares to step down.
---
August 18, 2017
With many in Seattle are wondering what the Aug. 21 solar eclipse will be like in our city, Bruce Balick, UW professor emeritus of astronomy, shared a few thoughts.
---
July 31, 2017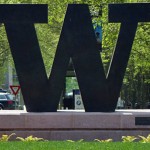 The University of Washington has been recognized by three separate publications in rankings focused on access for low-income students, affordability and value.
The New York Times' College Access Index ranked the UW 18th in the nation – ninth among public institutions – in its assessment of "which top universities are doing the most to promote the American Dream."
---
July 27, 2017
The true cultural tipping point in the run-up to the American Revolution might have been the First Continental Congress's decision in late October of 1774 to close the theaters in British America, says University of Washington drama professor Odai Johnson in his new book, "London in a Box: Englishness and Theatre in Revolutionary America."
---
July 24, 2017
Most schools offer parents specific ways to help out: Join the PTA, chaperone a field trip, grade papers for a teacher or assist on a classroom art project. Those volunteer opportunities, however, not only reinforce the top-down power structure of schools, but also cater to mostly white, privileged families, maintaining the institutionalized racism that…
---
July 17, 2017
For years, scientists and parents alike have touted the benefits of introducing babies to two languages: Bilingual experience has been shown to improve cognitive abilities, especially problem-solving. And for infants raised in households where two languages are spoken, that bilingual learning happens almost effortlessly. But how can babies in monolingual households develop such skills?…
---
July 6, 2017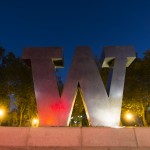 Graduate student fellows with the International Policy Institute in the UW Jackson School of International Studies have begun publishing a 13-part series of blogs exploring aspects of the intergovernmental Arctic Council as a 21st-century institution.
---
June 29, 2017
Anind K. Dey has been named dean of the Information School at the University of Washington, President Ana Mari Cauce and Provost Jerry Baldasty announced this week. Dey comes to the UW from Carnegie Mellon University School of Computer Science, where he is the Charles M. Geschke professor and director of the Human-Computer Interaction Institute….
---
June 13, 2017
Absurdity and abstraction, artistic dualisms, long-held family memories — and even some gentle voodoo — mingle together in the annual exhibition by UW art and design graduate students, on display through June 25 at the Henry Art Gallery.
---
June 7, 2017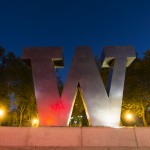 Issues of social justice, incarceration and the politics of race and gender — past and present — will be the focus as hundreds of scholars, teachers, labor activists and artists gather at the UW June 22-25 for the annual conference of the Labor and Working-Class History Association.
---
June 5, 2017
A popular podcast by Joe Janes of the UW Information School is now a book. "Documents that Changed the Way We Live" is being published this month by Rowman & Littlefield.
---
May 22, 2017
A University of Washington-led international team of astronomers has used data gathered by the Kepler Space Telescope to observe and confirm details of the outermost of seven exoplanets orbiting the star TRAPPIST-1.
---
May 16, 2017
For its final and biggest show of the year the UW Undergraduate Theater Society presents "Spring Awakening," a musical exploration of youth and blooming sexuality that's surprisingly timely for a story set in 19th century Germany.
---
May 11, 2017
The University of Washington Board of Regents on Thursday approved the location for construction of a new building to house the UW's Population Health Initiative.
---
University of Washington advocates for suicide prevention were busy pushing for legislation in Olympia, working on programs with more than a dozen local high schools and organizing the fourth annual Husky Help & Hope walk when an online TV show about suicide suddenly captivated a teenage audience. To the staff of UW-based Forefront: Innovations in…
---
May 10, 2017
The Seattle Art Museum will feature work by abstract artist and UW art professor Denzil Hurley. The exhibit, titled "Disclosures," will be on display from May 20 through November. It's a fitting tribute, as Hurley will retire from the UW at the end of the school year.
---
May 2, 2017
University of Washington Continuum College has launched the first UWPCE Certificate Scholarship program to help Washington residents eager to advance their careers through education.
---
April 27, 2017
Girls start believing they aren't good at math, science and even computers at a young age — but providing fun STEM activities at school and home may spark interest and inspire confidence. A study from the University of Washington's Institute for Learning & Brain Sciences (I-LABS) finds that, when exposed to a computer-programming activity, 6-year-old…
---
April 19, 2017
A favorite childhood pastime — swinging on the playground swing set — also may be teaching kids how to get along. The measured, synchronous movement of children on the swings can encourage preschoolers to cooperate on subsequent activities, University of Washington researchers have found. A study by the UW's Institute for Learning & Brain Sciences…
---
March 28, 2017
The very name of the class, when proposed, seemed to fire imaginations nationwide and beyond. Now with the beginning of spring quarter, the UW Information School's new course "Calling Bullshit in the Age of Big Data" is getting started.
---
March 13, 2017
For the 23rd time in the past 24 years, the University of Washington ranked as the No. 1 primary care medical school in the country, according to U.S. News & World Report's 2017 Best Graduate School rankings released Tuesday. The UW's Information School jumped from No. 3 to No. 2 in the nation for library and information studies programs.
---
March 7, 2017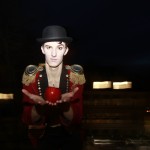 Director Wilson Mendieta discusses "Pippin," the third production of the UW's Musical Theater Program, running March 8 – 19 in the Floyd and Delores Jones Playhouse Theater.
---
March 3, 2017
Scientific research that doesn't get communicated to the public may as well not have happened at all, says Scott Montgomery in the second edition of "The Chicago Guide to Communicating Science."
---
February 22, 2017
The UW Undergraduate Theater Society will present "Medea" Feb. 23 through March 5 in the Cabaret Theater of Hutchinson Hall, home of the School of Drama.
---
February 1, 2017
A new UW graduate degree program – the Master of Arts in Applied Child & Adolescent Psychology: Prevention & Treatment – aims to meet the growing need for mental health professionals trained to serve children, teens and families.
---
January 31, 2017
Poet activists from around the nation will gather for daylong UW conference Feb. 3 on creativity in activism — and then give full voice to that creativity in performances 7 – 10 p.m. at the Seattle Public Library. All are welcome.
---
January 27, 2017
Meany Center for the Performing Arts and the School of Art + Art History + Design celebrate the 100th anniversary of the birth of artist Jacob Lawrence along with the Seattle Art Museum.
---
December 22, 2016
Donald Trump's promises on the campaign trail have generated confusion and consternation around the country, as many wonder not only what the president-elect actually intends to do, but what is within his power to accomplish. Will Trump follow through on his threat to deport millions of undocumented immigrants? Could he pull the U.S. out of…
---
December 21, 2016
Joe Janes' latest Documents that Changed the World podcast is about Sir Ronald Fisher, the man who set the mark of "statistical significance" for ages afterward at 5 percent, no more no less.
---
December 13, 2016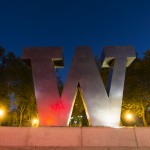 The University of Washington joins 30 of the nation's most respected colleges and universities Tuesday in a new initiative to substantially expand the number of talented low- and moderate-income students at America's top-performing undergraduate institutions with the highest graduation rates.
---
December 12, 2016
Charles Johnson, University of Washington professor emeritus of English, discusses his latest book, "The Way of the Writer: Reflections on the Art and Craft of Storytelling."
---
December 1, 2016
UW astronomer and astrobiologist Woody Sullivan discusses recent work and future plans in a multifaceted career that's changing gears, but far from winding down.
---
November 17, 2016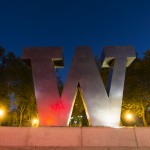 Several Jackson School of International Studies faculty members comment on the geopolitical possibilities of the coming Donald Trump administration.
---
Kim Boudreau enrolled at the University of Washington planning to major in business administration and human resources management, but it didn't feel like quite the right fit. Boudreau realized she was interested in workforce training, so she added a minor in education. But she still wasn't convinced her studies would take her where she wanted…
---
November 9, 2016
UW Libraries will host an open house from 1 to 5 p.m. on Veterans Day, Friday, Nov. 11, in conjunction with the current World War I-themed exhibit, "Washington on the Western Front: At Home and Over There."
---
November 2, 2016
Prof. Devin Naar of the Jackson School and the Department of History discusses his new book, "Jewish Salonica: Between the Ottoman Empire and Modern Greece,"
---
Previous page
Next page