Fall 2008
Hello Again, UWT Huskies & Friends!
An October chill hangs in the air as we look back on a great summer and another fantastic fall start at UW Tacoma. The Class of 2012—our third crop of freshmen—has now joined our picturesque campus community, and students are excited to celebrate the opening of the brand-new William W. Philip Hall!
---
What's Happening
Former D.C. Powerbroker to Speak at UW Tacoma
Long-time Washington, D.C. dealmaker Joseph S. Miller visits UW Tacoma in late October to discuss his new book, The Wicked Wine of Democracy: A Memoir of a Political Junkie 1948-1995. More ...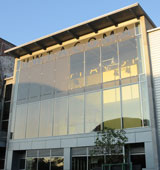 UWT's Philip Hall
So Long Dawg Shed, Hello, Philip Hall!
After only a year of construction, the $12 million William W. Philip Hall opened on the UW Tacoma campus this fall. The 21,000-square-foot building replaced the Dawg Shed on Pacific Avenue and will serve as the center of civic and cultural life at UW Tacoma. More ...
UWT Honored for Transportation Efforts
UW Tacoma has earned a Governor's Commute Smart award for its efforts to encourage staff, faculty and students to consider alternative modes of transportation. More ...
---
Alumni News
We've Moved!
The Office of Alumni Relations has a new home in the Carlton Center, a historic office building adjacent to the UW Tacoma campus. Immediately above the Two Koi restaurant and Tacoma Art Supply, the offices of Advancement and Alumni Relations now occupy the second floor suite, with the main entrance located at 1551 Broadway. Stop by and visit us sometime!
---
Faculty Shorts
Longtime director of UW Tacoma's Nursing Program Dr. Marjorie Dobratz resigned in June to return to teaching, researching and writing scholarly papers ... Dr. Rich Furman has joined UW Tacoma as the new head of the Social Work Program ... The American Educational Research Association honored Dr. Annette Henry with an award for her research and advocacy for social justice ... UW Tacoma Professor Michael Honey received the Robert F. Kennedy Book award in May for his book Going Down Jericho Road: The Memphis Strike, Martin Luther King's Last Campaign.
Read more about all four faculty.
---
Events

UW QB Jake Locker
Catch the Apple Cup at the Harmon Brewery in Tacoma!
Can't get to Pullman on Nov. 22 to see Wazzu coug it against the Dawgs? No problem! The Harmon Brewery & Restaurant in Tacoma will be the place to cheer the Huskies on to victory in this storied cross-state rivalry. We'll provide some refreshments and some great giveaways—YOU bring da' noise!! Get your purple and gold garb, and don't miss the excitement of the 2008 Apple Cup! Watch for registration information and other details at your UWT alumni events page.

On the Virginia V
Alumni and Friends Take to the Water at Tall Ships Tacoma
Nearly 60 UW alumni and friends set sail last July 5 on the steamship Virginia V, part of the fifth annual Husky Summer Celebration—a series of special Husky events and programs across the country. More ...

---
Get Connected
HuskyConnect is the exclusive new online networking community comprising more than 300,000 Husky degreed alumni and University of Washington Alumni Association members. All you have to do is log on! HuskyConnect is:
FREE
100-percent Husky-driven content
non-commercial (no outside advertising)
authentic (member eligibility is verified)
Are YOU connected???
Want to Increase Your Net(work) Worth?
If you are a UWT grad and want to know more about how you can explore career options and develop professional skills and contacts, or help UW students do the same, visit the Husky Career Network (formerly Career Connections). Consider the reward and satisfaction of expanding your own network. More ...
What's New(s) with You?
Want to tell us something we don't already know? With just a quick visit online, you can submit a "Class Note" to Terrain, the award-winning University of Washington Tacoma magazine, published three times annually. Not receiving Terrain, you say? You can also update your address and other contact information. We always love to hear from and about UWT alumni! Send a photo of you and your alumni friends doing something together. We'll print as many as we have room for.
---
Join the Team

Medina Gbenro
"UWT is academically challenging and my professors have helped me see and achieve my goals."—Medina Gbenro, Milgard School of Business, 2006
Giving Back: Have You Answered the Call Yet?
If you've considered renewing your commitment to UWT, remember that every gift to UW Tacoma will make a difference in the life of a student. From scholarships to academic program development to campus construction, your generosity allows us to grow and provide top-tier higher education to students like Medina in the South Sound region! Make your gift online.
Share Your Ideas with Us
We welcome your suggestions for improving this e-newsletter and future events. Keep checking your UWT Web site for UWAA membership details and information about upcoming events. Look for your next Alumni E-News in April and watch for Terrain, UW Tacoma's periodical for alumni, donors and friends, to arrive in late March.
Got a question? Want to know how you can get involved in the UWT Alumni Association? Send us e-mail at: uwtalum@u.washington.edu.