So Long, Dawg Shed; Hello Philip Hall!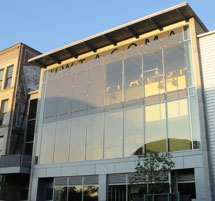 William W. Philip Hall (

Photo by Jill Danseco

)
After only a year of construction, the $12 million William W. Philip Hall opened on the UW Tacoma campus this fall. The 21,000-square-foot building replaced the Dawg Shed on Pacific Avenue and will serve as the center of civic and cultural life at UW Tacoma, hosting academic talks, banquets, student activities, conferences, community events and more. In fact, Philip Hall has recently been nominated in the "Best New Building" category of Evening Magazine's annual Best of Western Washington contest!
The building was funded with $7.5 million in state dollars and $4 million in private donations, including a $2 million gift from James A. Milgard, who requested that the building be named in honor of retired Columbia Bank CEO William W. Philip. A visionary community leader who has been called "Mr. Tacoma," Bill Philip was one of the most important players in the founding of UW Tacoma and continues to support the University and the city.