UW News
UW Tacoma
---
February 27, 2020
In the first major study following the devastating Carlton Complex fire in north central Washington, researchers from the University of Washington and U.S. Forest Service found that previous tree thinning and prescribed burns helped forests survive the fire.
---
February 18, 2020
It's the year 2020, and where two or more are gathered, it seems, there is a podcast. Given the level of creativity among University of Washington faculty and staff, it's no surprise that many high-quality podcasts are now being produced on campus. Here's a look at three podcasts being created by UW departments or people,…
---
January 22, 2020
Using a new "non-targeted" approach, UW and UW Tacoma researchers screened samples from multiple regions of Puget Sound to look for potentially harmful compounds that might be present.
---
January 14, 2020
James W. Harrington is not only a UW professor and former administrator — in recent years, he has also become a prolific painter. UW Notebook caught up with him to ask a few questions about his art and his coming exhibit at the UW Tower.
---
December 4, 2019
Researchers from the University of Washington and Michigan Technological University have created the first comprehensive database of all the wildfire fuels that have been measured across North America. Ultimately, it can help scientists make more informed decisions about fire and smoke situations.
---
June 4, 2019
This week in the arts, partake in the #HEREproject  – a celebratory interactive art installation honoring places around campus that have defined our #HuskyExperience and set us on our path, attend one of the 2019 School of Art + Art History + Design Graduation Exhibitions, attend a performance by UW Symphony and Choirs, and more! ASUW…
---
May 29, 2019
A collaborative group led by the University of Washington has released a set of research papers, fact sheets and modeling tools to help agencies incorporate traditional knowledge and human dimensions into Pacific herring management.
---
May 10, 2019
Early results from a faculty-led survey on the University of Washington's three campus estimate the extent of food and housing insecurity among students.
---
March 11, 2019
When coyote parents are habituated to humans, their offspring are more habituated, too — potentially leading to negative interactions between coyotes and humans.
---
January 28, 2019
Exposure to nature, even through a brief gardening activity, can improve well-being among women in prison, a UW Tacoma-led study finds.
---
The University of Washington has been recognized as one of the most sustainable higher education institutions in North America, according to the Sustainability Tracking, Assessment and Rating System.
---
January 22, 2019
Boeing has awarded $300,000 to Forefront Suicide Prevention and University of Washington Tacoma for work with veterans. Forefront, at the UW School of Social Work, received $205,000 to expand veteran-specific outreach, and UWT received $95,000 for career services for veterans.
---
December 13, 2018
As the year comes to a close and festivities abound, some UW faculty creations can make great gifts for the thinking Dawg on your giving list.
---
March 28, 2018
As the 50th anniversary approaches of the murder of civil rights leader Dr. Martin Luther King, UW historian Michael Honey reminds us in a new book that economic justice and labor rights were always part of King's progressive message.
---
May 3, 2017
The UW's Livable City Year program has selected the City of Tacoma as the program's community partner for the 2017-2018 academic year.
---
April 17, 2017
A new study provides a postmortem on the Yukon's Slims River, whose flow was diverted in early 2016. It is the only documented case of "river piracy" in modern times.
---
January 4, 2017
Eelgrass, a marine plant crucial to the success of migrating juvenile salmon and spawning Pacific herring, is stable and flourishing in Puget Sound, despite a doubling of the region's human population and significant shoreline development over the past several decades.
---
October 25, 2016
A UW panel discussion Oct. 27 will look at immigration-related questions from philosophical, sociological and historical perspectives. It's part of a two-day international conference on immigration.
---
The National Science Foundation will fund a three-year, $1.5 million research project to study teaching and learning of mathematical modeling in elementary education. Julia Aguirre, an associate professor of mathematics education at the University of Washington Tacoma, is one of four principal investigators leading the endeavor. "Mathematical modeling is a process of using mathematics to…
---
April 18, 2016
The Great Recession devastated millions of Americans financially — but what impacts did that economic stress have on their physical and mental well-being? Gillian Marshall, an assistant professor of social work at the University of Washington Tacoma, wants to answer that question. Marshall was awarded a five-year, $654,000 grant from the National Institutes of Health…
---
February 25, 2016
Just like a strong financial portfolio contains shares from different companies, the diverse subpopulations of herring from different bays and beaches around Puget Sound collectively keep the total population more stable, a new study finds.
---
December 16, 2015
When an earthquake struck Nepal in late April 2015, thousands of lives were lost in the initial disaster. But it was hard to assess the scale of the damage to rural areas, and still lurking were threats from unstable slopes and dammed glacier-fed lakes that could dislodge at any time to flood villages below. A…
---
November 4, 2015
In an era of Fitbits, Skinnygirl margaritas and kale mania, isn't overeating simply a failure of willpower, an unwillingness or inability to make good choices? It's not that simple, says Kima Cargill, a professor of clinical psychology at the University of Washington in Tacoma. In her new book "The Psychology of Overeating," Cargill places the…
---
October 22, 2015
UW historian Michael Honey and filmmaker Errol Webber have produced a documentary about the life of Methodist minister and civil rights activist Rev. James Lawson that will be screened in Tacoma on Oct. 28, Seattle on Oct. 29
---
August 6, 2015
Abusive and controlling men are more likely to put their female partners at sexual risk, and the level of that risk escalates along with the abusive behavior, a UW study found. Published in the Journal of Sex Research in July, the study looked at patterns of risky sexual behavior among heterosexual men aged 18 to…
---
July 29, 2015
The Puget Sound Partnership on Wednesday adopted new targets that seek to quantify aspects of the natural environment that boost our collective happiness and wellness. These people-focused benchmarks will help inform restoration plans and assess future progress in cleaning up Puget Sound.
---
April 13, 2015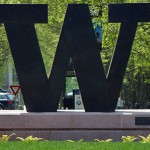 The University of Washington Bothell and Tacoma campuses were recognized April 13 by both Gov. Jay Inslee and the State Senate with a proclamation and senate resolution acknowledging the 25th anniversary of the state's newest public university campuses.
---
October 1, 2014
Justin Wadland of the UW Tacoma Library discusses his book "Trying Home: The Rise and Fall of an Anarchist Utopia on Puget Sound."
---
September 22, 2014
Through new degree programs starting this fall, students will learn architecture from a liberal arts perspective, complete social sciences degrees online, become expert in the teaching of science, and much more.
---
January 27, 2014
University of Washington Tacoma Chancellor Debra Friedman died on Jan. 26 at the age of 58, following a short battle with lung cancer.
---
January 7, 2014
UW historian Michael Honey talks about his latest book, "Sharecropper's Troubadour: John L. Handcox, the Southern Tenant Farmers' Union, and the African American Song Tradition."
---
December 8, 2010
The UW Tacoma is part of a project funded by the National Science Foundation to transform how K-8 mathematics teachers can be trained as they face classrooms in which many students are not native English speakers.
---