UW News
Thaisa Way
---
May 18, 2018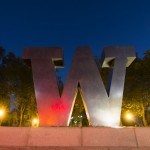 Eight decades ago to the day, the Faculty Senate met for the first time at the University of Washington.
---
November 27, 2017
Seattle's homeless crisis isn't confined to one part of town – nor does it hinge on one solution. The University District community includes as much as one-third of King County's homeless youth over any given year. It's a neighborhood where a food bank and youth shelter are available, and where young people on the…
---
August 19, 2016
Faculty members from the UW College of Built Environments, Jackson School of International Studies and departments of French and Italian studies and history will team up in 2017 to give a new, three-week course for university and college instructors on urban environmental humanities.
---
October 27, 2015
When Thaisa Way put a call out last spring to see if University of Washington faculty members working on urban issues wanted to join forces, she wasn't sure what the response would be. "There were a lot of people who said, 'You're not going to get anyone to show up,'" said Way, a UW associate…
---
May 8, 2015
Thaisa Way, associate professor of landscape architecture in the UW College of Built Environments, discusses her book, "The Landscape Architecture of Richard Haag: From Modern Space to Urban Ecological Design."
---