UW News
School of Public Health
---
December 8, 2020
Understanding Washington residents' access to food and their economic well-being – or lack of it – during the COVID-19 pandemic is vital for state and community partners to identify those needs and allocate resources effectively. To help accomplish this goal, the University of Washington, Washington State University and Tacoma Community College, along with input from…
---
October 22, 2020
When a vaccine to fight COVID-19 has been approved by the FDA for distribution, it's unlikely that at first there will be enough doses for everyone. Consequently, the United States will need an equitable and effective plan for who gets those first doses, how they get them and who's next. Just as important, that plan…
---
With Latinos 1.5 times more likely to have dementia than non-Latino whites, among other health disparities, researchers at the University of Washington are hoping to better understand Latino family caregivers and adapt the training available to those caregivers. To do that, the UW Department of Health Services is seeking to interview Latino caregivers for a…
---
October 21, 2020
A new UW study of senior services in Washington during the COVID-19 pandemic reveals providers' concerns about isolation, and worsening mental and physical health among older adults.
---
October 19, 2020
Research by Forefront Suicide Prevention at the University of Washington, from visits to 18 gun shows and other community events around Washington state last year, found that engaging people in a community-based setting, in an empathetic conversation focused on safety, resulted in more people locking up their firearms.
---
The National Academy of Medicine on Monday announced the election of 100 new members, including three from the University of Washington: Patrick Heagerty, Dr. Joel Kaufman and Sean Sullivan. In addition, David Eaton, dean and vice provost emeritus of the UW's Graduate School, was recognized for outstanding service.
---
October 12, 2020
With a grant from the National Institutes of Health, a five-year, $1.8 million training program at the University of Washington will fund 25 academic-year graduate fellowships, develop a new training curriculum and contribute to methodological advances in health research at the intersection of demography and data science.
---
October 5, 2020
As the city of Seattle shut down in March 2020 to try to slow the spread of COVID-19, a group of University of Washington researchers decided to track how the city would react.
---
When exploring data on Washington workers during the pandemic — demographics, working conditions, wages and benefits, and risks of exposure to disease — the authors of a new report found that women hold two-thirds of the jobs in the harshest category of work. "The big takeaway from our research," said David West, a co-author of…
---
September 30, 2020
With roughly 109 people dying every day and many others treated in emergency rooms from firearm-related injuries — which are the second leading cause of death among adolescents — the Centers for Disease Control and Prevention has, after decades, stepped in to fund critical firearm research. The CDC announced on Sept. 23 it would fund…
---
UW researchers developed a project that scans the streets every few weeks to document how Seattle has reacted to the pandemic and what recovery looks like.
---
September 24, 2020
In the United States, individual state laws barring 18- to 20-year-olds from buying or possessing a handgun make little difference in the rate of homicides involving a gun by people in that age group, a new University of Washington study has found. "The central issue is that there's a very high degree of informal access…
---
September 17, 2020
Dr. Sverre Vedal, UW professor emeritus of environmental and health sciences, served on an expert committee for the National Academies of Science, Engineering and Medicine studying the long-term respiratory health impacts of military service in Southeast Asia.
---
September 15, 2020
With most of the Northwest blanketed by wildfire smoke, public officials and health experts suggest staying inside as much as possible to reduce exposure to the significant health risks of wildfire smoke. However, inequity in our communities means not every home provides great protection and many workers in disadvantaged populations can't afford to stay home,…
---
August 28, 2020
The future of our health and the health of the communities we live in relies, in many ways, on students in the health sciences. The education and experiences that future doctors, dentists, pharmacists, nurses, social workers and public health experts receive will to a large degree shape how those professionals work and work together when…
---
August 18, 2020
For nearly 50 years, a statistical omission tantamount to data falsification sat undiscovered in a critical study at the heart of regulating one of the most controversial and widely used pesticides in America. Chlorpyrifos, an insecticide created in the late 1960s by the Dow Chemical Co., has been linked to serious health problems, especially in children….
---
August 7, 2020
Recent honors and grants to University of Washington individuals and units have come from the National Science Foundation, National Institutes of Health, the Marconi Society — and the White House.
---
July 30, 2020
Face coverings will continue to be an important and effective tool in combating the spread of COVID-19.
---
July 29, 2020
The University of Washington has a long history of leading research into the impacts of wildfires from an ecological and health perspective. We worked with two experts to answer some of the most frequently asked questions about wildfires in the Pacific Northwest, including the ways that the pandemic is increasing our community's vulnerability to extreme wildfire events in the region.
---
July 16, 2020
Seven scientists and engineers at the University of Washington have been elected to the Washington State Academy of Sciences, according to an announcement July 15 by the academy.
---
June 29, 2020
A new University of Washington study of people experiencing homelessness in King County finds that unpaid medical bills were their primary source of debt, and that debt extended their period of homelessness by an average of two years.
---
June 25, 2020
Beginning June 26, face coverings will be required statewide in Washington. Hilary Godwin, dean of the UW School of Public Health, offers some practical information about using masks to slow the spread of COVID-19.
---
June 24, 2020
A new online survey for Washington state residents has launched to gather data on how the COVID-19 pandemic and subsequent economic downturn have affected food access and economic security. The Washington State Food Security Survey, which went live June 18 and runs through July 31, is open to all Washington state residents aged 18 or over.
---
It could take another generation before resident fish in the heavily polluted Lower Duwamish Waterway in Seattle will be safe to eat. Yet many fishers from a wide range of cultural backgrounds continue to fish the 5-mile stretch of river for fun, cultural connections and food even as cleanup of this designated Superfund site continues….
---
June 23, 2020
About three-quarters of U.S. workers, or 108 million people, are in jobs that cannot be done from home during a pandemic, putting these workers at increased risk of exposure to disease. This majority of workers are also at higher risk for other job disruptions such as layoffs, furloughs or hours reductions, a University of Washington…
---
June 16, 2020
The COVID-19 Clearinghouse at UW Law is just one of the ways that faculty and staff across the university have revamped summer research internships and worked with outside partners and employers to involve students in a remote working environment, even for jobs that would normally be out in the field.
---
May 29, 2020
As businesses and public spaces reopen across the nation, the old-school public health detective work known as contact tracing is becoming a major component of the battle to contain the novel coronavirus that causes the deadly COVID-19 disease. It's an investigative strategy long used for finding and informing people exposed to contagious diseases, such as…
---
May 27, 2020
Meat processing plants face challenges in keeping workers safe during the pandemic. Carrie Freshour, a UW assistant professor of geography, and Marissa Baker, an assistant professor in the UW Department of Environmental and Occupational Health Sciences and an expert on worker safety related to infectious diseases, provides comments on what the industry can do to protect workers.
---
May 22, 2020
The dean of the UW School of Public Health shares information about using face coverings, including what kinds of masks are appropriate to wear and how they protect people.
---
May 18, 2020
Beginning May 18, King County is directing people to wear face coverings in most public settings. Expert Hilary Godwin answers questions about the directive and shares information about using face coverings.
---
May 11, 2020
In a letter to the White House Coronavirus Task Force, U.S. Senator Maria Cantwell (D-Wash.) drew upon the testimony by Hilary Godwin, dean of the University of Washington School of Public Health, in calling for federal guidelines be established for the aviation industry and the traveling public. 
---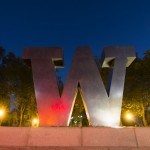 Research projects funded for 2020 by EarthLab's Innovation Grants Program will study how vegetation might reduce pollution, help an Alaskan village achieve safety and resilience amid climate change, organize a California river's restoration with tribal involvement, compare practices in self-managed indigenous immigrant communities and more.
---
May 6, 2020
As the push to relax social and economic restrictions for combating the pandemic gain traction, we need to understand personal motives behind what many experts consider a dangerous rush to "reopen" and how to protect workers most at risk when communities do "go back to work." Three UW experts weigh in.
---
April 28, 2020
A new study looks at temperature increases in counties across the United States where crops are grown. It also looks at different strategies the industry could adopt to protect workers' health.
---
April 27, 2020
A little after 10 p.m. on March 19, University of Washington graduate students Anne Massey and David Coomes happened to be online when they received an email that would give them an unexpected role in Washington's rapidly evolving response to the outbreak of a novel coronavirus. As context, the World Health Organization had just declared the…
---
April 10, 2020
A new survey of people who inject illicit drugs in the state of Washington yields positive and important findings for policy makers as the world struggles to deal with the COVID-19 pandemic, said authors of the survey by the University of Washington and Public Health-Seattle & King County. Most people – 82% ­– who inject…
---
March 26, 2020
Only about 25% of the U.S. workforce — some 35.6 million people — are in jobs that can easily be done at home, a University of Washington researcher has determined, as these are the positions in which using a computer is important but interacting with the public is not. These jobs are typically in highly-paid…
---
March 24, 2020
University of Washington researchers have launched the King County COVID-19 Community Study — or KC3S — to gather data through April 19 on how individuals and communities throughout King County are coping with the measures put in place to combat the spread of the COVID-19 virus.
---
March 19, 2020
A new study led by the University of Washington finds dramatic increases in the abundance of a worm that can be transmitted to humans who eat raw or undercooked seafood. Its 283-fold increase in abundance since the 1970s could have implications for the health of humans and marine mammals, which both can inadvertently eat the worm.
---
March 15, 2020
The idea of building herd immunity – increasing the number of infected to such a degree that naturally occurring immunity would outstrip the coronavirus, while isolating the elderly and others at greatest risk of the disease – has been tossed around in the United States, the United Kingdom and elsewhere.  This week, however, U.K. officials…
---
Next page