UW News
School of Nursing
---
March 3, 2020
Premera Blue Cross, a leading health plan in the Pacific Northwest, today announced a $4.7 million grant to the University of Washington to establish the Rural Nursing Health Initiative to place current students in rural practices in Washington state.
---
February 10, 2020
Recent honors to UW faculty and staff members include awards for architectural education and biomaterials research, fellowships in nursing and cloud computing, a professor named among Seattle's most influential people and a big news year for "a burgeoning band of embodied carbon busters."
---
October 7, 2019
Sparked by a grant from the UW Population Health Initiative, the UW's Center for One Health Research has created a series of pop-up galleries featuring autobiographical photographs made by people experiencing homelessness with their animal companions. The first gallery was Oct. 4 in UW's Red Square. Other pop-up gallery events are 11 a.m. to 5 p.m. on Monday,…
---
August 27, 2019
A new study finds that women of color perceive their interactions with doctors, nurses and midwives as being misleading, with information being "packaged" in such a way as to disempower them by limiting maternity health care choices for themselves and their children.
---
August 19, 2019
The SHARE-NW project is a five-year effort to identify, gather and visualize data in four Northwest states to help rural communities more effectively address health disparities and achieve health equity.
---
April 16, 2019
A novel type of body awareness training helps women recover from drug addiction, according to new research from the University of Washington. People in the study made marked improvement, and many improvements lasted for a year.
---
March 11, 2019
The University of Washington's graduate and professional degree programs were widely recognized as among the best in the nation, according to U.S. News & World Report's 2020 Best Graduate School rankings released March 12.
---
February 19, 2019
A member of the British House of Lords is scheduled to deliver the Elizabeth Sterling Soule Lecture on Thursday, Feb. 21st, as part of the University of Washington School of Nursing's Centennial celebrations and the Nursing Now initiative in the State of Washington. Baroness Mary Watkins of Tavistock, a professor of nursing and alternate chair…
---
January 16, 2019
The University of Washington today opened the doors to Othello-UW Commons, a new multifunctional partnership space in the heart of Southeast Seattle's Othello neighborhood.
---
November 20, 2018
The abundance of personal smartphones in southern African countries got University of Washington professor Sarah Gimbel thinking: What if these phones were used by front-line health workers — namely nurses — to collect and analyze data on patients living with HIV or AIDS to improve their care?
---
September 19, 2018
Nurses and nurse-scientists interested in advanced multi-disciplinary training for population and global health practice can now apply for a new University of Washington degree program.
---
August 20, 2018
The University of Washington's Doorway Project has offered a cafe for homeless young adults each quarter, while students have helped add services, from preventive health care, to establishing a fundraising organization to designing a permanent café home. Its summer pop-up cafe event is Aug. 24.
---
July 19, 2018
As a middle school student, Srinya Sukrachan spent a lot of time in hospitals. She had juvenile rheumatoid arthritis and her father was battling colon cancer.
When she was 17, her personal health care experience led her to participate in the University of Washington School of Nursing's first Nurse Camp. Now, a decade later, Sukrachan is one of the student leaders for the camp's 10-year anniversary session and she's become an advocate with a passion for teaching, equity and inclusion. The recent School of Nursing graduate already also has a job lined up at Swedish Medical Center in Seattle.
---
March 19, 2018
Nearly 50 different graduate and professional programs and specialties at the University of Washington are among the top 10 in the nation, according to U.S. News & World Report's 2019 Best Graduate School rankings released March 20.
---
November 27, 2017
Seattle's homeless crisis isn't confined to one part of town – nor does it hinge on one solution. The University District community includes as much as one-third of King County's homeless youth over any given year. It's a neighborhood where a food bank and youth shelter are available, and where young people on the…
---
March 22, 2017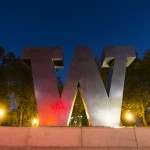 The interdisciplinary 2017 Benjamin Rabinowitz Symposium in Medical Ethics on March 31, titled "Race, Health & Justice," will explore inequities in health and health care and place them in political, economic and historical context.
---
June 5, 2013
Older adults are assessing their neighborhoods to make them more amenable to a favorite physical activity: walking.
---
February 8, 2013
The initiative builds on the school's national distinction in preparing students for careers in community health; critical care; psychiatric/mental health; pediatric, adult, geriatric and family nursing, and nurse-midwifery.
---
January 7, 2013
Azita Emami, dean of the College of Nursing at Seattle University, will be the new dean of the UW School of Nursing.
---