UW News
School of Medicine
---
January 9, 2020
In 2019, the University of Washington was mentioned in 4,143 news articles around the world. Among those, UW experts were quoted 2,290 times: 1,185 in national or international outlets and 1,105 in regional and local outlets.
---
While waiting for free firearm storage devices at gun safety events held in sporting goods stores across Washington, nearly 3,000 people filled out a one-page survey asking how they stored guns at home and other household information. What the participants reported emphasizes the need for these public events, Seattle Children's and University of Washington researchers…
---
December 16, 2019
Recent honors to UW faculty and staff include the new editorship of a major journal, a post with the Republic of Uganda and honors from the American College of Physicians, the Association for Computing Machinery and the Institute of Electrical and Electronics Engineers.
---
November 26, 2019
The American Association for the Advancement of Science has named six faculty members from the University of Washington as AAAS Fellows, according to a Nov. 26 announcement. They are part of a cohort of 443 new fellows for 2019, all chosen by their peers for "scientifically or socially distinguished efforts to advance science or its applications."
---
October 15, 2019
Ashleigh Theberge, a University of Washington assistant professor of chemistry, has been named a 2019 Packard Fellow for her research on cell signaling. Every year since 1988, the David and Lucile Packard Foundation has awarded Packard Fellowships in Science and Engineering to early-career scientists to pursue the types of innovative projects that often fall outside…
---
UW researchers have developed a new smart speaker skill that lets a device use white noise to both soothe sleeping babies and monitor their breathing and movement.
---
October 14, 2019
While gun violence in America kills more than 35,000 people a year and as calls for policies to stem the crisis grow, University of Washington researchers point out in a new analysis that barriers to data stand in the way of advancing solutions. "Firearm data availability, accessibility and infrastructure need to be substantially improved to…
---
October 11, 2019
Even successful methods for diagnosing, treating and caring for people who are suffering from cancer are not enough without effective, practical tools and guidance for putting those methods into practice. To bridge this gap between cancer interventions and their implementation within communities across the country, the National Institutes of Health's National Cancer Institute is funding…
---
July 29, 2019
More than 4 million reports of child maltreatment involving about 7.5 million children were made in 2017 to Child Protective Services. While much work has been done to reduce these high rates of child abuse and neglect in the United States, few programs have been consistently effective.
---
July 16, 2019
Eight scientists and engineers from the University of Washington have been elected this year to the Washington State Academy of Sciences.
---
June 19, 2019
UW researchers have developed a new tool to monitor people for cardiac arrest while they're asleep — all without touching them. The tool is essentially an app for a smart speaker or a smartphone that allows it to detect the signature sounds of cardiac arrest and call for help.
---
June 13, 2019
The burgeoning field of personal genetics appeals to people who want to learn more about themselves, their family and their propensity for diseases. More and more consumers are using services like 23andMe to learn about their genetic blueprint.
---
May 29, 2019
A multicenter research team that includes the University of Washington Autism Center has received a five-year, $9.5 million grant to further evaluate whether brain imaging can help detect very high risk of autism spectrum disorder in early infancy.
---
May 20, 2019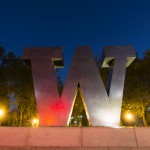 In a paper published May 20 in the journal Nature Materials, a team of researchers from the University of Washington unveiled a new strategy to keep proteins intact and functional in synthetic biomaterials for tissue engineering. Their approach modifies proteins at a specific point so that they can be chemically tethered to the scaffold using light. Since the tether can also be cut by laser light, this method can create evolving patterns of signal proteins throughout a biomaterial scaffold to grow tissues made up of different types of cells.
---
May 15, 2019
Researchers at the UW have created a new smartphone app that can detect fluid behind the eardrum by simply using a piece of paper and the phone's microphone and speaker.
---
April 15, 2019
A team led by researchers at the University of Washington has developed synthetic peptides that target and inhibit the small, toxic protein aggregates that are thought to trigger Alzheimer's disease.
---
March 13, 2019
UW researchers have created a novel system that can measure platelet function within two minutes and can help doctors determine which trauma patients might need a blood transfusion upon being admitted to a hospital.
---
March 12, 2019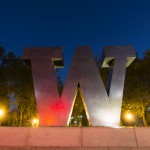 Eight researchers at the University of Washington have been named 2019 Washington Research Foundation Postdoctoral Fellows.
---
March 11, 2019
The University of Washington's graduate and professional degree programs were widely recognized as among the best in the nation, according to U.S. News & World Report's 2020 Best Graduate School rankings released March 12.
---
February 27, 2019
Three faculty members at the University of Washington have been awarded early-career fellowships from the Alfred P. Sloan Foundation. The new Sloan Fellows, announced Feb. 19, include Kelley Harris, an assistant professor of genome sciences at the UW School of Medicine; and Alvin Cheung and Shayan Oveis Gharan, both assistant professors in the Paul G. Allen School of Computer Science & Engineering.
---
January 9, 2019
UW researchers have developed a smartphone app that uses sonar to monitor someone's breathing rate and sense when an opioid overdose has occurred.
---
November 30, 2018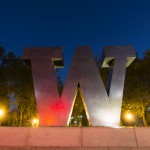 Two University of Washington researchers, Terrance Kavanagh and Jay Shendure, are among the 416 new fellows of the American Association for the Advancement of Science, announced in November.
---
October 19, 2018
A study led by the University of Washington is the first large-scale trial of hundreds of PTSD patients, including veterans and survivors of sexual assault, to measure whether patient preference in the course of treatment impacts the effectiveness of both cognitive behavioral therapy and use of selective serotonin reuptake inhibitors, a type of antidepressant often prescribed for PTSD.
---
October 18, 2018
The incoming chair of the Faculty Senate sat down for a Q and A with UW News.
---
October 11, 2018
Kristie Ebi, a UW professor of global health, was a lead author on the Intergovernmental Panel on Climate Change's "Special Report on Global Warming of 1.5 C" that compares the effects of 1.5 versus 2 degrees Celsius of global warming.
---
October 10, 2018
Researchers at the University of Washington have developed a new machine-learning system, called Prescience, which uses input from patient charts and standard operating room sensors to predict the likelihood that a patient will develop hypoxemia — a condition when blood oxygen levels dip slightly below normal. Prescience also provides real-world explanations behind its predictions.
---
August 16, 2018
A new UW-led study shows that males and female process visual motion differently, a variation that may be attributable to a neural regulatory process that is different in the male brain.
---
August 7, 2018
The NIH has awarded a $6.5 million, five-year grant to the University of Washington and partner institutions to establish the Center for Reproducible Biomedical Modeling. The center's primary goal is to develop more effective predictive models of biological systems, which are used in research and medicine.
---
August 3, 2018
The U.S. Department of Energy has awarded an expected $10.75 million, four-year grant to the University of Washington, the Pacific Northwest National Laboratory and other partner institutions for a new interdisciplinary research center to define the enigmatic rules that govern how molecular-scale building blocks assemble into ordered structures and give rise to complex hierarchical materials.
---
March 27, 2018
Dr. Benjamin Danielson, a 1992 graduate of the UW School of Medicine, a Children's Hospital pediatrician and director of the Odessa Brown Children's Clinic, will be the featured speaker at the University of Washington's Commencement exercises Saturday, June 9.
---
March 19, 2018
Nearly 50 different graduate and professional programs and specialties at the University of Washington are among the top 10 in the nation, according to U.S. News & World Report's 2019 Best Graduate School rankings released March 20.
---
March 15, 2018
Researchers at the University of Washington and the Allen Institute for Brain Science have developed a new method to classify and track the multitude of cells in a tissue sample. In a paper published March 15 in the journal Science, the team reports that this new approach — known as SPLiT-seq — reliably tracks gene activity in a tissue down to the level of single cells.
---
March 12, 2018
The University of Washington is launching a study to identify soldiers experiencing post-traumatic stress symptoms and to determine whether free, confidential, over-the-phone counseling can help them navigate resources and spur them to seek further support.
---
January 19, 2018
For this year's University Faculty Lecture, University of Washington chemistry professor Michael Gelb will discuss the science behind screening newborns for treatable — but rare — genetic diseases.
---
January 16, 2018
Drug treatments can save lives, but sometimes they also carry unintended costs. After all, the same therapeutics that target pathogens and tumors can also harm healthy cells. To reduce this collateral damage, scientists have long sought specificity in drug delivery systems: A package that can encase a therapeutic and will not disgorge its toxic cargo…
---
December 5, 2017
Scientists at the University of Washington show for the first time that the complex distribution of molecules within a membrane of a living yeast cell arises through demixing.
---
December 3, 2017
Kim Nasmyth, a professor of biochemistry at the University of Oxford and former postdoctoral researcher at the University of Washington, is one of five recipients of the 2018 Breakthrough Prize in Life Sciences. Nasmyth and other prize recipients were honored by the Breakthrough Prize Foundation at a ceremony December 3 at NASA's Ames Research Center in Mountain View, California.
---
October 6, 2017
Three University of Washington faculty members are among those honored with an NIH High-Risk, High-Reward Research grant, which fund exceptionally creative scientists proposing to use highly innovative approaches to tackle major challenges in biomedical research.
---
September 6, 2017
University of Washington researchers are developing a smartphone app that is capable of objectively detecting concussion and other traumatic brain injuries in the field, which could provide a new level of screening for athletes and accident victims.
---
August 28, 2017
A new app could lead to earlier detection of pancreatic cancer simply by snapping a smartphone selfie. The disease kills 90 percent of patients within five years, in part because there are no telltale symptoms or non-invasive screening tools to catch a tumor before it spreads.
---
Next page