UW News
Institute for Nano-Engineered Systems
---
October 4, 2019
A team led by scientists at the University of Washington has designed and tested a 3D-printed metamaterial that can manipulate light with nanoscale precision. As they report in a paper published Oct. 4 in the journal Science Advances, their designed optical element focuses light to discrete points in a 3D helical pattern.
---
August 9, 2019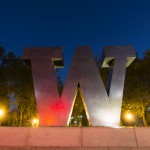 Scientists have designed and tested an experimental system that uses a near-infrared laser to actively heat two gold nanorod antennae — metal rods designed and built at the nanoscale — to different temperatures. The nanorods are so close together that they are both electromagnetically and thermally coupled. Yet the team measured temperature differences between the rods as high as 20 degrees Celsius and could change which nanorod was cooler and which was warmer, even though the rods were made of the same material.
---
July 17, 2019
Scientists have visualized the electronic structure in a microelectronic device for the first time, opening up opportunities for finely tuned, high-performance electronic devices. Physicists from the University of Washington and the University of Warwick developed a technique to measure the energy and momentum of electrons in operating microelectronic devices made of atomically thin — so-called 2D — materials.
---
May 3, 2019
Researchers at the University of Washington, the U.S. Naval Research Laboratory and the Pacific Northwest National Laboratory discovered that they can use extremely high pressure and temperature to introduce other elements into nanodiamonds, making them potentially useful in cell and tissue imaging, as well as quantum computing.
---
March 21, 2019
The University of Washington, the Pacific Northwest National Laboratory and Microsoft Quantum announced this week that they have joined forces in a new coalition, the Northwest Quantum Nexus, to bring about a revolution in quantum research and technology.
---
December 5, 2017
The University of Washington has launched a new institute aimed at accelerating research at the nanoscale: the Institute for Nano-Engineered Systems, or NanoES. The institute will pursue impactful advancements in a variety of disciplines — including energy, materials science, computation and medicine. Yet these advancements will be at a technological scale a thousand times smaller than the width of a human hair.
---