UW News
genomics
---
May 29, 2019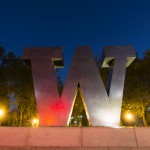 In a paper published May 29 in Nature, scientists report that the growth of chronic lymphocytic leukemia is apt to follow one of three trajectories: relentlessly upward, steadily level or something in between. The particular course the disease takes is tightly linked to the genetic makeup of the cancer cells, particularly the number of growth-spurring "driver" mutations they contain.
---
December 12, 2013
Finding a second code hiding in the genome casts new light on how changes to DNA impact health and disease.
---
July 10, 2013
Funded by the NIH at $15 million over five years, the lab will be a national resource to evaluate candidate vaccines from studies around the country.
---