UW News
Department of Political Science
---
March 31, 2020
New research by the University of Washington examines factors that contributed to decision-making by governors in all 50 states to combat the novel coronavirus.
---
February 20, 2020
A new, University of Washington-developed data visualization tool draws on bill information made available by the Washington State Legislature to enable students, journalists and voters to visually explore the lawmaking process.
---
January 14, 2020
Recent honors to UW faculty and staff include an honorary doctorate from the University of Bern, an award for biodiversity conservation and a consulting assignment for the World Health Organization.
---
November 12, 2019
This week in the arts, join poet Cedar Sigo at the Burke, learn about the translation of comics, attend a performance by Gabriel Kahane and School of Music faculty, and more! Closing Reception for ALTAR: Ritual, Prayer, Offering November 22, 6:30 – 8:30 pm | Jacob Lawrence Gallery Altars are often erected to pay homage…
---
October 29, 2019
University of Washington political scientist Megan Ming Francis says there is a dearth of academic book series being published on topics of race, ethnicity and politics. Now, she will start to change that. An associate professor of political science, Francis will be the editor of a new series of books from Cambridge University Press called…
---
October 8, 2019
In American politics, the question of "Who donates?" is linked to the crucial question of "Who governs?" Most campaign donations historically have come from white voters. But new UW-led research indicates that if more candidates of color ran for office, donations from individuals of color would likely increase as well.
---
September 25, 2019
Joel S. Migdal, professor in the UW Jackson School of International Studies, will celebrate retirement after 39 years at the UW on Oct. 3 with a daylong workshop featuring current and former students, followed by a lecture on "State and Society: Then and Now."
---
May 1, 2019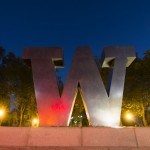 Americans appear more willing to support a pathway to citizenship for undocumented immigrants if that path includes serving in the United States military, according to new research from UW political scientists Sophia Jordán Wallace and Geoffrey Wallace.
---
November 19, 2018
A timely new University of Washington political science class asks: How do we separate fact from fiction these days? How do we know what is true?
---
October 29, 2018
Recent notable books by UW faculty members study politics and culture in post-World War II Japan, explore regime change, nonprofit management, documents from the ancient world and more.
---
August 2, 2018
Recent notable books by University of Washington authors tell of the struggle to break free of racism in higher education, taking an "urban diary" approach to documenting city life and more.
---
March 14, 2018
African-American voters who dislike and feel threatened by Donald Trump and his presidency are more likely to vote and to engage with politics, according to new research from the UW and California State University, Sacramento.
---
March 8, 2018
Megan Ming Francis, UW associate professor of political science, has been named a fellow with the Thurgood Marshall Institute. The institute is a multidisciplinary research and advocacy policy center within the NAACP's Legal Defense and Educational Fund.
---
March 5, 2018
Immigrant rights, environmental concerns and racial, class, gender and sexual justice will be the focus of a daylong conference hosted by the Harry Bridges Center for Labor Studies March 10 at the UW.
---
October 27, 2016
"The Institutions Curse," a new book by UW political scientist Victor Menaldo, finds a new explanation for the "resource curse" problem — the idea that resource-rich countries tend to be burdened with corrupt governments and underdeveloped economies.
---
March 22, 2016
UW political scientist Rebecca Thorpe's book "The American Warfare State: The Domestic Politics of Military Spending," has been honored by the Lyndon Baines Johnson Foundation — the second award the well-received book has earned.
---
January 28, 2016
In the Iowa caucuses, expectations are nearly as important as votes and front-runners must watch their backs, say University of Washington professors who are closely watching this year's presidential race. The 2016 Iowa caucuses will be held Monday, Feb. 1, pitting Democratic leader Hillary Clinton against Sen. Bernie Sanders and Gov. Martin O'Malley and Republican…
---
December 8, 2015
Mark A. Smith is a University of Washington professor of political science and adjunct professor of comparative religion. He is the author of "Secular Faith: How Culture Has Trumped Religion in American Politics," published in September by University of Chicago Press. He answered a few questions about his book for UW Today. What's the concept…
---
October 22, 2015
UW historian Michael Honey and filmmaker Errol Webber have produced a documentary about the life of Methodist minister and civil rights activist Rev. James Lawson that will be screened in Tacoma on Oct. 28, Seattle on Oct. 29
---
October 22, 2014
Foreign policy looms large as the 2014 midterm elections approach. But traditional conservatives and their tea party counterparts may bring different concerns and motivations to the November ballot, according to a University of Washington political scientist. While traditional conservatives seem most motivated by concern over American security, Christopher Parker, UW professor of political science, suggests…
---
July 15, 2014
UW political scientist Karen Litfin spent a year traveling to 14 ecovillages worldwide in researching her book "Ecovillages: Lessons for Sustainable Community."
---
June 30, 2014
UW political scientist Rebecca Thorpe discusses her new book, "The American Warfare State: The Domestic Politics of Military Spending."
---
April 25, 2014
University of Washington political scientist John Wilkerson has matched data visualization with the study of lawmaking to create a new online tool for researchers and students called the Legislative Explorer. Think of it as big data meeting up with How a Bill Becomes a Law. "The goal was to get beyond the 'Schoolhouse Rock' narrative…
---
April 14, 2014
Economic inequality will be the topic when activists, academics and policymakers meet the public for a conference presented by the Harry Bridges Center for Labor Studies titled "Working Democracy: Labor and Politics in an Era of Inequality."
---
February 18, 2014
Angela Day, UW doctoral student in political science, discusses her book, "Red Light to Starboard: Recalling the Exxon Valdez Disaster."
---
May 21, 2013
New research argues that the tea party owes more to paranoid politics of the John Birch Society and others than traditional American conservatism. "True conservatives aren't paranoid," says political scientist Chris Parker. "Tea party conservatives are."
---
February 5, 2013
Political science and law scholars from the UW and elsewhere file a brief saying the Supreme Court should fully uphold the Voting Rights Act in a case out of Shelby County, Alabama.
---