UW News
Department of Electrical & Computer Engineering
---
July 5, 2017
UW engineers have designed the first battery-free cellphone that can send and receive calls using only a few microwatts of power, which it harvests from ambient radio signals or light. It's a major step forward in moving beyond chargers, cords and dying phones.
---
June 27, 2017
For the first time, University of Washington researchers have delivered targeted treatment for essential tremor – the world's most common neurological movement disorder – by decoding brain signals to sense when patients' limbs are shaking.
---
May 25, 2017
UW synthetic biology researchers have demonstrated a new method for digital information processing in living cells, analogous to the logic gates used in electric circuits. The team built the largest circuits published to date in eukaryotic cells, using DNA instead of silicon and solder.
---
April 3, 2017
University of Washington security researchers have shown that Google's new tool that uses machine learning to automatically analyze and label video content can be deceived by inserting a photograph periodically into videos. After they inserted an image of a car into a video about animals, for instance, the system thought the video was about an Audi.
---
March 1, 2017
A new technique pioneered by University of Washington engineers enables "singing" posters and "smart" clothing to send audio or data directly to your car's radio or your smartphone by piggybacking on ambient FM radio signals.
---
February 28, 2017
UW researchers have bypassed Google's new machine learning system that aims to curb toxic comments in online discussion forums can by simply misspelling or adding unnecessary punctuation to abusive words.
---
February 1, 2017
AccessMap – a University of Washington project spearheaded by the Taskar Center for Accessible Technology — launched a new online travel planner offering customizable suggestions for people who need accessible or pedestrian-friendly routes when getting from point A to B in Seattle.
---
November 3, 2016
The Department of Electrical Engineering's 2016 Lytle Lecture series will explore bridging theory and practice in compressed sensing, which has enabled speedups in medical imaging and scientific signal processing.
---
October 24, 2016
A flat-screen panel that resembles a TV on your living room wall could one day remotely charge any device within its line of sight, according to new research from UW and Duke University engineers.
---
October 19, 2016
A technique to store and retrieve digital data in DNA developed by University of Washington and Microsoft researchers is one of the most innovative and game-changing technologies of the year, according to Popular Science's 2016 "Best of What's New" Awards.
---
September 27, 2016
UW engineers have devised a way to send secure passwords through the human body, instead of over the air where they're vulnerable to hacking.
---
September 7, 2016
UW engineers have developed HemaApp, which uses a smartphone camera to estimate hemoglobin concentrations and screen for anemia without sticking patients with needles.
---
August 17, 2016
"Interscatter" communication developed by UW engineers allows power-limited devices such as brain implants, contact lenses, credit cards and smaller wearable electronics to talk to everyday devices such as smartphones and watches.
---
July 7, 2016
University of Washington and Microsoft researchers have broken what they believe is the world record for the amount of digital data successfully stored — and retrieved — in DNA molecules by encoding, among other things, an OK Go video.
---
June 21, 2016
An international team led by researchers at the Center for Sensorimotor Neural Engineering (CSNE) based at the University of Washington is one of three finalists in a race to produce an implantable wireless device that can assess, stimulate and block the activity of nerves that control organs.
---
May 13, 2016
The jelly found in the electrosensory organs of sharks, skates and rays is a remarkable proton-conducting material, with the highest proton conductivity ever reported for a biological material, UW researchers have found.
---
May 11, 2016
Researchers from the University of Washington, Disney Research and Carnegie Mellon University have created ways to give a piece of paper sensing capabilities that allows it to respond to gesture commands and connect to the digital world.
---
May 2, 2016
University of Washington researchers have developed SpiroCall, a new health sensing tool that can accurately measure lung function from anywhere in the world over a simple phone call.
---
April 14, 2016
Each fall, monarch butterflies across Canada and the United States turn their orange, black and white-mottled wings toward the Rio Grande and migrate over 2,000 miles to the relative warmth of central Mexico. This journey, repeated instinctively by generations of monarchs, continues even as monarch numbers have plummeted due to loss of their sole larval food…
---
April 8, 2016
A University of Washington-led research team has won a $7.5 million, five-year Multidisciplinary University Research Initiative (MURI) grant from the Department of Defense to better model and mount defenses against stealthy, continuous computer hacking attacks known as "advanced persistent threats."
---
March 15, 2016
A new sonar technology developed by University of Washington computer scientists and electrical engineers allows you to interact with mobile devices and smartwatch screens by writing or gesturing on any nearby surface — a tabletop, a sheet of paper or even in mid-air.
---
February 23, 2016
With "Passive Wi-Fi," UW computer scientists and electrical engineers have generated Wi-Fi transmissions using 10,000 times less power than conventional methods. The system can transmit Wi-Fi signals at rates up to 11 megabits per second — lower than maximum Wi-Fi speeds but 11 times faster than Bluetooth — that can be decoded on any of the billions of devices with Wi-Fi connectivity.
---
January 19, 2016
A new laser mapping technology and smartphone app developed by University of Washington electrical engineers allows you to point your phone at a plate of food and get an estimate of the total calories and nutrition.
---
October 22, 2015
By more accurately predicting how variations in DNA sequences affect gene splicing, a new UW model and publicly available Web tool can help narrow down which genetic mutations cause disease and which have little effect on a person's health.
---
October 15, 2015
Peering into a grocery store bin, it's hard to tell if a peach or tomato or avocado is starting to go bad underneath its skin. A new affordable hyperspectral camera technology developed by UW and Microsoft Research uses both visible and invisible near-infrared light to "see" beneath surfaces and capture hidden details.
---
September 29, 2015
A new UW study that tested 65 wines from America's top four wine-producing states — California, Washington, New York and Oregon — found all but one have arsenic levels that exceed what's allowed in drinking water. But health risks from that toxic element depend on what else a person is eating.
---
September 23, 2015
Leaders from the University of Washington and Shanghai Jiao Tong University (SJTU), one of China's most prestigious public research universities, signed an agreement Wednesday to work together on "smart cities" research, teaching and collaborations in their respective electrical engineering departments.
---
June 30, 2015
UW researchers have produced cell-to-cell communication in baker's yeast — a first step in learning to build multicellular organisms or artificial organs from scratch.
---
June 18, 2015
An international team of researchers that includes a University of Washington electrical engineer has discovered two key strategies that enable Saharan silver ants to survive in one of the hottest terrestrial environments on Earth.
---
June 12, 2015
The University of Washington has the nation's highest percentage of women in tenure-track engineering faculty positions. An online toolkit based on UW's leadership workshops for department chairs could help replicate that success at other institutions.
---
May 7, 2015
University of Washington researchers easily hacked a next generation teleoperated surgical robot — one used only for research purposes — to test how easily a malicious attack could hijack remotely-controlled operations in the future and to make those systems more secure.
---
April 14, 2015
Researchers from the University of Washington have teamed up with medical device manufacturer Medtronic to use the Activa® PC+S Deep Brain Stimulation (DBS) system with people who have essential tremor.
---
March 23, 2015
University of Washington scientists have built a new nanometer-sized laser using a semiconductor that's only three atoms thick. It could help open the door to next-generation computing that uses light, rather than electrons, to transfer information.
---
November 12, 2014
University of Washington electrical engineers have developed a way to automatically track people across moving and still cameras by using an algorithm that trains the networked cameras to learn one another's differences.
---
September 22, 2014
The University of Washington and Georgia Institute of Technology have developed a new search algorithm that improves a robot's ability to find and navigate to tagged objects.
---
September 19, 2014
University of Washington engineers have developed a new form of low-power wireless sensing technology that lets users "train" their smartphones to recognize and respond to specific hand gestures near the phone.
---
September 3, 2014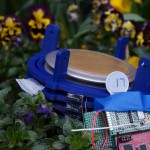 University of Washington researchers have taken inspiration from a centuries-old clock design and created a power harvester that uses natural fluctuations in temperature and pressure as its power source.
---
August 27, 2014
University of Washington engineers and physicians have developed a smartphone application that checks for jaundice in newborns and can deliver results to parents and pediatricians within minutes.
---
August 4, 2014
University of Washington engineers have designed a new communication system that uses radio frequency signals as a power source and reuses existing Wi-Fi infrastructure to provide Internet connectivity to battery-free devices.
---
June 23, 2014
The University of Washington is one of four institutions receiving four Innova Dash all-electric micro vehicles this summer. They will be able to communicate data such as position, speed and battery charge directly to the UW's network, which will provide the information to various research projects.
---
Previous page
Next page