UW News
Department of Civil & Environmental Engineering
---
September 23, 2021
Researchers at the University of Washington and UW Tacoma have been studying arsenic levels in the mud, water and in creatures from lakes in the south Puget Sound area. Eating contaminated fish or snails from these lakes could lead to health risks.
---
September 2, 2021
UW News asked Michael Motley, a UW associate professor of civil and environmental engineering, to explain how levees protect cities like New Orleans. 
---
July 9, 2021
While there is currently no explanation for why the Champlain Towers South building collapsed, Dawn Lehman, a University of Washington professor of civil and environmental engineering, has been studying photographs, videos, drawings, reports and permits to investigate this tragedy to understand what happened. UW News asked her to help us understand why buildings fail.
---
June 10, 2021
On Feb. 7, 2021, a wall of debris and water barreled down river valleys in India, destroyed two hydropower facilities and left more than 200 people dead or missing. A self-organized coalition of 53 scientists from 14 countries, including researchers from the University of Washington, worked nonstop following the disaster to investigate the cause, scope and impacts.
---
June 1, 2021
The COVID-19 Mobility Survey, a partnership of the University of Washington and the Puget Sound Regional Council, showed how remote workers' transportation, work and other lifestyle habits changed over the first several months of the pandemic.
---
May 3, 2021
A team, which includes researchers from the University of Washington, demonstrated that over the course of three years, a genetically engineered switchgrass could break down an explosive chemical in plots of soil at a military range.
---
April 28, 2021
A new study from researchers at multiple universities, including the UW, shows that exposure disparities among people of color and white people are driven by nearly all, rather than only a few, emission source types.
---
January 27, 2021
As part of the Transportation Data Equity Initiative, the UW is developing technology that will allow underserved groups to use tools similar to Google Directions and OneBusyAway to get from place to place.
---
January 12, 2021
When someone has the coronavirus, some of it is shed in their fecal matter. So what we flush has become useful to UW researchers developing a new testing method for COVID-19 in sewage. They're looking at wastewater that flows from people's homes, sampling it at manholes and neighborhood pump stations before it goes to sewage treatment plants.
---
December 14, 2020
Here's a quick look at some giftworthy books and music created by UW faculty and staff in 2020, and a reminder of some recent favorites.
---
December 3, 2020
A team led by researchers at UW Tacoma, UW and Washington State University Puyallup has discovered a chemical that kills coho salmon in urban streams before the fish can spawn.
---
October 22, 2020
Simple actions can dramatically improve a person's chances of surviving a landslide, show records from 38 landslides in the U.S. and around the world. People who survived landslides tended to have moved upstairs or to higher ground, among other key actions.
---
October 7, 2020
New books by UW faculty members include children's works profiling STEM researchers and a personal memoir of an immigrant's journey to freedom. Also, UW Press remembers a century of publishing, and a book on British colonialism is honored.
---
October 5, 2020
As the city of Seattle shut down in March 2020 to try to slow the spread of COVID-19, a group of University of Washington researchers decided to track how the city would react.
---
September 30, 2020
UW researchers developed a project that scans the streets every few weeks to document how Seattle has reacted to the pandemic and what recovery looks like.
---
August 20, 2020
Recent honors and grants to University of Washington faculty and staff have come from the American Chemical Society, the Carnegie Corporation of New York, the National Science Board and the family of engineers Ganesh and Hema Moorthy.
---
July 16, 2020
Seven scientists and engineers at the University of Washington have been elected to the Washington State Academy of Sciences, according to an announcement July 15 by the academy.
---
June 17, 2020
Using air quality data from U.S. Environmental Protection Agency monitors across the U.S., a UW-led team looked for changes in two common pollutants over the course of 2020.
---
May 21, 2020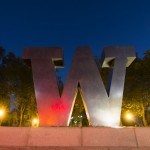 Three professors are teaming for a study of the mobility impacts of the coronavirus — and they are inviting UW faculty, staff and students to complete a short online survey to assist the research.
---
May 11, 2020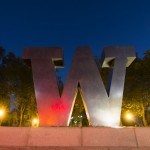 Research projects funded for 2020 by EarthLab's Innovation Grants Program will study how vegetation might reduce pollution, help an Alaskan village achieve safety and resilience amid climate change, organize a California river's restoration with tribal involvement, compare practices in self-managed indigenous immigrant communities and more.
---
April 23, 2020
Noting the 50th anniversary of Earth Day, NASA has featured UW-led research by Faisal Hossain that uses satellite data to help farmers manage water more efficiently.
---
April 3, 2020
A UW study abroad program empowers students from all disciplines to apply their skills to real-life problems.
---
March 17, 2020
UW researchers are inviting the public to share their experiences on their regular commutes in a survey.
---
February 27, 2020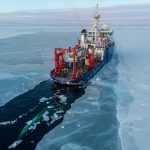 Throughout the month of November 2019, a team of University of Washington researchers chased storms in the Arctic Ocean. The project, Coastal Ocean Dynamics in the Arctic, or CODA, is looking at how water currents shift and waves hit the coast with more open water, to provide better forecasts and predictions for the region's future.
---
February 13, 2020
At a Saturday afternoon session, researchers from the University of Washington and federal agencies will discuss the emerging research on Pacific Northwest megaquakes.
---
Using 30 years of satellite data, UW researchers discovered that within one year of the opening of a major dam in the Mekong River basin, downstream river temperatures during the dry season dropped by up to 3.6 degrees F (2 degrees C).
---
February 10, 2020
Steve Kramer, a professor of UW civil and environmental engineering, has been elected to the National Academy of Engineering. Kramer is among 87 members and 18 international members newly elected to the academy, one of the highest professional distinctions in engineering.
---
January 22, 2020
Using a new "non-targeted" approach, UW and UW Tacoma researchers screened samples from multiple regions of Puget Sound to look for potentially harmful compounds that might be present.
---
December 4, 2019
UW researchers have found that warmer temperatures, at levels expected under most climate change projections, can lead to higher concentrations of arsenic in rice grains.
---
December 3, 2019
Communities underneath and downwind of jets landing at Seattle-Tacoma International Airport are exposed to a type of ultrafine particle pollution that is distinctly associated with aircraft, according to a new University of Washington study, the first to identify the unique signature of aircraft emissions in the state of Washington. The finding comes from the two-year…
---
November 20, 2019
UW researchers have found that air pollution from electricity generation emissions in 2014 led to about 16,000 premature deaths in the continental U.S. In many states, the majority of the health impacts came from emissions originating in other states.
---
November 5, 2019
A University of Washington team is leaving to study how fall storms, dwindling sea ice and vulnerable coastlines might combine in a changing Arctic.
---
October 23, 2019
This week a UW team is releasing a robotic surfboard to explore the surface ocean around Antarctica.
---
October 7, 2019
University of Washington transportation researchers looked into why the docked bike-share program Pronto failed while dockless bike sharing has been so successful.
---
October 1, 2019
This fall the University of Washington's annual engineering lecture series will feature three UW engineers and scientists who are working across disciplines to manage the quality and quantity of the food we eat and grow.
---
September 16, 2019
Are you willing to ride in a driverless car? Researchers at the University of Washington studied how Americans' perceived cost of commute time changes depending on who's driving.
---
August 21, 2019
Three University of Washington graduate students are among this year's recipients of a prestigious NASA fellowship that funds student research projects in the fields of Earth and planetary sciences and astrophysics.
---
April 25, 2019
A UW team will visit Alaska's North Slope Borough the week of April 28 in preparation for a two-year study of how waves, ice loss and warming are affecting the low-lying region.
---
April 8, 2019
A UW team tested how well current water and wastewater disinfecting methods affect antibiotic resistance genes in bacterial DNA. While these methods work well to deter bacterial growth, they had varied success in either degrading or deactivating a representative antibiotic resistance gene.
---
March 11, 2019
Black and Hispanic Americans bear a disproportionate burden from air pollution generated mainly by non-Hispanic white Americans, according to new research from a team led by the University of Washington and the University of Minnesota.
---
Next page