UW News
Department of Chemistry
---
September 16, 2021
The University of Washington is among the best universities in the world for the studies of health and life sciences, according to the Times Higher Education World University Rankings by Subject 2022.
---
September 9, 2021
The National Science Foundation has announced it will fund a new endeavor to bring atomic-level precision to the devices and technologies that underpin much of modern life, and will transform fields like information technology in the decades to come. The five-year, $25 million Science and Technology Center grant will found the Center for Integration of Modern Optoelectronic Materials on Demand — or IMOD — a collaboration of scientists and engineers at 11 universities led by the University of Washington.
---
July 16, 2021
Twenty scientists and engineers at the University of Washington are among the 38 new members elected to the Washington State Academy of Sciences for 2021, according to a July 15 announcement. New members were chosen for "their outstanding record of scientific and technical achievement, and their willingness to work on behalf of the Academy to bring the best available science to bear on issues within the state of Washington."
---
June 14, 2021
Recent honors and achievements for UW faculty include an award for humanitarian contributions to computer science, early career research recognition and support, and the guest-editing of a new anthology of Black American literature.
---
March 24, 2021
An Intel Corporation award for work to make computers more energy-efficient, a Research Corporation for Science award for chemistry research and education, and two Google inclusion awards to create technology for underrepresented populations.
---
March 12, 2021
In a study published Feb. 15 in Nature Chemistry, a research team led by Munira Khalil, professor and chair of chemistry at the University of Washington, has captured the rapid motions of solvent molecules that impact light-driven electron transfer in a molecular complex for the first time. This  information could help researchers learn how to control energy flow in molecules, potentially leading to more efficient clean energy sources.
---
February 18, 2021
The Polymer Physics Prize from the American Physical Society and a dissertation award from the Society for American Archaeology.
---
August 31, 2020
The National Science Foundation has awarded $3 million to establish a NSF Research Traineeship at the University of Washington for graduate students in quantum information science and technology. The new traineeship — known as Accelerating Quantum-Enabled Technologies, or AQET — will make the UW one of just "a handful" of universities with a formal, interdisciplinary QIST curriculum.
---
July 16, 2020
Seven scientists and engineers at the University of Washington have been elected to the Washington State Academy of Sciences, according to an announcement July 15 by the academy.
---
June 10, 2020
Researchers examined 15 years of records of student performance, education and demographics for chemistry courses at the University of Washington. They found that underrepresented students received lower grades in the general chemistry series compared to their peers and, if the grade was sufficiently low, were less likely to continue in the series and more likely to leave STEM. But if underrepresented students completed the first general chemistry course with at least the minimum grade needed to continue in the series, they were more likely than their peers to continue the general chemistry series and complete this major step toward a STEM degree.
---
May 1, 2020
University of Washington researchers have discovered that the abundance of tiny microplastic contaminants in Pacific oysters from the Salish Sea is much lower than previously thought.
---
April 16, 2020
When the UW announced it was moving its spring quarter 2020 classes entirely online to combat the novel coronavirus, instructors across campus faced a new, uncharted challenge.
---
February 4, 2020
A team of chemical engineers has developed a new way to produce medicines and chemicals and preserve them using portable "biofactories" embedded in water-based gels known as hydrogels. The approach could help people in remote villages or on military missions, where the absence of pharmacies, doctor's offices or even basic refrigeration makes it hard to…
---
November 7, 2019
A team led by scientists from the University of Washington and the University of Notre Dame used recent advances in electron microscopy to observe Fano interferences — a form of quantum-mechanical interference by electrons — directly in a pair of metallic nanoparticles.
---
October 31, 2019
Researchers from the University of Washington and the FOM Institute for Atomic and Molecular Physics in the Netherlands have developed a way to map strain in lead halide perovskite solar cells. Their approach shows that misorientation between microscopic perovskite crystals is the primary contributor to the buildup of strain within the solar cell, which creates small-scale defects in the grain structure, interrupts the transport of electrons within the solar cell, and ultimately leads to heat loss through a process known as non-radiative recombination.
---
October 15, 2019
Ashleigh Theberge, a University of Washington assistant professor of chemistry, has been named a 2019 Packard Fellow for her research on cell signaling. Every year since 1988, the David and Lucile Packard Foundation has awarded Packard Fellowships in Science and Engineering to early-career scientists to pursue the types of innovative projects that often fall outside…
---
August 12, 2019
Scientists have discovered that the building blocks of proteins can stabilize cell membranes. This finding may explain how the first cells emerged from the primordial soup billions of years ago: The protein building blocks could have stabilized cell membranes against salt and ions that were present in ancient oceans. In addition, membranes may have been a site for these precursor molecules to co-localize, a potential mechanism to explain what brought together the ingredients for life.
---
August 9, 2019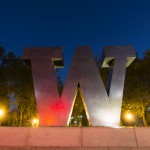 Scientists have designed and tested an experimental system that uses a near-infrared laser to actively heat two gold nanorod antennae — metal rods designed and built at the nanoscale — to different temperatures. The nanorods are so close together that they are both electromagnetically and thermally coupled. Yet the team measured temperature differences between the rods as high as 20 degrees Celsius and could change which nanorod was cooler and which was warmer, even though the rods were made of the same material.
---
July 16, 2019
Eight scientists and engineers from the University of Washington have been elected this year to the Washington State Academy of Sciences.
---
June 21, 2019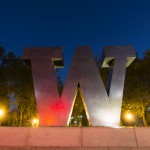 The U.S. Department of Energy Solar Energy Technologies Office selected two University of Washington professors in the Department of Chemistry and the Clean Energy Institute to receive nearly $1.5 million in funding for two separate endeavors in solar photovoltaic research. The projects are led by Daniel Gamelin, director of the UW-based Molecular Engineering Materials Center, and David Ginger, chief scientist at the CEI and co-director of the Northwest Institute for Materials Physics, Chemistry and Technology, a partnership between the UW and the Pacific Northwest National Laboratory.
---
May 10, 2019
A study published April 18 in the journal Science by researchers at Yale University and the University of Washington provides the first direct measurement of the behavior of bonded oxygen and hydrogen atoms perched on the surface of water.
---
December 6, 2018
A new collaborative study led by a research team at the Pacific Northwest National Laboratory, University of California, Los Angeles and the University of Washington could provide engineers new design rules for creating microelectronics, membranes and tissues, and open up better production methods for new materials.
---
August 3, 2018
The U.S. Department of Energy has awarded an expected $10.75 million, four-year grant to the University of Washington, the Pacific Northwest National Laboratory and other partner institutions for a new interdisciplinary research center to define the enigmatic rules that govern how molecular-scale building blocks assemble into ordered structures and give rise to complex hierarchical materials.
---
July 25, 2018
In a paper published online this spring in the journal Nature Photonics, scientists at the University of Washington report that a prototype semiconductor thin-film has performed even better than today's best solar cell materials at emitting light.
---
May 15, 2018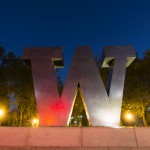 Karen Goldberg, an affiliate professor of chemistry at the University of Washington, has been elected to the National Academy of Sciences.
---
April 25, 2018
Researchers at the University of Washington, working with researchers from the ETH-Zurich, Purdue University and Virginia Commonwealth University, have achieved an optical communications breakthrough that could revolutionize information technology. They created a tiny device, smaller than a human hair, that translates electrical bits (0s and 1s of the digital language) into light, or photonic bits, at speeds 10s of times faster than current technologies.
---
March 19, 2018
Nearly 50 different graduate and professional programs and specialties at the University of Washington are among the top 10 in the nation, according to U.S. News & World Report's 2019 Best Graduate School rankings released March 20.
---
March 14, 2018
Former University of Washington Provost and Vice President for Academic Affairs Irving Shain has died. He was 92.
---
January 19, 2018
For this year's University Faculty Lecture, University of Washington chemistry professor Michael Gelb will discuss the science behind screening newborns for treatable — but rare — genetic diseases.
---
December 5, 2017
Scientists at the University of Washington show for the first time that the complex distribution of molecules within a membrane of a living yeast cell arises through demixing.
---
October 6, 2017
Three University of Washington faculty members are among those honored with an NIH High-Risk, High-Reward Research grant, which fund exceptionally creative scientists proposing to use highly innovative approaches to tackle major challenges in biomedical research.
---
June 20, 2017
The National Institutes of Health has renewed a major grant that funds a University of Washington-led research center to understand malaria in India.
---
June 19, 2017
Researchers uncover design principles to make polymers that can transport both ions and electrons, which will help create new devices like biosensors and flexible bioelectronic implants
---
April 19, 2017
Two University of Washington faculty members are among the leaders from academia, business, philanthropy, humanities and the arts elected as 2017 fellows of the American Academy of Arts and Sciences, one of the nation's oldest and most prestigious honorary societies.
---
March 23, 2017
Building upon a long legacy of supporting scientific innovation and education, professor emeritus Larry Dalton and his wife, Nicole Boand, have committed $12 million to the UW Department of Chemistry.
---
December 1, 2016
Water conducts electricity, but the process by which this familiar fluid passes along positive charges has puzzled scientists for decades. But in a paper published in the Dec. 2 in issue of the journal Science, an international team of researchers has finally caught water in the act — showing how water molecules pass along excess charges and, in the process, conduct electricity.
---
September 12, 2016
Jim Pfaendtner, University of Washington associate professor of chemical engineering, is leading a new endeavor funded by the National Science Foundation to bring big data to graduate education in clean energy research at the UW.
---
July 21, 2016
A team of researchers from the University of Washington and the University of Trento in Italy unveiled an engineered protein that they designed to repress a specific cancer-promoting message within cells.
---
July 11, 2016
Scientists from the University of Washington recently reported a relatively simple method swell the tiny, complex structures within cells, bringing them within range of a common microscope's resolving range.
---
May 27, 2016
Electrical energy fuels our modern lives, from the computer screen that keeps us up after sunset to the coffee maker that greets us at sunrise. But the electricity underlying our 21st century world, by and large, is generated at a cost — through the unsustainable expenditure of fossil fuels. For decades this demand for cheap,…
---
Next page