UW News
David Ginger
---
June 21, 2019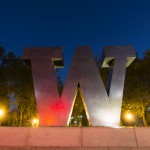 The U.S. Department of Energy Solar Energy Technologies Office selected two University of Washington professors in the Department of Chemistry and the Clean Energy Institute to receive nearly $1.5 million in funding for two separate endeavors in solar photovoltaic research. The projects are led by Daniel Gamelin, director of the UW-based Molecular Engineering Materials Center, and David Ginger, chief scientist at the CEI and co-director of the Northwest Institute for Materials Physics, Chemistry and Technology, a partnership between the UW and the Pacific Northwest National Laboratory.
---
July 25, 2018
In a paper published online this spring in the journal Nature Photonics, scientists at the University of Washington report that a prototype semiconductor thin-film has performed even better than today's best solar cell materials at emitting light.
---
January 31, 2018
The Department of Energy's Pacific Northwest National Laboratory and the University of Washington announced the creation of the Northwest Institute for Materials Physics, Chemistry and Technology — or NW IMPACT — a joint research endeavor to power discoveries and advancements in materials that transform energy, telecommunications, medicine, information technology and other fields.
---
June 19, 2017
Researchers uncover design principles to make polymers that can transport both ions and electrons, which will help create new devices like biosensors and flexible bioelectronic implants
---
May 27, 2016
Electrical energy fuels our modern lives, from the computer screen that keeps us up after sunset to the coffee maker that greets us at sunrise. But the electricity underlying our 21st century world, by and large, is generated at a cost — through the unsustainable expenditure of fossil fuels. For decades this demand for cheap,…
---
April 30, 2015
A new UW study demonstrates that perovskite materials — superefficient crystal structures that have recently taken the scientific community by storm — contain previously undiscovered flaws that can be engineered to improve solar cells and other devices even further.
---
December 12, 2013
A new University of Washington institute to develop efficient, cost-effective solar power and better energy storage systems launched Dec. 12 with an event attended by UW President Michael K. Young, Gov. Jay Inslee and researchers, industry experts and policy leaders in renewable energy.
---