UW News
climate change
---
June 11, 2018
A study of global maize production in 2100 shows dramatic increases in the variability of corn yields from one year to the next under climate change, making simultaneous low yields across multiple high-producing regions more likely, which could lead to price hikes and global shortages.
---
May 23, 2018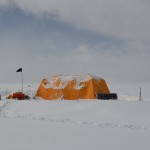 The oldest ice core so far provides 800,000 years of our planet's climate history. A UW field survey in Antarctica has pinpointed a location where an entire million years of undisturbed ice might be preserved intact.
---
May 8, 2018
UW glaciologist Knut Christianson is part of a massive collaboration that will collect on-the-ground data about a key Antarctic glacier that shows signs it could be collapsing into the sea.
---
April 25, 2018
About twice each decade, the United Nations' Intergovernmental Panel on Climate Change, or IPCC, looks at what is known about the science of climate change, the extent to which human activities are changing the Earth's climate, and what risks these changes pose to human and natural systems. Organized into three working groups, each assessment is…
---
February 7, 2018
A study from the University of Colorado Boulder and the University of Washington finds that the retreat of the ice sheet covering North America made Antarctic weather more similar from one year to the next.
---
February 5, 2018
UW atmospheric sciences faculty and graduate students are in Tasmania studying how clouds form over Antarctica's Southern Ocean.
---
January 18, 2018
A new grant will let a University of Washington-based project add a new fleet to its quest to learn more about past climate from the records of long-gone mariners. The UW is among the winners of the 2017 "Digitizing Hidden Special Collections and Archives" awards, announced Jan. 4 by the Washington, D.C.-based Council on Library…
---
December 18, 2017
A new partnership between the UW and Paul G. Allen Philanthropies will use a network of robots to observe conditions beneath a floating Antarctic ice shelf.
---
November 7, 2017
An unseasonably warm, dry summer on Mount Rainier in 2015 caused subalpine wildflowers to change their bloom times and form 'reassembled' communities, with unknown consequences for species interactions among wildflowers, pollinators and other animals.
---
August 31, 2017
A new book focuses on climate change risks in the Northern Rocky Mountains, and how managers of public lands can prepare.
---
August 7, 2017
The University of Washington is the new host for the federally funded Northwest Climate Science Center, a consortium that supports climate-adaptation research in the Northwest.
---
July 31, 2017
A new UW statistical study shows only 5 percent chance that Earth will warm less than 2 degrees, what many see as a "tipping point" for climate, by the end of this century.
---
July 27, 2017
Oceanographers are building swimming robots to carry out an ambitious mission gathering climate data from one of Earth's most challenging locations: the icy water that surrounds Antarctica.
---
April 17, 2017
New analysis debunks reports that recent observations are showing that Earth's temperature responds less to greenhouse gases than predicted by climate models.
---
A new study provides a postmortem on the Yukon's Slims River, whose flow was diverted in early 2016. It is the only documented case of "river piracy" in modern times.
---
March 13, 2017
Dramatic declines in Arctic sea ice during the past four decades are due to a mixture of global warming and a natural decades-long hot spot over Greenland.
---
February 8, 2017
Drainage of four interconnected lakes below Thwaites Glacier in late 2013 caused only a 10 percent increase in the glacier's speed. The glacier's recent speedup is therefore not due to changes in meltwater flow along its underside.
---
January 18, 2017
The year 2016 was officially the hottest in recent history, beating previous records in 2014 and 2015. UW scientists let you hear the data speak for itself.
---
November 21, 2016
Tracking the speed of internal tides offers a cheap, simple way to monitor temperature changes throughout the world's oceans.
---
November 16, 2016
Major forest die-offs due to drought, heat and beetle infestations or deforestation could have consequences far beyond the local landscape. Wiping out an entire forest can have significant effects on global climate patterns and alter vegetation on the other side of the world.
---
September 30, 2016
University of Washington scientists have put world's longest-running measure of atmospheric carbon dioxide to music. The result is a 90-second rendition of human-induced climate change: The video project was done by Judy Twedt, a UW doctoral student in atmospheric sciences, and Dargan Frierson, a UW associate professor of atmospheric sciences and amateur musician. Their techno…
---
September 23, 2016
UW scientists worked with artists for an exhibit at the Museum of Northwest Art focusing on climate change impacts on coastal communities.
---
August 29, 2016
Many popular long-term drought estimates ignore the fact that plants will be less thirsty as carbon dioxide goes up. Plants' lower water use could roughly halve some current estimates for the extent of future drought, especially in central Africa and temperate Asia.
---
July 25, 2016
Polar oceans pump organic carbon down to the deep sea about five times as efficiently as subtropical waters, because they can support larger, heavier organisms. The finding helps explain how the oceans may function under climate change.
---
July 6, 2016
Scientists from the University of Washington have found evidence that ocean acidification caused by carbon emissions can prevent mussels attaching themselves to rocks and other substrates, making them easy targets for predators and threatening the mussel farming industry.
---
July 5, 2016
A long-term Pacific climate cycle may be driving the expansion of Antarctic winter sea ice since 2000, but a new study finds that the trend may soon reverse.
---
May 30, 2016
The waters surrounding Antarctica may be one of the last places on Earth to experience human-driven climate change, because of its unique ocean currents.
---
May 19, 2016
Heavier snowfall over Antarctica was supposed to be one of the few brakes on sea-level rise in a warming world. But that prediction is not reliable, says a new study of Antarctic snowfall over the past 31,000 years.
---
April 20, 2016
As the U.S., China and other countries sign the Paris Agreement to reduce emissions and limit climate change, UW experts talk about the possibilities and risks in what could be a turning point for global economies.
---
April 6, 2016
From a tiny island halfway between New Zealand and Antarctica, scientists hope to learn more about the physics of clouds above the stormy, inhospitable Southern Ocean.
---
March 11, 2016
The UW's School of Environmental and Forest Sciences is hosting its second-annual contest for undergraduate and high school students in Washington to create videos about what climate change means to them, in three minutes or less.
---
January 20, 2016
Two University of Washington teams claimed top prizes in a national competition to design a game about climate adaptation.
---
December 10, 2015
Two University of Washington researchers have uncovered details of the radically divergent strategies that two common tree species employ to cope with drought in southwestern Colorado. As they report in a new paper in the journal Global Change Biology, one tree species shuts down production and conserves water, while the other alters its physiology to continue growing and using water.
---
December 9, 2015
The long, slow 2014 eruption of Iceland's Bardarbunga volcano offers a testbed to show how sulfur emissions, from volcanoes or humans, act to brighten clouds and reflect more sunlight.
---
November 17, 2015
A new report by the University of Washington synthesizes all the relevant research about the future of the Puget Sound region to paint a picture of what to expect in the coming decades, and how to prepare.
---
November 12, 2015
When President Barack Obama visited the shrinking Exit Glacier in September, he pointed to a very obvious sign of our warming planet literally at his feet. Less visible, but perhaps more indelible, signs of changing climate lie in the oceans. A University of Washington researcher argues in the journal Science that people — including world…
---
October 20, 2015
A UW graduate student's research paper is the first serious study of whether climate change is likely to cause human migration to the Puget Sound region.
---
September 14, 2015
New research from the University of Washington's Friday Harbor Laboratories shows that a more acidic ocean can weaken the protective shell of a delicate alga. The findings, published Sept. 9 in the journal Biology Letters, come at a time when global climate change may increase ocean acidification.
---
July 6, 2015
Despite worries about interbreeding due to climate change, a new study finds that only about 6 percent of closely related species in the Americas are likely to come into contact by the end of this century.
---
March 3, 2015
Historic submarine and modern satellite records show that ice thickness in the central Arctic Ocean dropped by 65 percent from 1975 to 2012. September ice thickness, when the ice cover is at a minimum, dropped by 85 percent.
---
Previous page
Next page