UW News
Clean Energy Institute
---
July 17, 2019
Scientists have visualized the electronic structure in a microelectronic device for the first time, opening up opportunities for finely tuned, high-performance electronic devices. Physicists from the University of Washington and the University of Warwick developed a technique to measure the energy and momentum of electrons in operating microelectronic devices made of atomically thin — so-called 2D — materials.
---
July 9, 2019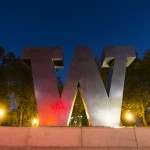 Six University of Washington professors are to receive a Presidential Early Career Award for Scientists and Engineers, according to an announcement July 2 from the White House. The award, also known as the PECASE, is the highest honor given by the U.S. government to early-career scientists and engineers "who show exceptional promise for leadership in science and technology."
---
June 21, 2019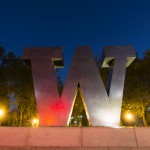 The U.S. Department of Energy Solar Energy Technologies Office selected two University of Washington professors in the Department of Chemistry and the Clean Energy Institute to receive nearly $1.5 million in funding for two separate endeavors in solar photovoltaic research. The projects are led by Daniel Gamelin, director of the UW-based Molecular Engineering Materials Center, and David Ginger, chief scientist at the CEI and co-director of the Northwest Institute for Materials Physics, Chemistry and Technology, a partnership between the UW and the Pacific Northwest National Laboratory.
---
May 9, 2019
The University of Washington and its Clean Energy Institute named Kevin Klustner executive director of the Center for Advanced Materials and Clean Energy Technologies, or CAMCET. When complete, CAMCET will be a 340,000-square-foot building that will bring together UW scientists and engineers with industry, civic and nonprofit partners to accelerate clean energy solutions for a healthy planet.
---
March 21, 2019
The University of Washington, the Pacific Northwest National Laboratory and Microsoft Quantum announced this week that they have joined forces in a new coalition, the Northwest Quantum Nexus, to bring about a revolution in quantum research and technology.
---
February 25, 2019
In a paper published Feb. 25 in the journal Nature, a University of Washington-led team of physicists report that it has developed a new system to trap individual excitons — bound pairs of electrons and their associated positive charges. Their system could form the basis of a novel experimental platform for monitoring excitons with precision and potentially developing new quantum technologies.
---
January 16, 2019
Three teams led by University of Washington researchers — Scott Dunham, Hugh Hillhouse and Devin MacKenzie — have received competitive awards totaling more than $2.3 million from the U.S. Department of Energy Solar Energy Technologies Office for projects that will advance research and development in photovoltaic materials, which are an essential component of solar cells and impact the amount of sunlight that is converted into electricity.
---
October 24, 2018
Jiun-Haw Chu, a University of Washington assistant professor of physics and faculty member at the UW's Clean Energy Institute, has been named a 2018 fellow by the David and Lucile Packard Foundation for his research on quantum materials — substances that exhibit novel combinations of quantum-mechanical properties that could one day transform information technology.
---
July 25, 2018
In a paper published online this spring in the journal Nature Photonics, scientists at the University of Washington report that a prototype semiconductor thin-film has performed even better than today's best solar cell materials at emitting light.
---
June 28, 2018
Daniel Schwartz, a University of Washington professor of chemical engineering and director of the Clean Energy Institute, received the Presidential Award for Excellence in Science, Mathematics and Engineering Mentoring (PAESMEM) from the White House Office of Science and Technology Policy and the National Science Foundation this week.
---
May 3, 2018
In a study published online May 3 in the journal Science, a University of Washington-led team announced that it has discovered a method to encode information using magnets that are just a few layers of atoms in thickness. This breakthrough may revolutionize both cloud computing technologies and consumer electronics by enabling data storage at a greater density and improved energy efficiency.
---
February 15, 2018
Five faculty members at the University of Washington have been awarded early-career fellowships from the Alfred P. Sloan Foundation. The new Sloan Fellows, announced Feb. 15, include Maya Cakmak, assistant professor of computer science and engineering; Jiun-Haw Chu, assistant professor of clean energy and physics; Arka Majumdar, assistant professor of electrical engineering and physics; Jessica Werk, assistant professor of astronomy; and Chelsea Wood, assistant professor of aquatic and fishery sciences.
---
January 31, 2018
The Department of Energy's Pacific Northwest National Laboratory and the University of Washington announced the creation of the Northwest Institute for Materials Physics, Chemistry and Technology — or NW IMPACT — a joint research endeavor to power discoveries and advancements in materials that transform energy, telecommunications, medicine, information technology and other fields.
---
November 16, 2017
The CleanTech Alliance has presented the University of Washington with the organization's 2017 CleanTech Achievement Award. The honor recognizes the UW's dedication to research and development of transformative clean energy technologies, facilities, pipelines for startups and industry partnerships. The award was announced on Nov. 8 at the annual meeting and 10th anniversary of the CleanTech…
---
November 14, 2017
Two University of Washington engineering students were selected by Forbes magazine for its list of the top 30 people in the world under age 30 working in energy.
---
September 25, 2017
The University of Washington is home to a new national center of excellence for research, education and training in materials science. The Molecular Engineering Materials Center is funded by a $15.6 million, six-year grant from the National Science Foundation as part of its highly competitive Materials Research Science and Engineering Center (MRSEC) program.
---
June 19, 2017
Researchers uncover design principles to make polymers that can transport both ions and electrons, which will help create new devices like biosensors and flexible bioelectronic implants
---
June 7, 2017
A team led by the University of Washington and the Massachusetts Institute of Technology has for the first time discovered magnetism in the 2-D world of monolayers, or materials that are formed by a single atomic layer. The findings, published June 8 in the journal Nature, demonstrate that magnetic properties can exist even in the 2-D realm — opening a world of potential applications.
---
April 14, 2017
The University of Washington and Japan's Tohoku University have agreed to create an Academic Open Space to foster collaborations and academic exchanges between these two leading research institutions of the Pacific Rim. The agreement, signed April 14 by leaders of both institutions at the UW campus in Seattle, is expected to build upon current collaborations in aerospace design and materials, as well as launch new science and engineering partnerships.
---
February 16, 2017
Cleantech Businesses and Academic Researchers can Prototype and Test Clean Energy Devices, Software and Systems at the Washington Clean Energy Testbeds A new facility for accelerating the clean energy innovation cycle opened in Seattle Feb. 16. The Clean Energy Institute, a research unit at the University of Washington, created the Washington Clean Energy Testbeds to…
---
September 12, 2016
Jim Pfaendtner, University of Washington associate professor of chemical engineering, is leading a new endeavor funded by the National Science Foundation to bring big data to graduate education in clean energy research at the UW.
---
June 24, 2016
The University of Washington's Clean Energy Institute will partner with regional industry and academic institutions as part of the new Smart Manufacturing Innovation Institute, according to an announcement June 20 by the White House.
---
May 27, 2016
Electrical energy fuels our modern lives, from the computer screen that keeps us up after sunset to the coffee maker that greets us at sunrise. But the electricity underlying our 21st century world, by and large, is generated at a cost — through the unsustainable expenditure of fossil fuels. For decades this demand for cheap,…
---
April 20, 2016
As the U.S., China and other countries sign the Paris Agreement to reduce emissions and limit climate change, UW experts talk about the possibilities and risks in what could be a turning point for global economies.
---
April 5, 2016
The University of Washington has joined NextFlex, a consortium of 30 academic institutions and industrial partners to develop the next generation of flexible electronic devices. As a founding member of this alliance, the UW will seek local and regional partners in the electronics and manufacturing industries to develop and produce flexible electronics for applications from…
---
September 23, 2015
A memorandum of understanding, called the "2+2 MOU," was signed Tuesday between the state of Washington and the Chinese province of Sichuan, as well as the University of Washington and Tsinghua University, to catalyze the science, technology and investment needed to grow innovations that will underpin adaptable and resilient urbanization.
---
April 30, 2015
A new UW study demonstrates that perovskite materials — superefficient crystal structures that have recently taken the scientific community by storm — contain previously undiscovered flaws that can be engineered to improve solar cells and other devices even further.
---
May 14, 2014
The University of Washington is receiving a $31.2 million gift from Washington Research Foundation to boost entrepreneurship and support research that tackles some of society's most crucial challenges. The award will fund four interdisciplinary initiatives that seek to advance global innovation in clean energy, protein design, big data science and neuroengineering.
---