UW News
awards
---
November 20, 2013
Nominations are due in December and coming months for this year's University of Washington Awards of Excellence categories.
---
June 14, 2013
Individuals who have made important contributions to the UW were honored June 13 at the annual Awards of Excellence ceremony.
---
May 1, 2013
The UW has announced this year's Awards of Excellence recipients, recognizing achievements in teaching, mentoring, public service and staff support.
---
March 20, 2013
Holmes was honored for his groundbreaking work on sexually transmitted diseases, including HIV/AIDS, chlamydia, genital herpes, gonorrhea and human papilloma virus.
---
August 1, 2012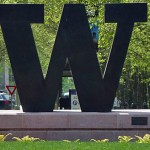 The Washington State Academy of Sciences has named 35 new members, 25 of them from the University of Washington.
---
September 20, 2011
Shwetak Patel, an assistant professor of computer science and engineering and electrical engineering who explores how people and computers interact, has been named one of this years MacArthur Fellows.
---
Previous page