UW News
Applied Physics Laboratory
---
August 8, 2019
A new study provides a 110-year record of the total volume of Arctic sea ice, using early U.S. ships' voyages to verify the earlier part of the record. The longer record puts the recent loss into perspective.
---
April 25, 2019
A UW team will visit Alaska's North Slope Borough the week of April 28 in preparation for a two-year study of how waves, ice loss and warming are affecting the low-lying region.
---
January 23, 2019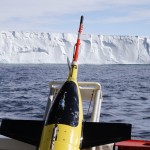 A team of ocean robots developed at the UW is the first group of self-guided ocean instruments to travel under an ice sheet and come back to report long-term observations.
---
December 18, 2018
New analysis shows that odd winds, not warming, caused the unusual patch of open water north of Greenland last February.
---
December 14, 2018
UW glaciologist Ben Smith shared a first look at the NASA ICESat-2 satellite's view of Greenland and Antarctic glaciers at the American Geophysical Union's annual meeting in Washington, D.C.
---
December 13, 2018
As the year comes to a close and festivities abound, some UW faculty creations can make great gifts for the thinking Dawg on your giving list.
---
November 14, 2018
The first assessment of polar bears that live in the biologically rich Chukchi Sea region that spans the U.S. and Russia, finds that the population is healthy and not yet suffering from declining sea ice.
---
October 12, 2018
In a new UW-authored book, a cartoon robot takes young readers on a School of Oceanography voyage to explore the deep ocean.
---
September 10, 2018
Two UW polar scientists were among a dozen experts who advised NASA on its upcoming ICESat-2 mission to monitor the 3D surface of the Earth. The mission is scheduled to launch Sept. 15 from California.
---
August 23, 2018
A team from the University of Washington, New York University and the University of California, Berkeley has developed an interactive workshop in data science for researchers at multiple stages of their careers. The course format, called "hack week," blends elements from both traditional lecture-style pedagogy with participant-driven projects.
---
July 2, 2018
Regions of Arctic water are becoming ice-free in late summer and early fall. A new study is the first to consider potential impacts on the marine mammals that use this region and identify which populations will be the most vulnerable to ships.
---
June 21, 2018
More than 100 scientists and crew from more than 20 U.S. research institutions, including the UW, will depart in August for a month-long expedition to study how the ocean absorbs carbon from the atmosphere.
---
June 18, 2018
Tracking of two great white sharks reveals for the first time that in the open ocean they spend more time deep inside warm-water eddies.
---
June 4, 2018
Twenty-five polar bear hunters in East Greenland were interviewed before the first formal assessment of this subpopulation, one of 19 subpopulations of polar bears in a changing Arctic.
---
April 27, 2018
Oceanographer Cecilia Peralta Ferriz is spending the academic year in Tromsø, Norway, to collaborate with colleagues who study flow out of the Arctic Ocean.
---
April 3, 2018
Bowhead whales are constantly changing their tune, unlike the only other whale species that sings, the humpback.
---
March 21, 2018
With a new $700,000 grant awarded from the NOAA Ocean Acidification Program, scientists from the University of Washington's Applied Physics Laboratory, Washington Sea Grant and the Joint Institute for the Study of the Atmosphere and Ocean have teamed with federal and tribal partners to study the social and ecological vulnerabilities of Olympic Coast ocean acidification.
---
February 7, 2018
High-speed recordings of Egyptian fruit bats in flight show that instead of using a primitive form of echolocation, these animals actually use a technique recently developed by humans for surveillance and navigation.
---
January 18, 2018
An experiment using hundreds of plastic drifters in the Gulf of Mexico shows that rather than simply spread out, as current calculations would predict, many of them clumped together in a tight cluster.
---
December 18, 2017
A new partnership between the UW and Paul G. Allen Philanthropies will use a network of robots to observe conditions beneath a floating Antarctic ice shelf.
---
October 20, 2017
A satellite technique provides a new way to monitor the status of more than 1,200 mountain glaciers in the lower 48 states.
---
September 28, 2017
Lisa Zurk, a UW aluma in electrical engineering, professor at Portland State University and program manager at DARPA, will become the eighth director of the UW's Applied Physics Laboratory.
---
September 21, 2017
University of Washington oceanographers are working with a local company to develop a simple new technique that could track seafloor movement in earthquake-prone coastal areas.
---
September 20, 2017
A hardy ocean drone made a first-ever attempt to surf across Antarctica's stormy Drake Passage gathering data about ocean mixing.
---
March 15, 2017
A new analysis shows a properly-managed subsistence harvest of polar bears can continue under climate change.
---
March 13, 2017
Dramatic declines in Arctic sea ice during the past four decades are due to a mixture of global warming and a natural decades-long hot spot over Greenland.
---
March 1, 2017
University of Washington polar scientists are holding the 12th annual Polar Science Weekend, Friday through Sunday, March 3-5, at Pacific Science Center in Seattle. This year's lineup includes a simulation from NASA of its new ICESat-2 instrument. Visitors can get scanned by an instrument above their head that measures a person's height using an infrared…
---
February 22, 2017
A new, two-part project led by the UW's Kristin Laidre aims to explore the interacting effects of climate change and subsistence hunting on polar bears, while also illuminating the cultural value of the species to indigenous peoples and the role they play in conservation.
---
February 8, 2017
Drainage of four interconnected lakes below Thwaites Glacier in late 2013 caused only a 10 percent increase in the glacier's speed. The glacier's recent speedup is therefore not due to changes in meltwater flow along its underside.
---
January 5, 2017
A new study led by the University of Washington finds the annual migration of some beluga whales in Alaska is altered by sea ice changes in the Arctic, while other belugas do not appear to be affected.
---
November 21, 2016
Tracking the speed of internal tides offers a cheap, simple way to monitor temperature changes throughout the world's oceans.
---
November 18, 2016
See also: "How Capt. James Cook's intricate 1778 records reveal global warming today in Arctic" Seattle Times, Nov. 16 Harry Stern, a polar scientist at the University of Washington's Applied Physics Laboratory, has been studying the Arctic Ocean for decades, and sailed part of the Northwest Passage in 2009. Stern's latest work uses the earliest…
---
October 5, 2016
Unlike in the movies, and in some theories of climate change, the recent slowdown of Atlantic Ocean circulation is not connected with the melting of the Arctic sea ice. Instead, it seems to be connected to shifts around the southern tip of Africa.
---
September 14, 2016
A new University of Washington study finds a trend toward earlier Arctic sea ice melt in the spring and later ice growth in the fall across all 19 polar bear populations, which can negatively impact the feeding and breeding capabilities of the bears.
---
August 15, 2016
A detailed look at how sound waves bounce off a flying moth's body offers new clues for how its long, twisted tail might help it evade predatory bats.
---
July 7, 2016
With Arctic sea ice roughly tied with previous record-low years, a University of Washington tool that tallies the total volume of ice in the Arctic Ocean is attracting attention.
---
June 1, 2016
University of Washington polar scientists are on Alaska's North Slope this week for the 2016 Barrow Sea Ice Camp. Supported by the National Science Foundation, the event brings together U.S.-based sea ice observers, satellite experts and modelers at various career stages to collect data and discuss issues related to measuring and modeling sea ice. The…
---
May 25, 2016
Oceanographers from the UW and NOAA deployed a new tool that will automatically test for harmful algal blooms and help warn of when they could hit local beaches.
---
March 1, 2016
Investigate a real ice core from Greenland, survey microbes from the coldest parts of the world, explore an Arctic ice camp and meet with polar scientists – many of whom are from the University of Washington. It's all part of Polar Science Weekend, returning to Seattle's Pacific Science Center March 4-6. The three-day event features…
---
February 11, 2016
The Center for Coastal Margin Observation and Prediction, through its education partner the University of Washington, is deploying an oceanographic observing buoy in Bellingham Bay this week that will allow Northwest Indian College students both hands-on experience with the technology as well as the ability to study the data from their computers, through the Northwest Association of Networked Ocean Observing Systems, NANOOS.
---
Next page