UW News
Learning
---
August 30, 2016
The University of Washington has begun a yearlong partnership with the City of Auburn, under the new Livable City Year program. UW students and professors will work with the City of Auburn to advance the city's goals for livability and sustainability throughout the upcoming academic year.
---
August 19, 2016
Faculty members from the UW College of Built Environments, Jackson School of International Studies and departments of French and Italian studies and history will team up in 2017 to give a new, three-week course for university and college instructors on urban environmental humanities.
---
August 12, 2016
The editorial cartoons filling a ground floor exhibit in Suzzallo Library through November are hard-hitting, but they fairly depict the wild campaign of 2016, and the serious issues the year has brought as well.
---
July 27, 2016
Middle school students tried their hands at designing and building underwater robots this week during a National Oceanic and Atmospheric Administration science summer camp in Seattle. The ROV workshop was a joint project by UW-based Washington Sea Grant, NOAA and Atlantis STEAM.
---
July 8, 2016
"Excitation" is not just a scientific term or perfect Beach Boys lyric, it's also the topic of this year's cross-disciplinary Summer Institute in the Arts and Humanities, an intensive summer research program for undergraduate students.
---
June 15, 2016
Public-private partnerships can be important financing tools, but public officials overseeing them must understand the risks well, says the Evans School's Justin Marlowe, author of a multivolume Guide to Financial Literacy.
---
June 13, 2016
A new study by researchers at the University of Washington shows that the final grades that college students received in a second-language class were predicted by a combination of genetic and brain factors.
---
June 2, 2016
A look at the annual exhibit of thesis work by students graduating from the UW School of Art + Art History + Design's Master of Fine Arts and Master of Design programs, on display at the Henry Art Gallery.
---
May 26, 2016
Joe Janes of the Information School turns the attention of his Documents that Changed the World podcst to Noah Webster and his famous, 70,000-word "American Dictionary of the English language" published in 1828.
---
May 24, 2016
A cohort of UW Environmental Studies majors will present projects and research findings at at symposium from 1:30-5:30 p.m. May 25 at Alder Hall and Wallace Hall.
---
April 29, 2016
The upcoming season finale of TLC's popular program "Who Do You Think You Are," airing May 1, will feature UW professor Devin Naar helping television star Lea Michele learn about her Sephardic Jewish ancestry.
---
For some young men of color, college might seem a world away. To an African-American boy growing up in poverty, a Latino son of migrant farmworkers or a young Native American man living on a remote reservation, the path to post-secondary education can be hard to visualize. And once on campus, the reality can be…
---
April 18, 2016
The University of Washington Board of Regents has approved the Master of Science in Technology Innovation degree, a 60-credit interdisciplinary program developed by the Global Innovation Exchange.
---
April 12, 2016
Two national celebrations of science are happening this week in D.C., and University of Washington undergraduates will be in the spotlight at both events. Clara Orndorff, a pre-engineering undergraduate in the UW Honors Program, will travel with two fellow underwater roboticists to compete in Wednesday's White House Science Fair. She will be among more than 100…
---
April 4, 2016
Many brain studies show that bilingual adults have more activity in areas associated with executive function, a set of mental abilities that includes problem-solving, shifting attention and other desirable cognitive traits. Now new findings reveal that this bilingualism-related difference in brain activity is evident as early as 11 months of age, just as babies are…
---
April 1, 2016
What do scholars and academics mean when they talk about "difference"? The University of Washington Simpson Center for the Humanities and Center for Communication, Difference & Equity will hold an interdisciplinary daylong conference April 8 to study such questions, focusing in particular on how difference looks and sounds.
---
March 22, 2016
UW political scientist Rebecca Thorpe's book "The American Warfare State: The Domestic Politics of Military Spending," has been honored by the Lyndon Baines Johnson Foundation — the second award the well-received book has earned.
---
March 15, 2016
For the 22nd time in the past 23 years, the University of Washington ranked as the No. 1 primary care medical school in the country, according to U.S. News & World Report's 2017 Best Graduate School rankings released Tuesday. The rural medicine and family medicine programs have also led the nation since those rankings began in 1992. In a…
---
March 14, 2016
With the Florida presidential primary a day away, Joe Janes is recalling the time of butterfly ballots and "hanging chads" — the presidential election of 2000 — in the latest installment of his podcast series, Documents that Changed the World. In the podcasts, Janes, a professor in the UW Information School, explores the origin and…
---
March 11, 2016
The UW's School of Environmental and Forest Sciences is hosting its second-annual contest for undergraduate and high school students in Washington to create videos about what climate change means to them, in three minutes or less.
---
March 9, 2016
BlackPast.org, the online reference guide to African-American history started by University of Washington history professor Quintard Taylor, is getting an executive director — Chieko Phillips — and a website redesign.
---
March 4, 2016
A University of Washington team won first place in a science communication video contest that culminated during the recent Ocean Sciences Meeting.
---
March 3, 2016
The UW Information School's 2015-16 undergraduate cohort in informatics is not only the school's largest yet with 210 students, it also includes more women students than ever before — about 40 percent.
---
The Andrew W. Mellon Foundation has awarded the University of Washington a three-year, $750,000 grant to support guest artists in developing new works, and to better integrate arts disciplines into the broader university curriculum.
The grant will support a Creative Fellowships Initiative, under which guest performing artist fellows will be recruited from around the world for one- to three-year residencies in dance, music and theater.
---
February 19, 2016
Benjamin Gardner, associate professor in UW Bothell's School of Interdisciplinary Arts and Sciences and chair of the Jackson School of International Studies' African Studies Program, discusses his new book "Selling the Serengeti: The Cultural Politics of Safari Tourism."
---
January 6, 2016
DO-IT, a University of Washington program, is looking for high school students with disabilities to apply to be program scholars. Applicants must be a current high school sophomore or junior in Washington, have an aptitude and interest in attending college, have any disability, and must be motivated to participate and interested in interacting with other…
---
January 5, 2016
Today's college graduates tend to be highly trained and employable but often lack a key skill needed for post-college life: how to identify and ask their own questions, according to a new study.
---
December 29, 2015
From a new president and lasers cooling liquids to spotting rare sea creatures and major collaborations, great things have happened at the University of Washington in 2015. Here's a look back at the top stories of the year. These stories were chosen based on the total number of views they received on our website and are not in any particular order….
---
December 23, 2015
A glance at a kitchen bookshelf gave UW Information School professor Joe Janes the idea for the latest installment of his Documents that Changed the World podcast — about the famous Boston Cooking-School Cookbook, more popularly known as the Fannie Farmer Cookbook.
---
December 14, 2015
A University of Washington graduate student saw green-starved Ballard as an opportunity to call attention to areas in the neighborhood that have restoration potential. Her new report, the "Ballard Green Spaces Project," identifies 55 sites that could be restored as natural areas for people and wildlife, increasing the neighborhood's total amount of accessible green spaces.
---
UW historian James Gregory's new collaborative digital project, "Mapping American Social Movements through the 20th Century" uses data visualization and interactive maps to depict the progress of various social movements — with more to come.
---
December 1, 2015
A collaboration between University of Washington developmental psychologists and computer scientists has demonstrated that robots can "learn" much like babies – by experiencing the world and eventually imitating humans.
---
November 25, 2015
The U.S. Senate voted to set Thanksgiving as the fourth Thursday in November on Dec. 9, 1941, two days after the Japanese attack on Pearl Harbor. You'd think they would have had more important things to talk about. Not Nov. 26, as George Washington had it or the last Thursday in the month as Lincoln…
---
November 10, 2015
Melinda Bargreen is a Seattle-based freelance arts writer who spent 31 years as classical music critic for The Seattle Times. She is the author of "Classical Seattle: Maestros, Impresarios, Virtuosi, and Other Music Makers," published this fall by University of Washington Press. Bargreen is a University of Washington alumna, with a bachelor of arts in…
---
November 9, 2015
The Vietnam War Memorial in Washington, D.C., is many things to many people. To Joe Janes of the Information School, the son of a World War II veteran and creator of the Documents that Changed the World podcast series, the memorial, the discussions it sparked and the hearts it helps heal — "the totality of the wall" he says – together comprise an important document.
---
October 22, 2015
UW historian Michael Honey and filmmaker Errol Webber have produced a documentary about the life of Methodist minister and civil rights activist Rev. James Lawson that will be screened in Tacoma on Oct. 28, Seattle on Oct. 29
---
October 19, 2015
Margaret O'Mara, UW associate professor of history, discusses her new book, "Pivotal Tuesdays: Four Elections that Shaped the Twentieth Century."
---
October 7, 2015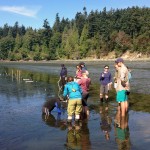 A group of young marine-disease researchers from around the country has contributed key information about sea stars' immune response when infected with a virus that is thought to cause a deadly wasting disease. It's the first time researchers have tracked how genes behave when encountering this naturally occurring pathogen, which could help explain how sea stars attempt to fight the virus and why they develop lesions and appear to melt.
---
September 8, 2015
Polly Myers is a lecturer in the UW Department of History and author of the book "Capitalist Family Values: Gender, Work, and Corporate Culture at Boeing," published by University of Nebraska Press.
---
July 29, 2015
As shadows lengthened and day turned to night on Saturday, Oct. 22, in the year 4004 BCE, God created the universe. Or, perhaps not. Still, that's the time and date for creation determined, after long and painstaking research, by Irish scholar and church leader James Ussher, author of the 17th century chronology, Annals of the World.
---
Previous page
Next page