UW News
Expert quotes
---
July 11, 2019
Sixty middle school students from all over Washington state came for a week-long camp on the UW campus in late June. The camp, which is part of the Early Learning Institute, culminated in a chance to improve the basic design of a toy-sized "gravity car."
---
June 24, 2019
The GenPride Center is the first and only multipurpose LGBTQ senior center in Seattle and King County. It was founded by Karen Fredriksen Goldsen, a University of Washington professor of social work, with the goal of combating social isolation experienced by many LGBTQ older adults.
---
June 4, 2019
Graham Pruss has been researching vehicle residency in Seattle for nearly a decade. He established the methodology for counting the vehicle-resident population for All Home's annual point-in-time count, conducted on one night each January.
---
The Husky Marching Band returned to central Washington June 2 to say thank you to the Grant County community after a bus crash there last Thanksgiving.
---
April 26, 2019
Engineering Discovery Days is a yearly event that invites Washington state fourth- through eighth-graders to have fun leaning about STEM with the College of Engineering.
---
April 19, 2019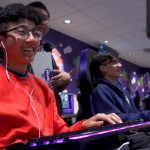 The UW celebrated the opening of an esports center with a ribbon cutting ceremony April 18.
---
March 29, 2019
UW arborist Sara Shores explains that the iconic cherry trees in the University of Washington's Quad have reached peak bloom, and this weekend will be prime viewing to see the blossoms.
---
March 20, 2019
The first day of spring, when daylight hours begin to exceed nighttime hours, seems especially significant this year — record warm temperatures in the Northwest are marking the change of seasons. But our blooms may be a couple weeks behind schedule after February's snow and cold weather.
---
Previous page