UW News
Environment
---
May 21, 2020
A 5-year, up to $300 million grant from NOAA establishes the new Cooperative Institute for Climate, Ocean and Ecosystem Studies, a UW-based institute with partners at the University of Alaska Fairbanks and Oregon State University. The institute will lead collaborative, multidisciplinary research and education activities around oceans and climate.
---
May 15, 2020
Historical observations collected off California since the 1950s suggest that anchovies thrive where the water is breathable — a combination of the oxygen levels in the water and the species' oxygen needs, which are affected by temperature. Future projections suggest that the waters off Mexico and Southern California could be uninhabitable by 2100.
---
May 12, 2020
The Pacific Northwest Seismic Network, based at the University of Washington, will host an online event on the 40th anniversary of the eruption of Mount St. Helens, featuring seismologists from the UW and other institutions who can explain the events before, during and after the historic blast. The virtual event will take place from 6:30…
---
May 1, 2020
University of Washington researchers have discovered that the abundance of tiny microplastic contaminants in Pacific oysters from the Salish Sea is much lower than previously thought.
---
April 30, 2020
Loss of ice from Antarctic and Greenland ice sheets since 2003 have contributed 0.55 inches to global sea level rise, with about two thirds coming from Greenland ice. The new, detailed satellite measurements provide a global picture of ice sheet change — and insights into the future of Greenland and Antarctica.
---
April 28, 2020
A new study looks at temperature increases in counties across the United States where crops are grown. It also looks at different strategies the industry could adopt to protect workers' health.
---
April 23, 2020
Noting the 50th anniversary of Earth Day, NASA has featured UW-led research by Faisal Hossain that uses satellite data to help farmers manage water more efficiently.
---
April 16, 2020
In light of stay-at-home orders, University of Washington researchers say studies show there is much to be gained from nature close to home, whether in a yard, on neighborhood walks or even indoors.
---
April 1, 2020
A University of Washington study, published this winter in Fire Ecology, takes a big-picture look at what climate change could mean for wildfires in the Northwest, considering Washington, Oregon, Idaho and western Montana.
---
UW Notebook visits with the producer of "Crossing North," a podcast by the Scandinavian Studies Department, and notes other podcasts on campus and an appearance by David Montgomery on the podcast "Undark."
---
March 24, 2020
Years of cloud data over a shipping route between Europe and South Africa shows that pollution from ships has significantly increased the reflectivity of the clouds. More generally, the results suggest that industrial pollution's effect on clouds has masked about a third of the warming due to fossil fuel burning since the late 1800s.
---
March 19, 2020
A new study led by the University of Washington finds dramatic increases in the abundance of a worm that can be transmitted to humans who eat raw or undercooked seafood. Its 283-fold increase in abundance since the 1970s could have implications for the health of humans and marine mammals, which both can inadvertently eat the worm.
---
March 18, 2020
University of Washington researchers have discovered that large predators play a key yet unexpected role in keeping smaller predators and deer in check. Their "fatal attraction" theory finds that smaller predators are drawn to the kill sites of large predators by the promise of leftover scraps, but the scavengers may be killed themselves if their larger kin return for seconds.
---
March 12, 2020
Researchers from the University of Washington School of Aquatic and Fishery Sciences have discovered that ocean acidification impacts the ability of some oysters to pass down "memories" of environmental trauma to their offspring.
---
March 10, 2020
A documentary series produced and released this winter by YouTube features UW computer scientist Pedro Domingos and members of the UW-based Pacific Northwest Seismic Network.
---
KUOW's That's Debatable on Wednesday will feature two University of Washington faculty members: Dan Schwartz, professor of chemical engineering and director of the Clean Energy Institute, and Kate Simonen, upcoming chair of the Department of Architecture and director of the Carbon Leadership Forum.
---
March 5, 2020
The University is asking people to avoid coming to campus this year to comply with Gov. Inslee's March 11 proclamation that prohibits large gatherings of more than 250 people as our region combats the spread of COVID-19.
---
March 2, 2020
P. Dee Boersma, a UW professor of biology and director of the Center for Ecosystem Sentinels, is a finalist for the 2020 Indianapolis Prize for conservation, to be awarded later this year by the Indianapolis Zoological Society. Sue Moore, a scientist with the center and a UW affiliate professor of biology and of aquatic and fishery sciences, has won the 2020 IASC Medal, also known as the Arctic Medal, from the International Arctic Science Committee.
---
February 27, 2020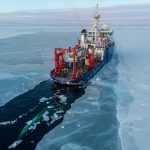 Throughout the month of November 2019, a team of University of Washington researchers chased storms in the Arctic Ocean. The project, Coastal Ocean Dynamics in the Arctic, or CODA, is looking at how water currents shift and waves hit the coast with more open water, to provide better forecasts and predictions for the region's future.
---
In the first major study following the devastating Carlton Complex fire in north central Washington, researchers from the University of Washington and U.S. Forest Service found that previous tree thinning and prescribed burns helped forests survive the fire.
---
February 26, 2020
A new University of Washington study has found that not all forms of nature are created equal when considering benefits to people's well-being. Experiencing wildness, specifically, is particularly important for physical and mental health.
---
February 12, 2020
Satellite tracking of adult females and visual monitoring of polar bears in Baffin Bay show changes from the 1990s to the period from 2009 to 2015. Bears in Baffin Bay are getting thinner and adult females are having fewer cubs than when sea ice was more available.
---
January 30, 2020
The University of Washington has long boasted one of the country's top programs in atmospheric sciences. Now, the UW is also teaching undergraduates how to share that knowledge online and on TV as a broadcast meteorologist.
---
January 28, 2020
Researchers from the UW and Evergreen found that many species of animals and plants likely will need to migrate under climate change, and that conservation efforts will also need to shift to be effective.
---
January 24, 2020
Tiny meteorites that fell to Earth 2.7 billion years ago suggest that the atmosphere at that time was high in carbon dioxide, which agrees with current understanding of how our planet's atmospheric gases changed over time.
---
January 16, 2020
Leaders are updating the laws for international waters that apply to most of the world's ocean environment. This provides a unique opportunity, argues a UW Bothell marine scientist, to anticipate new techniques that allow protected zones to shift as species move under climate change.
---
January 15, 2020
When nearly one million common murres died at sea and washed ashore from California to Alaska in 2015 and 2016, it was unprecedented. Scientists from the University of Washington, the U.S. Geological Survey and others blame an unexpected squeeze on the ecosystem's food supply, brought on by a severe and long-lasting marine heat wave known as "the blob."
---
January 13, 2020
Nearly half of the fish caught worldwide are from stocks that are scientifically monitored and, on average, are increasing in abundance. Effective management appears to be the main reason these stocks are at sustainable levels or successfully rebuilding, according to a new study led by the University of Washington.
---
December 30, 2019
Life as we know it requires phosphorus, which is scarce. So, how did a lifeless environment on the early Earth supply this key ingredient? A new UW study, published Dec. 30 in the Proceedings of the National Academy of Sciences, finds an answer to this problem in certain types of carbonate-rich lakes.
---
December 16, 2019
Large, old Chinook salmon have mostly disappeared from the West Coast. A new University of Washington and NOAA study points to the recent rise of resident killer whales, and their insatiable appetite for large Chinook salmon, as the main driver behind the decline of the big fish.
---
December 12, 2019
An Antarctic field campaign last winter led by the U.S. and Australia has successfully extracted some of the largest samples of air dating from the 1870s until today. Researchers will use the samples to look for changes in the molecules that scrub the atmosphere of methane and other gases.
---
December 10, 2019
To better understand large, disruptive snowstorms, a University of Washington atmospheric scientist will lead a NASA field campaign this winter to fly through major snowstorms along the East Coast. The multi-institutional team will observe snow as it forms in clouds to help with satellite monitoring of snowfall and ultimately improve forecasts.
---
December 4, 2019
With 2019 on pace as one of the warmest years on record, a new international study reveals how rapidly the Arctic is warming and examines global consequences of continued polar warming.
---
Researchers from the University of Washington and Michigan Technological University have created the first comprehensive database of all the wildfire fuels that have been measured across North America. Ultimately, it can help scientists make more informed decisions about fire and smoke situations.
---
December 3, 2019
Communities underneath and downwind of jets landing at Seattle-Tacoma International Airport are exposed to a type of ultrafine particle pollution that is distinctly associated with aircraft, according to a new University of Washington study, the first to identify the unique signature of aircraft emissions in the state of Washington. The finding comes from the two-year…
---
A new experiment by the University of Washington has found that some corals are more likely to eat microplastics when they are consuming other food, yet microplastics alone are undesirable.
---
November 26, 2019
The American Association for the Advancement of Science has named six faculty members from the University of Washington as AAAS Fellows, according to a Nov. 26 announcement. They are part of a cohort of 443 new fellows for 2019, all chosen by their peers for "scientifically or socially distinguished efforts to advance science or its applications."
---
November 20, 2019
UW researchers have found that air pollution from electricity generation emissions in 2014 led to about 16,000 premature deaths in the continental U.S. In many states, the majority of the health impacts came from emissions originating in other states.
---
November 5, 2019
A University of Washington team is leaving to study how fall storms, dwindling sea ice and vulnerable coastlines might combine in a changing Arctic.
---
November 4, 2019
UW marine scientists are using high-tech tags to record the movements of swordfish — big, deep-water, migratory, open-ocean fish that are poorly studied — and get a window into the ocean depths they inhabit.
---
Next page