UW News
Buildings and grounds
---
January 10, 2017
Zillow Group, the Seattle-based company that houses real estate and home-related brands on mobile and web, has committed $5 million toward the development of a second Computer Science & Engineering (CSE) building on the UW Seattle campus.
---
October 26, 2016
The UW's Yesler Swamp, part of the Union Bay Natural Area along Lake Washington, has a newly completed, fully handicapped-accessible boardwalk trail that loops throughout the wetland, offering opportunities for birdwatching, exercise and a chance to experience nature in the heart of the city.
---
October 25, 2016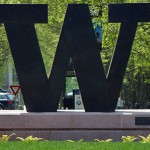 The University of Washington's Population Health Initiative, which aims to bring together the research and resources of the UW and partners around the Puget Sound and beyond to improve the health and well-being of people around the world, has received a significant vote of support from the Bill & Melinda Gates Foundation, the university announced…
---
October 18, 2016
Minda Martin had not lived in Seattle long before, on a walking tour, she noticed the famously truncated "ramps to nowhere" in the Washington Park Arboretum. A filmmaker and faculty member at UW Bothell, she was fascinated — and inspired. "I was stunned by these giant freeway stumps covered in ivy along land that didn't…
---
October 6, 2016
Amazon is giving a major push to the campaign to build a second Computer Science & Engineering building on the University of Washington campus with a $10 million gift, the university announced Thursday. "Our state's economy — and the world's economy — depends on innovation and on innovators. UW graduates with skills in computer science…
---
October 5, 2016
A new proposed draft Campus Master Plan for 2018 sees the University of Washington's Seattle campus growing up rather than out — building a little higher, filling in with more density, not expanding its borders, helping to ease transportation flow and creating big new green spaces. 2018 draft Campus Master Plan — opportunities for public…
---
September 14, 2016
All across the world, millions of people will be practicing their earthquake-preparedness on Oct. 20. The event — called the Great ShakeOut — will commence at 10:20 a.m. for those participating at the University of Washington and across the state. It is an opportunity for people to practice what they should do in the event of an earthquake: Drop, cover and hold on.
---
August 2, 2016
Justin Camputaro, with more than 15 years of experience in higher education administration, joined the University of Washington as the new director of the Husky Union Building, effective July 18.
---
May 19, 2016
More than 500 people gathered May 18 on the University of Washington campus to celebrate the start of construction on the New Burke Museum. The Burke is Washington's oldest museum and since 1899 has been the State Museum of Natural History and Culture; soon it will be Washington's newest museum. Opening in 2019, the New…
---
May 12, 2016
UW Libraries invites the public to tour its new state-of-the-art Conservation Center on the fifth floor of Suzzallo Library, from 3:30 to 5 p.m. Wednesday, May 26.
---
May 11, 2016
An interdisciplinary team of students, faculty and staff together with lighting design experts is asking the UW community those questions as part of a new plan to improve the efficiency and sustainability of outdoor lighting around the Seattle campus.
---
March 25, 2016
Construction started this month on the Washington Park Arboretum's new Arboretum Loop Trail, one of the largest improvement projects to date in the Seattle public garden.
---
February 26, 2016
The cherry trees in the Quad at UW will likely be in full bloom the week of March 14.
---
February 8, 2016
The University of Washington campus already is home to a lot of great public art. Now there are two additions to the campus collection — one at the Odegaard Undergraduate Library and the other at wǝɫǝbʔaltxʷ – Intellectual House.
---
February 5, 2016
At 10:30 a.m. Friday, Rachael Lincoln leaned slowly out into space, hands at her sides — and then walked down the side of Meany Hall for the Performing Arts.
---
October 8, 2015
The University of Washington is shifting $3 million to expand child care facilities on campus as part of a major initiative to enhance the culture of service in UW's central administration, interim Provost Jerry Baldasty announced this week. The need for child care was one of several needs brought to light over the summer in…
---
October 6, 2015
Meeting schedule 5:30 to 7:30 p.m. Wednesday, Oct. 14 at the University Temple Church, 1415 NE 43rd St. Noon to 2 p.m. Thursday, Oct. 15 at the Husky Union Building, Room 340, on the UW campus. For more information, check the Campus Master Plan FAQ The University of Washington is inviting students, staff, faculty and…
---
September 23, 2015
Chinese President Xi Jinping presented the gift of a dawn redwood tree to the Global Innovation Exchange (GIX), a new partnership between the University of Washington and Tsinghua University, during a ceremony at Microsoft headquarters Wednesday.
---
August 5, 2015
UW researchers have released new guidelines to make MakerSpaces more accessible to people with disabilities, as more communal spaces with soldering irons, 3-D printers, sewing machines and other "making" tools pop up on campuses and neighborhoods nationwide.
---
August 3, 2015
The UW is investing up to $37 million in the Washington Nanofabrication Facility, which makes things for researchers and outside companies that aren't practical, economical or possible to fabricate at commercial foundries: inconceivably tiny devices, chips made from unconventional materials that industrial factories won't touch and devices that probe the boundaries of our universe.
---
July 16, 2015
University of Washington Facilities Services, Puget Sound Energy, McKinstry and the Washington State Department of Commerce celebrated the completion of a $2.3 million energy conservation project Wednesday that will improve teaching and research laboratories within the iconic Physics/Astronomy Building. The capital retrofit project has drastically reduced ventilation system waste by installing high-tech controls, drives and…
---
June 18, 2015
In pursuit of solutions to some of the biggest global challenges, two of the world's leading research universities, the University of Washington and Tsinghua University, are partnering to create the Global Innovation Exchange (GIX), an institute dedicated to educating the next generation of innovators. With $40 million in foundational support from Microsoft, GIX will bring…
---
June 1, 2015
Drumheller Fountain, one of the University of Washington's campus icons, reopened Monday, one week ahead of schedule after having been closed by Facilities Services crews April 27 for its biannual cleaning and maintenance. "Drumheller Fountain is the centerpiece of our campus," maintenance supervisor Dale Baxmann said. "We need to be good stewards of our campus landmarks; responsible…
---
March 10, 2015
Though it doesn't officially open until March 12, the modern, longhouse-style building on the University of Washington campus is already steeped in significance. wǝɫǝbʔaltxʷ – Intellectual House represents a dream four decades in the making. It will be an anchor for indigenous students, a hub for Native learning and a means of acknowledging the Duwamish people whose…
---
November 4, 2014
You can't predict the future, but you can prepare for it — that's the thinking behind architect (and architecture graduate student and UW staff member) Brian Rich and his principles of "future proofing" existing and historical buildings.
---
October 13, 2014
A campus landscape framework – meant as a starting point for planning how the UW's outdoor environment might look in 10, 20, even 50 years – will be unveiled in draft form Oct. 20 as part of a regional symposium on campus landscape planning and design.
---
September 12, 2014
The University of Washington is being transformed into a vast art gallery for a six-week exhibition called "Mad Campus."
---
June 6, 2014
The University of Washington is the only U.S. university named as a 2014 Sustainable Campus Excellence Award winner.
---
June 4, 2014
Stop outside the botany greenhouse to see an agave plant that's grown a 9-foot-plus flower spike and is about to bloom for the first time in 25 years.
---
May 15, 2014
Compiled by the Office of News and Information.
---
May 2, 2014
What began as an effort to "make the walls look pretty" after renovations has become an eclectic permanent collection of art by students, staff and faculty at UW Medicine's Hall Health Center.
And a couple of times a year, Mark Shaw, the center's director of health promotion, arranges exactly that. The next Hall Health Art Walk will be from 5:30 to 7 p.m., May 6.
---
March 13, 2014
The cherry trees in the Quad are at about 75 percent of their full bloom, according to the UW arborist.
---
January 28, 2014
A soils lab has achieved the highest score yet in the University of Washington's 10-month-old Green Laboratory Certification Program.
---
January 27, 2014
Samoan cruise with blog, shrunken heads || First high school ethics bowl || Odegaard renovation architects honored
---
January 20, 2014
Burke-Gilman Trail users will see a detour starting the early weeks of February as work on the Montlake Triangle Project ­– the triangular area from the corner of Northeast Pacific and Montlake to Stevens Way – gets underway.
---
December 27, 2013
Check out Huskies Fight Hunger site || UW online academic planner to be extended to community, technical college students || UW Tower data center now Energy Star certified || Nominations due Jan. 31 for graduate school public lectures
---
December 17, 2013
Students living in the University of Washington's Terry Hall will get a new home after the holidays without doing any moving – that part's on the house, you might say.
---
October 22, 2013
Mercer Court Apartments grand opening Oct. 24 || UW iSchool presents author Jack Gantos Nov. 7 || David Shields honored by Artist Trust
---
A new online survey will help develop a Campus Landscape Framework, a step toward updating the campus master plan.
---
October 21, 2013
A public, groundbreaking ceremony for the University of Washington Native American longhouse-style facility, Wǝɫǝbʔaltxʷ (Intellectual House), will take place Friday, Oct. 25, 3-5:30 p.m.
---
Previous page
Next page