UW News
---
May 2, 2018
Researchers at the University of Washington and Seattle University have created CrowdFit, a platform for exercise planning that relies on crowdsourcing from nonexperts to create workout regimens guided by national exercise recommendations and tailored around user schedules and interests.
---
March 29, 2018
During a recent survey of supermassive stars, an international team of astronomers discovered a star that is in quite a hurry. As they report in a new paper, the team tracked one yellow supergiant star cruising along at about 300,000 miles per hour, a velocity that would get you from the Earth to the Moon in about 48 minutes.
---
March 15, 2018
Researchers at the University of Washington and the Allen Institute for Brain Science have developed a new method to classify and track the multitude of cells in a tissue sample. In a paper published March 15 in the journal Science, the team reports that this new approach — known as SPLiT-seq — reliably tracks gene activity in a tissue down to the level of single cells.
---
Researchers at the University of Washington have developed a set of tools to make MRI studies of our central nervous system easier to share.
---
February 20, 2018
Engineers at the University of Washington have for the first time developed a method to safely charge a smartphone wirelessly using a laser.
---
February 12, 2018
In a paper published Feb. 9 in Science Advances, scientists at the University of Washington announced that they have successfully combined two different imaging methods — a type of lens designed for nanoscale interaction with lightwaves, along with robust computational processing — to create full-color images.
---
January 31, 2018
The Department of Energy's Pacific Northwest National Laboratory and the University of Washington announced the creation of the Northwest Institute for Materials Physics, Chemistry and Technology — or NW IMPACT — a joint research endeavor to power discoveries and advancements in materials that transform energy, telecommunications, medicine, information technology and other fields.
---
January 19, 2018
For this year's University Faculty Lecture, University of Washington chemistry professor Michael Gelb will discuss the science behind screening newborns for treatable — but rare — genetic diseases.
---
January 16, 2018
Drug treatments can save lives, but sometimes they also carry unintended costs. After all, the same therapeutics that target pathogens and tumors can also harm healthy cells. To reduce this collateral damage, scientists have long sought specificity in drug delivery systems: A package that can encase a therapeutic and will not disgorge its toxic cargo…
---
December 3, 2017
Kim Nasmyth, a professor of biochemistry at the University of Oxford and former postdoctoral researcher at the University of Washington, is one of five recipients of the 2018 Breakthrough Prize in Life Sciences. Nasmyth and other prize recipients were honored by the Breakthrough Prize Foundation at a ceremony December 3 at NASA's Ames Research Center in Mountain View, California.
---
November 16, 2017
The CleanTech Alliance has presented the University of Washington with the organization's 2017 CleanTech Achievement Award. The honor recognizes the UW's dedication to research and development of transformative clean energy technologies, facilities, pipelines for startups and industry partnerships. The award was announced on Nov. 8 at the annual meeting and 10th anniversary of the CleanTech…
---
November 14, 2017
The first astronomers had a limited toolkit: their eyes. They could only observe those stars, planets and celestial events bright enough to pick up unassisted. But today's astronomers use increasingly sensitive and sophisticated instruments to view and track a bevy of cosmic wonders, including objects and events that were too dim or distant for their…
---
November 7, 2017
An unseasonably warm, dry summer on Mount Rainier in 2015 caused subalpine wildflowers to change their bloom times and form 'reassembled' communities, with unknown consequences for species interactions among wildflowers, pollinators and other animals.
---
October 16, 2017
For the first time, scientists have detected gravitational waves from the merger of two neutron stars.
---
October 2, 2017
The Nobel Assembly at the Karolinska Institute has awarded the 2017 Nobel Prize in Physiology or Medicine jointly to Jeffrey C. Hall — an alumnus of the University of Washington — along with Michael Rosbash and Michael W. Young "for their discoveries of molecular mechanisms controlling the circadian rhythm," according to an announcement Monday morning.
---
September 25, 2017
The University of Washington is home to a new national center of excellence for research, education and training in materials science. The Molecular Engineering Materials Center is funded by a $15.6 million, six-year grant from the National Science Foundation as part of its highly competitive Materials Research Science and Engineering Center (MRSEC) program.
---
September 18, 2017
Researchers analyzed nearly 30 years of revenue and permitting records for individuals fishing in Alaskan waters and tracked how their fishing choices, in terms of permits purchased and species caught, influenced their year-to-year income volatility.
---
August 16, 2017
Researchers at the University of Washington have demonstrated how it is possible to transform a smart device into a surveillance tool that can collect information about the body position and movements of the user, as well as other people in the device's immediate vicinity. Their approach involves remotely hijacking smart devices to play music embedded with repeating pulses that track a person's position, body movements, and activities both in the vicinity of the device as well as through walls.
---
MIT Technology Review has named Franziska Roesner, University of Washington professor of computer science and engineering, one of 35 "Innovators Under 35" for 2017.
---
July 24, 2017
Scientists have used data from the intergalactic medium — the vast, largely empty space between galaxies — to narrow down what dark matter could be.
---
July 17, 2017
Scientists at the University of Washington have discovered a simple way to raise the accuracy of diagnostic tests for medicine and common assays for laboratory research. By adding polydopamine — a material that was first isolated from shellfish — to these tests at a key step, the team could increase the sensitivity of these common bioassays by as many as 100 to 1,000 times.
---
University of Washington researchers have developed a fast, inexpensive method to make electrodes for supercapacitors, with applications in electric cars, wireless telecommunications and high-powered lasers.
---
June 29, 2017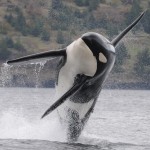 A multi-year survey of the nutritional, physiological and reproductive health of endangered southern resident killer whales suggests that up to two-thirds of pregnancies failed in this population from 2007 to 2014. The study links this orca population's low reproductive success to stress brought on by low or variable abundance of their most nutrient-rich prey, Chinook salmon.
---
June 20, 2017
The National Institutes of Health has renewed a major grant that funds a University of Washington-led research center to understand malaria in India.
---
June 19, 2017
Researchers uncover design principles to make polymers that can transport both ions and electrons, which will help create new devices like biosensors and flexible bioelectronic implants
---
June 7, 2017
A team led by the University of Washington and the Massachusetts Institute of Technology has for the first time discovered magnetism in the 2-D world of monolayers, or materials that are formed by a single atomic layer. The findings, published June 8 in the journal Nature, demonstrate that magnetic properties can exist even in the 2-D realm — opening a world of potential applications.
---
April 20, 2017
UW sociologist Alexes Harris leads a team of researchers at nine universities who are exploring the role of monetary sanctions in the criminal justice system. They recently completed a review of financial punishments in the laws of each of their home states. Based on their preliminary findings, the impact to a person's pocketbook depends largely on his or her location on a map.
---
April 17, 2017
Ernest Mark Henley, a celebrated nuclear physicist and University of Washington administrator, died on March 27, 2017, at age 92.
---
April 14, 2017
The University of Washington and Japan's Tohoku University have agreed to create an Academic Open Space to foster collaborations and academic exchanges between these two leading research institutions of the Pacific Rim. The agreement, signed April 14 by leaders of both institutions at the UW campus in Seattle, is expected to build upon current collaborations in aerospace design and materials, as well as launch new science and engineering partnerships.
---
March 27, 2017
In the 15 years since the ADVANCE Center for Institutional Change opened its doors, the UW has nearly doubled the number of female faculty across 19 science, technology, engineering and math departments.
---
March 21, 2017
Hans Georg Dehmelt, Nobel physics laureate and professor emeritus at the University of Washington, died in Seattle on March 7, 2017 at age 94. Dehmelt was a celebrated scientist who, in a research career spanning more than half a century, developed methods to isolate atoms and subatomic particles and measure their fundamental properties with high accuracy.
---
March 15, 2017
On March 15 at a ceremony in Washington, D.C., Prime Minister Enda Kenny of Ireland honored Adrian Raftery, a professor of statistics and sociology at the University of Washington, for his diverse contributions to the field of statistics. Kenny presented Raftery with the St. Patrick's Day Medal, which is awarded each year by Science Foundation…
---
March 14, 2017
A research team led by University of Washington biology professor Dee Boersma reports that fully grown Galapagos penguins who have fledged — or left the nest — continue to beg their parents for food. And sometimes, probably when the bounty of the sea is plentiful, parents oblige and feed their adult offspring.
---
February 16, 2017
Scientists at the University of Washington have discovered that a common type of cell in the vertebrate immune system plays a unique role in communication between other cells. It turns out that these cells, called macrophages, can transmit messages between non-immune cells.
---
January 30, 2017
Jennifer Nemhauser leads a research laboratory of scientists, all immersed in the complex world of plant hormones. But last year, the University of Washington professor of biology boosted her lab's roster with some unexpected talent. Claire Cowie — an artist, UW alumna and lecturer — spent three months in 2016 as a part-time artist-in-residence in Nemhauser's lab….
---
January 25, 2017
New research indicates that people who had more infections as babies harbor a key marker of cellular aging as young adults: the protective stretches of DNA which "cap" the ends of their chromosomes are shorter than in adults who were healthier as infants.
---
January 24, 2017
Paleontologists picking through a bounty of fossils from Montana have discovered something unexpected — a new species of lizard from the late dinosaur era, whose closest relatives roamed in faraway Asia.
---
January 17, 2017
In a paper published Jan. 17 in the journal Nature Communications, researchers report that fruit flies — perhaps the most widely studied insect in history — show signs of rational decision-making when choosing a mate.
---
December 20, 2016
In an article published Dec. 20 in the journal eLife, researchers present a mathematical model that explores whether "publication bias" — the tendency of journals to publish mostly positive experimental results — influences how scientists canonize facts. Their results offer a warning that sharing positive results comes with the risk that a false claim could be canonized as fact. But their findings also offer hope by suggesting that simple changes to publication practices can minimize the risk of false canonization.
---
December 19, 2016
Miqin Zhang, a professor of materials science and engineering at the University of Washington, is looking for ways to help the body heal itself when injury, disease or surgery cause large-scale damage to one type of tissue in particular: skeletal muscle. Her goal is to create a synthetic, porous, biologically compatible "scaffold" that mimics the normal extracellular environment of skeletal muscle — onto which human cells could migrate and grow new replacement fibers.
---
Previous page
Next page