Center for Teaching and Learning
Faculty
Teaching Assistants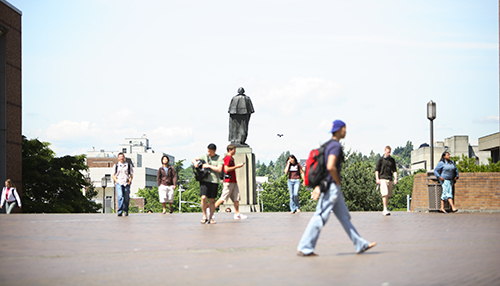 All UW educators
News and events
CTL autumn quarter teaching and learning courses for graduate students
GRDSCH 630 Acting Up: Teaching Theater for Change
Want to make positive change in classroom and institutional climates so that all of our students thrive? In this cross-disciplinary course, students build practical skills in Theatre of the Oppressed and other arts-based pedagogies to promote inclusive educational environments in classroom, institutional, and community contexts.
2 credits, T/Th 1:30-3:20 p.m. Learn more on our CTL Graduate School courses page.
Faculty: Sign up for Evidence-Based Teaching program and experiment with learning technologies
Join a community of faculty invested in improving teaching and student learning outcomes using learning technologies and other pedagogical best practices. The Evidence-Based Teaching program provides on-demand support from pedagogy and tech experts and collaboration with peers across disciplines. Faculty participate in online discussion boards and bimonthly meetings, observe peers in their classrooms, and learn what research says about effective teaching, how to experiment with new approaches and how to conduct classroom-based research.
Learn to create accessible documents and websites
All UW document creators, from faculty and staff to students, are required to make sure the documents they create to disseminate information are accessible to individuals who use Assistive Technology (AT). This quarter, UW-IT Accessible Technologies is partnering with Learning Technologies to offer a series of free workshops on the basics of creating accessible web sites and documents. For details and registration visit the Learning Technologies Workshops page.
Get inspired: Innovative teaching and learning at UW
EDU Talks: UW College of Education video series
UW College of Education faculty members and researchers who partner with schools, communities and organizations address some of the most pressing issues in education. Watch the video series to learn more about their leading edge research.
Teaching Teamwork: Helping students collaborate effectively
University students are often asked to work in groups, yet few are taught how to work well in teams and often struggle. In this 5-minute video, UW faculty Randy Beam (Communication) and Erin Hill (Physics) describe how they integrate instruction on teamwork into their regular courses to help students succeed in short-term and long-term class projects.
Innovators Among Us: Using Technology to Teach Beyond the Classroom
Stories of instructors who "think outside the building", connecting with peers and across disciplines, collaborating with community members and creating nontraditional learning opportunities for students. Read more about using technology to teach.
Innovators Among Us: Tips and tools
Download top tips and best practices recommended by faculty and instructors featured in the Innovators Among Us series.