Center for Teaching and Learning
Faculty
Teaching Assistants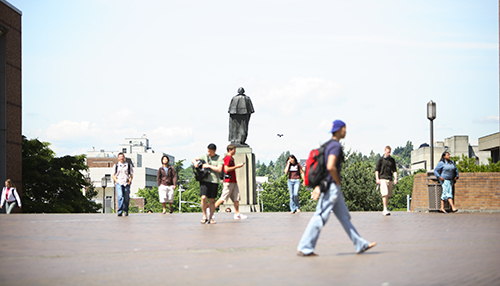 All UW educators
News and events
Frontiers in Higher Education Research Seminar
This seminar series highlights original research in college-level learning and instruction. Each seminar is multidisciplinary in scope and addresses the broad themes of our work as instructors.
Upcoming seminars:
All seminars are free and open to the public. Space is limited, please RSVP.
Distinguished Teaching Awards
Nominate an inspiring instructor or teaching assistant for a Distinguished Teaching Award, Distinguished Teaching Award for Innovation with Technology, or Excellence in Teaching Award.
The deadline to submit a nomination is November 26.
Nomination Form
---
Get inspired: Innovative teaching and learning at UW
EDU Talks: UW College of Education video series
UW College of Education faculty members and researchers who partner with schools, communities and organizations address some of the most pressing issues in education. Watch the video series to learn more about their leading edge research.
Teaching Teamwork: Helping students collaborate effectively
University students are often asked to work in groups, yet few are taught how to work well in teams and often struggle. In this 5-minute video, UW faculty Randy Beam (Communication) and Erin Hill (Physics) describe how they integrate instruction on teamwork into their regular courses to help students succeed in short-term and long-term class projects.
Innovators Among Us: Using Technology to Teach Beyond the Classroom
Stories of instructors who "think outside the building", connecting with peers and across disciplines, collaborating with community members and creating nontraditional learning opportunities for students. Read more about using technology to teach.
Innovators Among Us: Tips and tools
Download top tips and best practices recommended by faculty and instructors featured in the Innovators Among Us series.