Multicultural Alumni Partnership + UWAA
Short Talks: Power
Thurs. June 3, 2021 6:30-8 p.m.
Online
Individual strength, collective force.
$5 general public; free for UWAA/UWRA members
Join us as four storytellers — curated by representatives from UWAA's Multicultural Alumni Partnership (MAP) — use their voices to heal, transform, and celebrate the collective power of our BIPOC communities.
Speakers:
Colleen Echohawk, former executive director, Chief Seattle Club; aspiring politician
Efrem Fesaha, owner, Boon Boona Coffee
Zynovia Hetherington, '15, director, Child Welfare Training and Advancement Program (CWTAP) at UW School of Social Work
Luis Ortega, founder & director, Storytellers for Change
MAP Curators:
Jaebadiah Gardner, J.D., '05
Sumona Das Gupta, J.D., '05, '09
Kristin McCowan, Ph.D., '21
Mariama Suwaneh, '17

All ticket proceeds will go to the MAP Endowed Scholarship Fund.
---
About the speakers
Colleen Echohawk
Former Executive Director, Chief Seattle Club; aspiring politician
Fierce Pawnee and Athabascan. Courageously leading social change in Seattle for people first. Loving mother/daughter/auntie/sibling/storyteller. Loves to cuddle her with her dog Rizzo. Favorite karaoke song: Bohemian Rhapsody.
Colleen Echohawk has served the most marginalized people living in the greater Seattle community for more than two decades. As the head of Chief Seattle Club, a non-profit dedicated to the rapid re-housing of urban Natives, Colleen led the effort to create nearly $100 million in new affordable housing in Seattle. She is an enrolled member of the Kithehaki Band of the Pawnee Nation and a member of the Upper Athabascan people of Mentasta Lake. Colleen has been recognized by numerous organizations, including the 21 Leaders to watch in 2021 by Seattle Magazine, the King County Martin Luther King Jr. Medal of Distinguished Service (2020), Seattle's most influential people by Seattle Magazine (November 2019), one of Seattle Met Magazine's 50 most influential women (2018), the Adeline Garcia Community Service Award (2018), Antioch University's Public Service Award (2018), and Crosscut Media's Courage Award for Public Service (2016).
---
Efrem Fesaha
Owner, Boon Boona Coffee
Eritrean. West Seattleite. Go Seahawks (Chief Sealth). Go Cougs. Go Redhawks. Nerd in more ways than one. Socially conscious business entrepreneur.
Efrem is a first generation Eritrean American whose family moved to the U.S. in 1988 so his father could work at Boeing as a Mechanical Engineer. Efrem received his B.A. from Washington State University and is currently a candidate for his M.B.A. at Seattle University. For 13 years, Efrem worked for local companies such as Holland America, Nordstrom and Amazon before starting Boon Boona Coffee. During a three-month stay in Eritrea in 2011, Efrem was inspired by the cafe culture and returned with the desire to venture into coffee. Boon Boona Coffee was launched with the aim of collaborating with farmers across many African nations to source the highest quality coffee and support the sustainability of their crops. Boon Boona Roastery & Café operations are located in Renton and Seattle with wholesale distribution throughout US & Canada.
---
Zynovia Hetherington, '15
Director, Child Welfare Training and Advancement Program (CWTAP) at UW School of Social Work
Award-winning educator, leader, author, inspirer and community change-maker.
As Director of the Child Welfare Training and Advancement Program (CWTAP) at the UW School of Social Work for the past nine years, Zynovia continues to influence the lives and education of aspiring social workers. As a convener of students, families, organizations across the African diaspora, Zynovia facilitates the "Sankofa" Study Abroad Program. Encouraging students to "go back and get it," Zynovia has ushered over 100 students of African descent to Ghana as they honor their ancestral connections, and make meaning of their individual and collective experience of Black Identity. Zynovia's impact on the lives of others has been amplified in a recently published anthology, Memoirs of a Broken Queen, where she brings voice to her journey through adversity and triumphs, offering solace for broken hearts and hope for those searching for light and self love.
---
Luis Ortega
Founder and Director, Storytellers for Change
Multidisciplinary storyteller, empathy educator, facilitator.
Over the last fifteen years, Luis has worked with youth, educators, and cross-sector organizations to co-design storytelling strategies, projects, and programs to foster empathy, inclusion, and equity. His work and projects have been featured at the Harvard DACA Seminar, HBO's "Where Do You Exist?" podcast, the Kauffman Foundation's Disruptor Speaker Series, and the ArtPlace America Summit. Most recently, Luis was selected as a W K. Kellogg Foundation's Community Leadership Network Fellow and has curated the 100 Changemakers Project at the Bill & Melinda Gates Foundation Discovery Center.
---
About the  curators
UWAA's Multicultural Alumni Partnership (MAP) is dedicated to promoting diversity at the UW and in the UW community, addressing issues of equality and equity through scholarships, mentoring, lectures and reaching out to the University community. Each of the following four MAP members selected a speaker for Short Talks: Power.
Jaebadiah Gardner, J.D., '05
Paper chaser, no nonsense, Black Lives Matter, magic wealth creator, wordsmith, business savant, hungry hungry hippo hustler. Time bender, self love champion, globe trotter, descendant of Kings and Queens, crown's on daily, lift as we climb, know your worth, execute to your optimal potential, long-term visionary, Black and Mexican.
---
Sumona Das Gupta, J.D., '05, '09
Deeply rooted in family, humanity, and humility. Gives the biggest hugs around, and will nurture anyone to health. A child of immigrants, with a connection to my homeland that can never be broken. Always learning, observing, and advocating, but will be quick to put a stop if anyone missteps. See you on the next flight.
---
Kristin J. McCowan Ph.D., MSW, '21
Writer. Thinker. Educator. Listener. Truth teller. Liberation seeker. Reader. Transformer.
---
Mariama Suwaneh, '17
Nurturer, advocate, and storyteller. Black woman by day and Afro-Latina at all times. Deeply rooted in faith, moves with grace, and challenged by love. Charged by the power of her Latinidad and Comunidad. Game changer and change maker. The result of her ancestor's wildest dreams.
---
Enhance your Power experience with a meal from a BIPOC-owned business!
Support BIPOC local business owners by considering takeout or delivery to enjoy before, during or after the presentation! Our GOLD Council members prepared a list of their favorite BIPOC-owned restaurants in Seattle.
---
UWAA Member Benefit: Black-eyed pea hummus from Communion!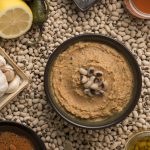 Enjoy a half-pint of "Oh Gee" or "Slow Burn" black-eyed pea hummus from Communion Restaurant and Bar on us! Good only on June 3. Get details and promo code.
Thank you for being a UWAA member!
---
ABOUT THE SERIES: UWAA is the proud producer of the Short Talks series, which collaborates with campus partners to present an intimate evening of storytelling, discovery and community. Four featured speakers share their experience within a suggested topic. Subject matters are broad, conversations are personal, and the end result is a night you won't forget.