Undergraduate Academic Affairs
May 15, 2018
Undergraduates to present research spanning academic disciplines on May 18, 2018
On Friday, May 18, more than 1,200 University of Washington undergraduates and visiting undrgraduates student scholars will participate in the 21st Annual Undergraduate Research Symposium — an event that is one of the largest of its kind in the nation.
The Symposium runs from 11 a.m.–6 p.m. on the UW Seattle campus. Students will present their research in poster, oral and performing arts sessions in Mary Gates Hall and Johnson Hall, and in a visual arts and design showcase in Odegaard Undergraduate Library (see event details below). UW President Ana Mari Cauce is scheduled to provide opening remarks at 11 a.m. in Mary Gates Hall.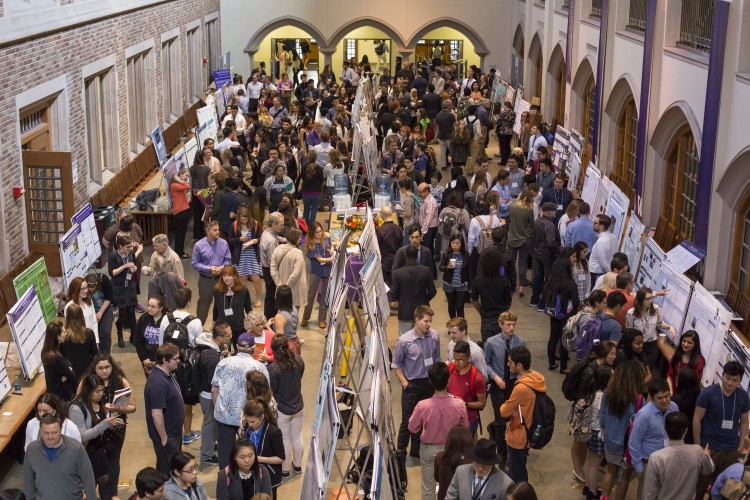 Through undergraduate research, students contribute to groundbreaking work and gain the experience necessary to one day lead innovative research themselves. UW undergraduates are getting involved in research in increasing numbers — more than 8,400 students participated in research in 2016–17. More than 1,000 faculty, post-doc, research staff and graduate student mentors supported this year's Symposium presenters through their research, helping students develop subject area knowledge, transferable skills and an entrepreneurial perspective that will prepare them for future employment, education and civic engagement.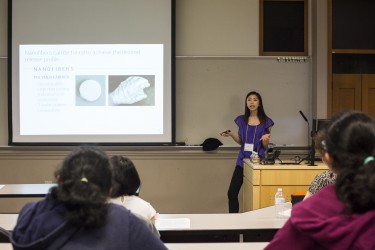 Students will share their research on topics as diverse and broad as better diagnosis of pediatric concussions; improving regional climate prediction; innovations in pain management; predicting tooth decay; gratitude in relation to adolescent mental health; the complexity of the canoe in Samoan culture; forensic anthropology; and much, much more.
The titles of students' presentations gives more detail about the range and complexity of their projects. A small sampling of titles include:
BrainNet: First Three-Person Brain-to-Brain Communication System
Star Formation in Low Metallicity Environments
Curation: A Performance
My Work as an Artist and Designer on the DFL's 3D Game, Hug the Line
Forensic Anthropology and Human Rights in Latin America
The Symposium is open to selected undergraduates from other institutions, and we are thrilled to welcome presenters from 22 other institutions in addition to McNair Scholar institutions, the Seattle Colleges, Montana State University, Washington State University and the University of Victoria (complete list below).
The Symposium is organized by Undergraduate Academic Affairs' Undergraduate Research Program.
Event Details
What: The 21st Annual Research Symposium at the University of Washington
Who: More than 1,200 inspiring undergraduates at UW presenting ground-breaking research and selected undergraduates from other institutions
When: Friday, May 18, 2018, 11:00 a.m.­–6:00 p.m.
Where: Mary Gates Hall, select rooms in Johnson Hall, and Odegaard Undergraduate Library
Plan ahead: See event schedule and search the Online Proceedings at symposium.uw.edu.
Institutions Represented
Bellevue College
Boise State University
California State University San Marcos
College of St. Scholastica
Edmonds Community College
Everett Community College
Grays Harbor College
Heritage University
North Seattle College
Pacific Lutheran University
Pierce College
Portland State University
Shoreline Community College
Seattle Pacific University
South Seattle College
Seattle Central College
University of Nevada Las Vegas
Wenatchee Valley College
Western Washington University
University of Puget Sound
University of Wyoming
Whitman College
Photos by David Ryder.