UW News
Social science
---
June 4, 2018
Twenty-five polar bear hunters in East Greenland were interviewed before the first formal assessment of this subpopulation, one of 19 subpopulations of polar bears in a changing Arctic.
---
May 25, 2018
On a two-year stint teaching English in Beijing, Sasha Welland got her first glimpse of contemporary Chinese art. Not the antiquities so common in Western museums of Asian art, or the scroll paintings or ceramics or Buddhist sculptures, explains Welland, an associate professor in the University of Washington departments of anthropology and gender, women and…
---
May 17, 2018
Research shows that the more skills children bring with them to kindergarten – in basic math, reading, even friendship and cooperation – the more likely they will succeed in those same areas in school. Hence, "kindergarten readiness" is the goal of many preschool programs, and a motivator for many parents. Now it's time…
---
May 15, 2018
Family-focused science lessons, robotics for young children and touch-based programming for the visually impaired are among the University of Washington research videos featured in the STEM for All Video Showcase, funded by the National Science Foundation. The weeklong online event, in its fourth year, highlights more than 200 projects from universities around the country…
---
May 2, 2018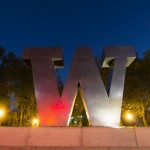 Issues of race and racism permeate American culture and media more than ever. The UW's Center for Communication, Difference and Equity will hold a three-day conference May 10-12 to explore these issues and foster engagement and support among academics.
---
April 26, 2018
Want to prevent kids from using drugs and make it stick into young adulthood? Get the community involved and intervene before they're teens, say researchers from the University of Washington. A new, longitudinal study from the UW Social Development Research Group shows that young adults who grew up in communities that used a coordinated,…
---
March 28, 2018
As the 50th anniversary approaches of the murder of civil rights leader Dr. Martin Luther King, UW historian Michael Honey reminds us in a new book that economic justice and labor rights were always part of King's progressive message.
---
March 21, 2018
With a new $700,000 grant awarded from the NOAA Ocean Acidification Program, scientists from the University of Washington's Applied Physics Laboratory, Washington Sea Grant and the Joint Institute for the Study of the Atmosphere and Ocean have teamed with federal and tribal partners to study the social and ecological vulnerabilities of Olympic Coast ocean acidification.
---
March 15, 2018
The University of Washington's new minor in Oceania and Pacific Islander Studies debuts spring quarter. The 25-credit, interdisciplinary program is the result of a longtime effort to elevate the history and culture of an underrepresented, and often misrepresented, community.
---
March 14, 2018
African-American voters who dislike and feel threatened by Donald Trump and his presidency are more likely to vote and to engage with politics, according to new research from the UW and California State University, Sacramento.
---
March 12, 2018
The University of Washington is launching a study to identify soldiers experiencing post-traumatic stress symptoms and to determine whether free, confidential, over-the-phone counseling can help them navigate resources and spur them to seek further support.
---
March 9, 2018
Think about the last time you looked for a new apartment or house. Maybe you asked your friends or colleagues about where they lived. You thought about your route to work, or that neighborhood you always drive through on your way to your kid's soccer practice. Many of these places were familiar to you,…
---
March 8, 2018
The UW Jackson School of International Studies presents "Trump in the World: International Implications of the Trump presidency," a series of public lectures and discussions Tuesday afternoons through spring quarter.
---
Megan Ming Francis, UW associate professor of political science, has been named a fellow with the Thurgood Marshall Institute. The institute is a multidisciplinary research and advocacy policy center within the NAACP's Legal Defense and Educational Fund.
---
March 7, 2018
A University of Washington study finds that women authors are significantly under-represented in high-profile academic journals.
---
March 5, 2018
Immigrant rights, environmental concerns and racial, class, gender and sexual justice will be the focus of a daylong conference hosted by the Harry Bridges Center for Labor Studies March 10 at the UW.
---
March 1, 2018
In a region as expensive as the Puget Sound, making ends meet affects college students, too. Rent, utilities and food can run into the hundreds, if not thousands, of dollars a month – and for students without the means, it's a daunting and sometimes compromising challenge. Urban@UW is trying to learn more about…
---
February 27, 2018
LaShawnDa Pittman, a UW assistant professor of American Ethnic Studies, is collecting stories of African-American grandmothers, past and present, on her Real Black Grandmothers website.
---
February 22, 2018
When scientists have conducted research in Native American communities, the process and the results have sometimes been controversial. There have been a few well-known cases, such as the 1979 Barrow Alcohol Study, in which researchers examined substance use in the tiny Arctic Circle town and issued findings to the press, before briefing the…
---
February 21, 2018
Quintard Taylor, UW professor emeritus of history and recipient of a lifetime achievement honor from Washington State Historical Society, discusses his work and this unusual moment in American history.
---
January 31, 2018
Archaeologists are a little like forensic investigators: They scour the remains of past societies, looking for clues in pottery, tools and bones about how people lived, and how they died. And just as detectives might re-create the scene of a crime, University of Washington archaeologists have re-created the weapons used by hunter-gatherers in…
---
January 30, 2018
Nearly one-third of Washington college students have experienced depression in the last year, and more than 10 percent have had thoughts of suicide, according to a new survey of young adults attending schools around the state. The survey of more than 10,000 students at 13 of Washington's two- and four-year institutions shows the need…
---
January 25, 2018
Dan Berger, associate professor in the UW Bothell School of Interdisciplinary Arts and Sciences, discusses his new book, "Rethinking the American Prison Movement."
---
January 18, 2018
A new grant will let a University of Washington-based project add a new fleet to its quest to learn more about past climate from the records of long-gone mariners. The UW is among the winners of the 2017 "Digitizing Hidden Special Collections and Archives" awards, announced Jan. 4 by the Washington, D.C.-based Council on Library…
---
January 16, 2018
Get interrupted at work much? Making a quick plan for returning to and completing the task you're leaving will help you focus better on the interrupting work, according to new research from the University of Washington.
---
Touch is the first of the five senses to develop, yet scientists know far less about the baby's brain response to touch than to, say, the sight of mom's face, or the sound of her voice. Now, through the use of safe, new brain imaging techniques, University of Washington researchers provide one of the…
---
January 11, 2018
Can the president single-handedly toss out environmental rules designed to combat global warming? Force states like Washington to help enforce federal immigration laws? Fire Robert Mueller? No, no, and not directly, say Lisa Manheim and Kathryn Watts, professors of law at the University of Washington, in a new book. The answers, of course, are more complicated…
---
January 5, 2018
The University of Washington is ranked fifth among more than 400 U.S. colleges and universities for social science research funding, according to a new report. The Consortium of Social Science Association's 2018 College and University Rankings for Federal Social and Behavioral Science R&D was released this week. The UW, with $38.6 million in…
---
January 4, 2018
Jeff Hou, UW professor of landscape architecture, discusses the new book he co-edited with Sabine Knierbein, "City Unsilenced: Urban Resistance and Public Space in the Age of Shrinking Democracy."
---
December 21, 2017
For African-American students, data, alongside societal attitudes and stereotypes, often present a negative picture: a wide academic achievement gap separating them from their white peers. Higher rates of discipline and absenteeism. Discrimination by other students, teachers and the larger community. And just last summer, a study indicated that black girls, from an early…
---
December 6, 2017
Alongside the political polarization that has permeated seemingly every issue in American life, there is a similar dichotomy in religion.On one side are those who suggest religion is dying, that's it's irrelevant, a force for ill and oppression, explains University of Washington sociology professor Steve Pfaff. On the other are those who say religion is…
---
November 30, 2017
The labor of India's lower castes — in areas such as agriculture, transportation, construction and the sex trade — occupies about 90 percent of the country's workforce. Many of these urban jobs draw workers from rural villages, people who struggle to make a living not only for themselves, but also for the relatives they've left…
---
November 28, 2017
A team of University of Washington students and faculty has won Amazon's inaugural Alexa Prize, a university competition designed to produce an artificial intelligence agent capable of coherent and sustained conversation with humans.
---
November 27, 2017
Seattle's homeless crisis isn't confined to one part of town – nor does it hinge on one solution. The University District community includes as much as one-third of King County's homeless youth over any given year. It's a neighborhood where a food bank and youth shelter are available, and where young people on the…
---
November 22, 2017
Edwina Uehara, dean of the University of Washington School of Social Work, and social work professor Karen Fredriksen Goldsen have been named fellows of the American Academy of Social Work and Social Welfare. The two are among 14 new fellows to be inducted by the organization, which honors scholarship, leadership and high-impact work in the…
---
November 21, 2017
Picture yourself with a friend in a crowded restaurant. The din of other diners, the clattering of dishes, the muffled notes of background music, the voice of your friend, not to mention your own – all compete for your brain's attention. For many people, the brain can automatically distinguish the noises, identifying the…
---
November 15, 2017
Think, for a moment, about the last time you were out in nature. Were you in a city park? At a campground? On the beach? In the mountains? Now consider: What was this place like in your parents' time? Your grandparents'? In many cases, the parks, beaches and campgrounds of today are surrounded…
---
November 13, 2017
UW researchers who used machine learning tools to analyze language in 800 Hollywood movie scripts found subtle but widespread gender bias in the way male and female characters are portrayed.
---
November 2, 2017
There is little debate over the link between air pollution and the human respiratory system: Research shows that dirty air can impair breathing and aggravate various lung diseases. Other potential effects are being investigated, too, as scientists examine connections between toxic air and obesity, diabetes and dementia. Now add to that list psychological distress,…
---
October 26, 2017
Comics and graphic can be serious business. Scholars, critics, historians, teachers, curators of comic art and graphic publications will gather at the UW and locations in Seattle Nov. 2-4 for the 2017 International Comic Arts Forum.
---
Previous page
Next page