UW News
---
November 12, 2014
The Spokane City Council on Monday night formally approved the lease of the former Spokane Visitor Information Center to the University of Washington, which will use the space for many purposes, including business outreach, alumni activities and student admissions. The site will also help support the UW's efforts to expand its existing medical school in…
---
November 6, 2014
The University of Washington landed in a three-way tie for No. 14 in U.S. News & World Report's first ranking of Best Global Universities – a new ranking that is separate from its annual Best Colleges list. The publication released world rankings, it said, in recognition of the fact that more students are looking beyond…
---
October 31, 2014
Genesee Adkins, who brings 12 years of experience in the halls of state government, has been appointed director of state relations at the University of Washington, effective Nov. 12. "We are getting an experienced, highly capable government relations professional who understands the subtleties of Olympia and will be able to represent the university's interests extremely…
---
The University of Washington's plan to double the size of its medical school in Spokane is "clearly the most cost-effective option" to meet the physician workforce needs in Eastern Washington and throughout the state, according to an independent study by research firm Tripp Umbach. The study also found that Eastern Washington currently cannot support two…
---
October 24, 2014
The UW won Seattle Business Magazine's 2014 Community Impact Award for Sustainability in Business Operations this week for demonstrating how businesses can have a beneficial impact on their communities. Seattle Aquarium and Harley Marine Services won silver awards for their sustainable business operations. UW's award recognizes its overall environmental stewardship, Climate Action Plan, many LEED…
---
October 20, 2014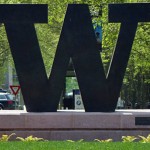 Enrollment for the three University of Washington campuses increased nearly 3 percent in the new school year, according to the finalized Fall 2014 census of enrolled students released by Philip Ballinger, associate vice provost for enrollment and undergraduate admissions.
---
October 17, 2014
The University of Washington fosters innovation on its campuses not only because of its deep economic impact "but because, more importantly, we know it can create a world of good," UW President Michael K. Young said Wednesday at his annual address. "Equally important is the extraordinary advantage that teaching innovation and creativity gives our students,…
---
October 9, 2014
Measuring universities on their scientific research productivity, impact and excellence, National Taiwan University named the University of Washington fifth best in the world, and the top public institution in the United States, in its 2014 Performance Ranking of Scientific Papers for World Universities released Thursday. The NTU Ranking is based on the production and impact…
---
It's impossible not to make this awkward, but here's our best shot: Welcome to the new UW Today blog. For years, UW Today in various incarnations has provided the news of the University of Washington – from groundbreaking scientific research and awe-inspiring student projects, to ranking updates, awards and roundups of arts events that can…
---
September 16, 2014
UW President Michael Young will be the featured speaker at the 31st annual Freshman Convocation Sept. 21 in the Alaska Airlines Arena at Hec Edmundson Pavilion.
---
August 25, 2014
The Washington Monthly magazine has listed UW seventh in the nation in its 2014 national university rankings.
---
July 21, 2014
University of Washington President Michael K. Young and Provost Ana Mari Cauce announced Monday the selection of Sean D. Sullivan as the new dean of the UW School of Pharmacy, effective Sept. 15. The appointment is subject to approval by the UW Board of Regents. "Dr. Sullivan occupies a very prominent position nationally and internationally…
---
Previous page