March 2013
From the Dean

On a sunny Saturday in early March, a minivan full of Libraries staff drove to Hoquiam, Washington, to witness a stellar example of a community partnership, preservation, and the thoughtful use of Libraries collections and resources to bring history full circle. Grays Harbor Happenings: The Newsreels of C.D. Anderson, co-produced by Libraries and UWTV, masterfully wove amateur newsreels from the 1920s and interviews with current residents and historians. Read more from the Dean.
---
In the Spotlight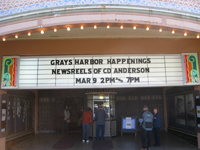 Raising the curtain
on Grays Harbor history
Fifty-three reels found in an abandoned storage unit in Seattle made their way to the screen of the historic 7th Street Theatre in Hoquiam on March 9 for the world premiere of Grays Harbor Happenings: Newsreels of C.D. Anderson, directed by Ann Coppel. It was the culmination of eight years of preservation and digitization work. Read more about the film. (Photo by Sheryl Stiefel)
Welcome Sheryl Stiefel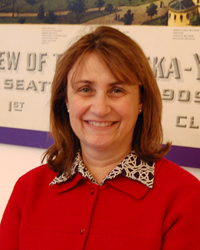 Please join us in welcoming Sheryl Stiefel, who joined UW Libraries as director for advancement in February.
Sheryl began her career as an archaeologist in the American Southwest, Kenya and British Columbia. Learn more about Sheryl.
Remembering W. Stull Holt

"When W. Stull Holt arrived in Seattle in the Fall of 1940 to start his new job as Chairman of the University of Washington history department, the university was thrilled to have a rising faculty star to modernize the department." So begins a feature in Columns magazine telling the story of this "Warrior Intellectual," a New York native who went on to teach at the UW for nearly three decades. Dr. Walter L, Berg, (MA '48, PhD '57) a friend of the Libraries for many years, was awarded his Ph.D. in history in 1957 under the direction of Professor Holt. Years later, Berg created a Libraries endowment to honor his professor and friend. The Professor W. Stull Holt Military History Endowment supports the purchase of materials on military history. Berg had an enduring friendship with Professor Holt until Holt's death in 1981.

Husky Reels: The latest discoveries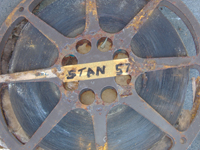 Hannah Palin, moving images archives specialist, offers this Husky Reels update: "We sent of a sampling of some of the most deteriorated films to a lab in Maryland to learn whether than can be salvaged and should hear back within the next month or so." Watch a short video about the Husky Reels project.
Pictured: Special Collections continues seeking funds for preserving more than 7,000 reels. This reel is from a 1957 football game against Stanford.
Gennie Gebhart selected for Luce scholarship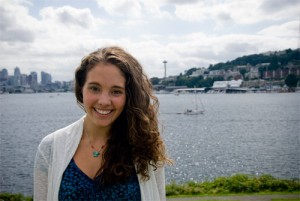 Genevieve (Gennie) Gebhart, a senior Honors student majoring in international studies and economics was recently named a 2013-14 Luce Scholar. A graduate of Mercer Island High School, Gebhart is one of 18 students nationwide to receive this scholarship this year. Learn more about Gennie.
Facebook and Twitter
The Libraries posts breaking news and information on Facebook and Twitter. Join us and follow us on Facebook and Twitter!
---
Events and Exhibits
Tickets available for Literary Voices Dinner

Join the libraries and keynote speaker Garth Stein for Friends of the Libraries' eighth annual Literary Voices Dinner to support Libraries preservation and student scholarships at 6 p.m. April 27 at the UW Club.
Stein is the author of the New York Times bestselling novel The Art of Racing in the Rain (Harper 2008), which has been published in 30 languages. Learn more about the dinner.
Slides provide glimpse into life of Norwegian explorer
Stop by Allen Library North Lobby throughout April to view an exhibit of visitors' images from the lantern slides of Roald Amundsen.
The Norwegian explorer used the slides in public lectures about his expeditions through the Northwest Passage and to the South Pole; the exhibit will include abridged versions of Amundsen's own manuscripts from these lectures. Co-sponsored by UW Scandinavian Studies department.
"Images of Labor and Social Justice:
The Art of Richard V. Correll" Now on Display

Stop by Allen Library to check out "Images of Labor and Social Justice: The Art of Richard V. Correll." Correll's work touches on topics such as labor, social justice, civil rights, and war. The exhibit, which includes work Correll did for the Great Depression-era Washington State WPA, continues through April 19 in the Allen Library South basement and the Allen Library North balcony. View a short video about the exhibit.