Gennie Gebhart selected for Luce scholarship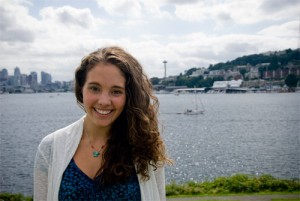 Genevieve (Gennie) Gebhart, a senior Honors student majoring in international studies and economics was recently selected as a 2013-14 Luce Scholar. A graduate of Mercer Island High School, Gebhart is one of 18 students nationwide to receive the scholarship this year.
Gebhart's interests have led her on a multidisciplinary path culminating in a plan to pursue international librarianship and address issues of information access. "My multidisciplinary education has been one big string of surprises. I never could have predicted that I would be involved in economics, or film studies, or library sciences — and, I never could have predicted that I would be doing those things all at once!" she wrote.
Gebhart's interest in libraries was inspired in part and wholly supported by her work in UW Libraries. "It's the people I get to work with that have really role-modeled for me the many ways in which a librarian can be a force for the greater good," she said. She received a Libraries student employee scholarship in 2010.
March 2013 | Return to issue home