UW News
Office of Minority Affairs & Diversity
---
March 4, 2020
Updated March 6, 2020: Many of the events in this roundup have been postponed or cancelled. Information for a specific event will be at the link provided for that event. This week in the arts, School of Art faculty Whitney Lynn gives a lecture at the Art Building, UW Symphony and combined choirs perform at…
---
April 30, 2019
The University of Washington today announced a $3.6 million gift commitment awarded over 12 years to the Office of Minority Affairs & Diversity (OMA&D). The gift commitment will fund full scholarship packages for approximately 30 underrepresented undergraduate students based on financial need.
---
May 15, 2018
It was spring 1968. A group of students occupied the University of Washington administration building calling for change: justice, diversity, agency for Blacks on campus.
---
September 27, 2016
Like post-secondary schools across the country, the University of Washington has struggled to attract and retain a talented, diverse faculty. But efforts that have been quietly underway for a few years are starting to pay off, attracting top-level candidates to the UW even over schools that are able to offer bigger salaries and more perks….
---
February 26, 2015
Colleen Fukui-Sketchley, diversity affairs director for Nordstrom, has been named the 2015 recipient of the University of Washington Charles E. Odegaard Award. Established in 1973, the Odegaard award honors individuals whose leadership in the community exemplifies the former UW president's work on behalf of diversity. It is the only university- and community-selected award, and is…
---
April 16, 2014
In her lecture "Are We There Yet? The Four Directions in Native American Higher Education," Metoyer will talk about the historic development of Native Americans in higher education.
---
March 3, 2014
Denny Hurtado, former chair of the Skokomish Tribe and retired director of Indian Education for the Washington State Office of the Superintendent of Public Instruction, is the 2014 recipient of the University of Washington Charles E. Odegaard Award.
---
October 21, 2013
A public, groundbreaking ceremony for the University of Washington Native American longhouse-style facility, Wǝɫǝbʔaltxʷ (Intellectual House), will take place Friday, Oct. 25, 3-5:30 p.m.
---
April 2, 2013
Amanda Lock Swarr, a UW associate professor in gender, women and sexuality studies, will deliver the Office of Minority Affairs and Diversity's ninth annual Samuel E. Kelly Distinguished Faculty Lecture on Thurs., April 18.
---
February 5, 2013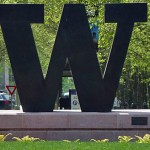 Rogelio Riojas, president and chief executive officer for Sea Mar Community Health Centers, is the 2013 recipient of the Charles E. Odegaard Award.
---