UW News
Institute for Stem Cell and Regenerative Medicine
---
November 26, 2019
The American Association for the Advancement of Science has named six faculty members from the University of Washington as AAAS Fellows, according to a Nov. 26 announcement. They are part of a cohort of 443 new fellows for 2019, all chosen by their peers for "scientifically or socially distinguished efforts to advance science or its applications."
---
May 20, 2019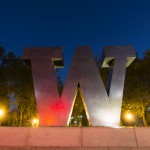 In a paper published May 20 in the journal Nature Materials, a team of researchers from the University of Washington unveiled a new strategy to keep proteins intact and functional in synthetic biomaterials for tissue engineering. Their approach modifies proteins at a specific point so that they can be chemically tethered to the scaffold using light. Since the tether can also be cut by laser light, this method can create evolving patterns of signal proteins throughout a biomaterial scaffold to grow tissues made up of different types of cells.
---
January 16, 2018
Drug treatments can save lives, but sometimes they also carry unintended costs. After all, the same therapeutics that target pathogens and tumors can also harm healthy cells. To reduce this collateral damage, scientists have long sought specificity in drug delivery systems: A package that can encase a therapeutic and will not disgorge its toxic cargo…
---
August 1, 2013
A trace substance in caramelized sugar, when purified and given in appropriate doses, improves muscle regeneration in insect and animal models of Duchenne muscular dystrophy.
---