UW News
Eric Agol
---
February 5, 2018
A team of astronomers including Eric Agol of the University of Washington has found that the seven Earth-sized planets orbiting the star TRAPPIST-1 are all made mostly of rock, and some could even have more water — which can give life a chance — than Earth itself. The research was led by Simon Grimm of…
---
May 22, 2017
A University of Washington-led international team of astronomers has used data gathered by the Kepler Space Telescope to observe and confirm details of the outermost of seven exoplanets orbiting the star TRAPPIST-1.
---
February 22, 2017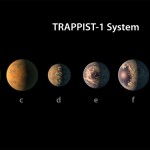 UW astronomy professor Eric Agol is part of the large team of researchers that has just announced confirmation of several Earth-sized, potentially habitable planets orbiting a star about 40 light-years away.
---
April 21, 2014
What looked at first like a sort of upside-down planet has instead revealed a new method for studying binary star systems, discovered by a UW student astronomer.
---
March 3, 2014
UW astronomer Eric Agol played a key role in the windfall of 715 new exoplanets recently announced by NASA. Agol was on a team that found seven of those worlds, all in orbit around the same star.
---