UW News
Department of Urban Design and Planning
---
May 21, 2020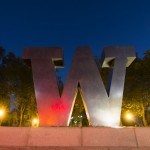 Three professors are teaming for a study of the mobility impacts of the coronavirus — and they are inviting UW faculty, staff and students to complete a short online survey to assist the research.
---
January 4, 2018
Jeff Hou, UW professor of landscape architecture, discusses the new book he co-edited with Sabine Knierbein, "City Unsilenced: Urban Resistance and Public Space in the Age of Shrinking Democracy."
---
January 3, 2017
A new multi-institution study led by the UW shows more clearly than ever that urbanization is affecting the genetic makeup of species that are crucial to ecosystem health and success.
---
August 9, 2016
What does it mean for a city to "think like a planet"? Marina Alberti of the UW College of Built Environments discusses her new book, "Cities that Think Like Planets," published by UW Press.
---
June 4, 2013
The UW will become the global capital of bicycling when scores of scholars, policymakers, analysts and activists come to campus for the Bicycle Urbanism Symposium, June 19-22.
---