UW News
Department of Epidemiology
---
January 9, 2020
While waiting for free firearm storage devices at gun safety events held in sporting goods stores across Washington, nearly 3,000 people filled out a one-page survey asking how they stored guns at home and other household information. What the participants reported emphasizes the need for these public events, Seattle Children's and University of Washington researchers…
---
November 6, 2019
Signaling a potential major change in cervical cancer screening options for American women, a new study found that mailed self-sampling kits that test for HPV — the virus that can cause cervical cancer — helped significantly more women get screened for the cancer. The study involving nearly 20,000 women was conducted by researchers from the…
---
October 14, 2019
While gun violence in America kills more than 35,000 people a year and as calls for policies to stem the crisis grow, University of Washington researchers point out in a new analysis that barriers to data stand in the way of advancing solutions. "Firearm data availability, accessibility and infrastructure need to be substantially improved to…
---
July 30, 2019
Moving to a new residence during the first three months of pregnancy is linked to a heightened risk of premature birth and low birthweight, as well as a slightly higher risk of a smaller-than-expected-size baby, according to new research from the University of Washington published online today in the Journal of Epidemiology & Community Health.
---
July 29, 2019
More than 4 million reports of child maltreatment involving about 7.5 million children were made in 2017 to Child Protective Services. While much work has been done to reduce these high rates of child abuse and neglect in the United States, few programs have been consistently effective.
---
July 9, 2019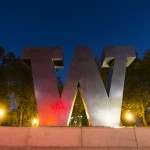 Six University of Washington professors are to receive a Presidential Early Career Award for Scientists and Engineers, according to an announcement July 2 from the White House. The award, also known as the PECASE, is the highest honor given by the U.S. government to early-career scientists and engineers "who show exceptional promise for leadership in science and technology."
---
October 30, 2018
First-of-its kind research, led by the University of Washington, Northeastern University and Harvard University, delves into public perceptions of gun violence and the leading causes of death in the U.S.
---
November 2, 2017
There is little debate over the link between air pollution and the human respiratory system: Research shows that dirty air can impair breathing and aggravate various lung diseases. Other potential effects are being investigated, too, as scientists examine connections between toxic air and obesity, diabetes and dementia. Now add to that list psychological distress,…
---
July 9, 2013
Low vitamin D levels are linked to higher risk of heart disease in whites and Chinese, but not in blacks or Hispanics. The findings underscore the importance of designing medical research that includes a diverse ethnic and racial makeup of participants.
---