UW News
Department of Earth and Space Sciences
---
November 3, 2020
During this time of uncertainty and isolation, find solace in digital opportunities to connect, share, and engage. Each week, we will share upcoming events that bring the UW, and the greater community, together online.  Many of these online opportunities are streamed through Zoom. All UW faculty, staff, and students have access to Zoom Pro via UW-IT.  Lessons…
---
October 29, 2020
A preview of the Nov. 6 SPARC Symposium, which will feature a conversation with Andy Weir, author of "The Martian."
---
September 30, 2020
A new study combines ice cores, geologic records and computer models to understand the past, present and future of the Greenland Ice Sheet. The results show that emissions this century have a big influence on how much ice will be lost from Greenland.
---
September 16, 2020
Researchers at the University of Washington, Portland State University and the University of Oregon have shown that deep-seated landslides in the central Oregon Coast Range are triggered mostly by rainfall, not by large offshore earthquakes. The open-access paper was published Sept. 16 in Science Advances. "Geomorphologists have long understood the importance of rainfall in triggering…
---
July 16, 2020
Seven scientists and engineers at the University of Washington have been elected to the Washington State Academy of Sciences, according to an announcement July 15 by the academy.
---
June 9, 2020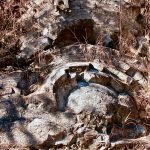 Evidence from rocks billions of years old suggest that volcanoes played a key role in the rise of oxygen in the atmosphere of the early Earth.
---
May 12, 2020
The Pacific Northwest Seismic Network, based at the University of Washington, will host an online event on the 40th anniversary of the eruption of Mount St. Helens, featuring seismologists from the UW and other institutions who can explain the events before, during and after the historic blast. The virtual event will take place from 6:30…
---
May 6, 2020
Recent honors to University of Washington faculty and staff have come from the Association of Asian Studies, the American Society of Public Administration, the Swedish Society for Anthropology and Geography and Cascade Public Media.
---
April 30, 2020
Loss of ice from Antarctic and Greenland ice sheets since 2003 have contributed 0.55 inches to global sea level rise, with about two thirds coming from Greenland ice. The new, detailed satellite measurements provide a global picture of ice sheet change — and insights into the future of Greenland and Antarctica.
---
April 23, 2020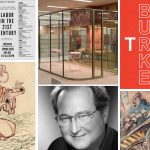 During this time of uncertainty and isolation, find solace in digital opportunities to connect, share, and engage. Each week, we will share upcoming events that bring the UW, and greater community, together online.  Many of these online opportunities are streamed through Zoom. All UW faculty, staff, and students have access to Zoom Pro via UW-IT.  Film Screening:…
---
April 16, 2020
When the UW announced it was moving its spring quarter 2020 classes entirely online to combat the novel coronavirus, instructors across campus faced a new, uncharted challenge.
---
April 1, 2020
UW Notebook visits with the producer of "Crossing North," a podcast by the Scandinavian Studies Department, and notes other podcasts on campus and an appearance by David Montgomery on the podcast "Undark."
---
March 10, 2020
A documentary series produced and released this winter by YouTube features UW computer scientist Pedro Domingos and members of the UW-based Pacific Northwest Seismic Network.
---
February 13, 2020
At a Saturday afternoon session, researchers from the University of Washington and federal agencies will discuss the emerging research on Pacific Northwest megaquakes.
---
January 24, 2020
Tiny meteorites that fell to Earth 2.7 billion years ago suggest that the atmosphere at that time was high in carbon dioxide, which agrees with current understanding of how our planet's atmospheric gases changed over time.
---
January 9, 2020
In 2019, the University of Washington was mentioned in 4,143 news articles around the world. Among those, UW experts were quoted 2,290 times: 1,185 in national or international outlets and 1,105 in regional and local outlets.
---
December 30, 2019
Life as we know it requires phosphorus, which is scarce. So, how did a lifeless environment on the early Earth supply this key ingredient? A new UW study, published Dec. 30 in the Proceedings of the National Academy of Sciences, finds an answer to this problem in certain types of carbonate-rich lakes.
---
December 12, 2019
An Antarctic field campaign last winter led by the U.S. and Australia has successfully extracted some of the largest samples of air dating from the 1870s until today. Researchers will use the samples to look for changes in the molecules that scrub the atmosphere of methane and other gases.
---
November 26, 2019
The American Association for the Advancement of Science has named six faculty members from the University of Washington as AAAS Fellows, according to a Nov. 26 announcement. They are part of a cohort of 443 new fellows for 2019, all chosen by their peers for "scientifically or socially distinguished efforts to advance science or its applications."
---
October 31, 2019
After years of preparation, a tiny satellite built by UW students is scheduled to launch early Saturday, Nov. 2, from a NASA flight facility in Virginia. The launch will be broadcast live on NASA TV.
---
September 9, 2019
A study of superbolts, which release a thousand times more electrical energy in the low-frequency range than regular lightning bolts, finds they occur at very different times and places than regular lightning. Superbolts tend to strike over particular parts of the oceans, while regular lightning strikes over land.
---
August 19, 2019
The U.S. Geological Survey announced $10.4 million in funding to the Pacific Northwest Seismic Network, based at University of Washington, to support the ShakeAlert earthquake early warning system. Some $7.3 million of the two-year funding total will go to the UW.
---
August 12, 2019
A new study by U.S. and U.K. scientists finds that in addition to natural variations in winds that drive warmer water to the West Antarctic Ice Sheet, which last about a decade, there has been a longer-term change in the winds that can be linked with human activities.
---
July 30, 2019
A robotics challenge July 20th at the UW featured twenty-eight teams of middle and high schoolers from Forks to Walla Walla and from Bellingham to Olympia. The event marked a half-century since the Apollo 11 mission landed on the moon and two U.S. astronauts, Neil Armstrong and Buzz Aldrin, walked its surface.
---
A robotics challenge July 20th at the UW featured twenty-eight teams of middle and high schoolers from Forks to Walla Walla and from Bellingham to Olympia. The event marked a half-century since the Apollo 11 mission landed on the moon and two U.S. astronauts, Neil Armstrong and Buzz Aldrin, walked its surface.
---
July 17, 2019
This Friday, teams of 5th- through 12th-grade students from across Washington state will complete a challenge in Kane Hall to mimic the 1969 Apollo moon landing, using drones and Lego robots.
---
May 30, 2019
A series of seismic experiments will take place this summer in the Seattle area. The researchers are looking for volunteer sites throughout the region.
---
April 15, 2019
Over many years, a University of Washington team has shown how logging on the Teanaway River in central Washington caused dramatic changes to the river channel.
---
March 29, 2019
A new excavation site in North Dakota shows evidence from the day a giant meteor struck Earth, marking the beginning of the end for the dinosaurs and 75 percent of animal life.
---
January 30, 2019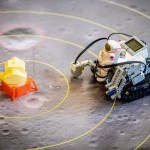 A UW-based group is launching a national student challenge to mark the 50th anniversary of the historic Apollo moon landing.
---
December 14, 2018
UW glaciologist Ben Smith shared a first look at the NASA ICESat-2 satellite's view of Greenland and Antarctic glaciers at the American Geophysical Union's annual meeting in Washington, D.C.
---
December 10, 2018
A new species of whale discovered in 33-million-year-old Oregon rock has been named for Elizabeth Nesbitt, a curator at the Burke Museum and faculty member in the UW's Department of Earth and Space Sciences.
---
October 25, 2018
Provost Mark Richards answers questions surrounding the topic of his welcome lecture, Tuesday afternoon in the HUB Lyceum.
---
October 4, 2018
Harold Tobin, who joins the UW this fall as a faculty member in Earth and space sciences and director of the regional seismic sensing network, discusses earthquake early warning, seismic risks and the Pacific Northwest's "big one."
---
September 10, 2018
Two UW polar scientists were among a dozen experts who advised NASA on its upcoming ICESat-2 mission to monitor the 3D surface of the Earth. The mission is scheduled to launch Sept. 15 from California.
---
September 6, 2018
Evidence left by a volcano under the ice sheet suggests that the observed bulging of ice in West Antarctica is a short-term feature that may not affect the glacier's motion over the long term.
---
May 23, 2018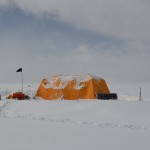 The oldest ice core so far provides 800,000 years of our planet's climate history. A UW field survey in Antarctica has pinpointed a location where an entire million years of undisturbed ice might be preserved intact.
---
May 8, 2018
UW glaciologist Knut Christianson is part of a massive collaboration that will collect on-the-ground data about a key Antarctic glacier that shows signs it could be collapsing into the sea.
---
April 3, 2018
Three University of Washington undergraduates are among 211 students nationwide named as 2018 Goldwater Scholars. One UW student received honorable mention.
---
April 2, 2018
Earth has had moderate temperatures throughout its early history, and neutral seawater acidity. This means other rocky planets could likely also maintain this equilibrium and allow life to evolve.
---
Next page