UW News
COVID-19
---
September 15, 2020
With most of the Northwest blanketed by wildfire smoke, public officials and health experts suggest staying inside as much as possible to reduce exposure to the significant health risks of wildfire smoke. However, inequity in our communities means not every home provides great protection and many workers in disadvantaged populations can't afford to stay home,…
---
September 4, 2020
Political science researchers at the University of Washington examined the factors associated with statewide mask mandates during the COVID-19 pandemic. When controlling for other factors, states with Republican governors delayed imposing broad indoor mask requirements by nearly a month.
---
September 3, 2020
A University of Washington-led team has developed a box that can decontaminate N95 respirator masks using ultraviolet light.
---
August 20, 2020
Atmospheric nitrogen dioxide, which comes from transportation, was half of what would be expected over China in February 2020. Other emissions and cloud properties, however, showed no significant changes.
---
August 14, 2020
A UW team has received a grant to develop a model that uses local data to generate policy recommendations that could help lower COVID-19 infections in King County.
---
July 31, 2020
Face coverings will continue to be an important and effective tool in combating the spread of COVID-19, public health experts say. 
---
University of Washington psychologists say there are ways to approach interactions with friends and loved ones that can provide a positive path forward and help maintain healthy relationships during the pandemic.
---
July 30, 2020
Face coverings will continue to be an important and effective tool in combating the spread of COVID-19.
---
University of Washington professor Adrian Raftery is lead author on a National Academies guide to help officials interpret and understand different COVID-19 statistics and data sources as they make decisions about opening and closing schools, businesses and community facilities.
---
July 29, 2020
The University of Washington has a long history of leading research into the impacts of wildfires from an ecological and health perspective. We worked with two experts to answer some of the most frequently asked questions about wildfires in the Pacific Northwest, including the ways that the pandemic is increasing our community's vulnerability to extreme wildfire events in the region.
---
July 2, 2020
Sara Griggs describes how the UW Office of Ceremonies moved its biggest event online for the unique circumstances of the quarantine restrictions during the COVID-19 pandemic.
---
June 30, 2020
The University of Washington and Public Health – Seattle & King County continue to respond to a cluster of cases among residents of Greek houses north of the Seattle campus, and their close contacts.
---
June 25, 2020
In a study published June 10 in Current Biology, a team from the University of Colorado Boulder and the University of Washington reports that a group of students at CU Boulder generally got more sleep after widespread stay-at-home orders and social distancing guidelines were put into place in mid-March.
---
Beginning June 26, face coverings will be required statewide in Washington. Hilary Godwin, dean of the UW School of Public Health, offers some practical information about using masks to slow the spread of COVID-19.
---
June 24, 2020
A new online survey for Washington state residents has launched to gather data on how the COVID-19 pandemic and subsequent economic downturn have affected food access and economic security. The Washington State Food Security Survey, which went live June 18 and runs through July 31, is open to all Washington state residents aged 18 or over.
---
June 23, 2020
When schools closed because of the coronavirus, Real Dawgs Read, a UW program that asks kids to read 30 minutes a day over 30 separate days, was there to fill the gap. During a special session between March 25 and June 5, it experienced its highest level of participation — with 3,240 readers taking part.
---
June 22, 2020
The UW School of Social Work's Project Connect supports 15 different research and outreach endeavors, all oriented specifically around community needs during COVID-19.
---
June 18, 2020
The University of Washington has issued a face covering policy for all university personnel, students, staff, contractors and visitors who are on campus amid the COVID-19 pandemic. As a reminder, only employees designated as critical can be working in-person and only at the direction of their supervisor.
---
June 17, 2020
Fitness, dance and mindfulness instructors are teaching virtual classes in light of COVID-19 closures, part of UW Recreation's effort to make its activities accessible while people are physically distancing during the pandemic.
---
Using air quality data from U.S. Environmental Protection Agency monitors across the U.S., a UW-led team looked for changes in two common pollutants over the course of 2020.
---
June 16, 2020
The COVID-19 Clearinghouse at UW Law is just one of the ways that faculty and staff across the university have revamped summer research internships and worked with outside partners and employers to involve students in a remote working environment, even for jobs that would normally be out in the field.
---
June 9, 2020
Thousands of doctors, nurses, health care workers and public health experts from the University of Washington and other medical institutions turned out in downtown Seattle on June 6 to demand an end to systemic racism and calling for police reform.
---
June 4, 2020
Mary Lidstrom, vice provost for research at the University of Washington, talks about the evolving picture of research at the UW in light of the COVID-19 pandemic.
---
May 29, 2020
As businesses and public spaces reopen across the nation, the old-school public health detective work known as contact tracing is becoming a major component of the battle to contain the novel coronavirus that causes the deadly COVID-19 disease. It's an investigative strategy long used for finding and informing people exposed to contagious diseases, such as…
---
May 27, 2020
Meat processing plants face challenges in keeping workers safe during the pandemic. Carrie Freshour, a UW assistant professor of geography, and Marissa Baker, an assistant professor in the UW Department of Environmental and Occupational Health Sciences and an expert on worker safety related to infectious diseases, provides comments on what the industry can do to protect workers.
---
May 22, 2020
The dean of the UW School of Public Health shares information about using face coverings, including what kinds of masks are appropriate to wear and how they protect people.
---
A UW sleep expert sat down with UW News to provide some perspective on sleep during the pandemic, and what we can do to help ourselves and our families get through this time a little more well-rested.
---
May 21, 2020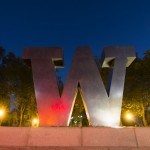 Three professors are teaming for a study of the mobility impacts of the coronavirus — and they are inviting UW faculty, staff and students to complete a short online survey to assist the research.
---
May 18, 2020
Beginning May 18, King County is directing people to wear face coverings in most public settings. Expert Hilary Godwin answers questions about the directive and shares information about using face coverings.
---
COVID-19 is a lot more deadly than the flu, according to a new study by the University of Washington published May 7 in the journal Health Affairs. The study's results also project a grim future if the U.S. doesn't put up a strong fight against the spread of the virus.
---
May 15, 2020
One of the essential roles that is often not seen is the work of our campus photographers. They continue to capture the visual stories and people on campus in a time when many of us aren't there to see them ourselves. UW News asked one of our campus photographers to share some of his favorite photos he's taken this spring, and to describe what it's like working on campus now.
---
May 11, 2020
In a letter to the White House Coronavirus Task Force, U.S. Senator Maria Cantwell (D-Wash.) drew upon the testimony by Hilary Godwin, dean of the University of Washington School of Public Health, in calling for federal guidelines be established for the aviation industry and the traveling public. 
---
The UW's large research vessel, the RV Thomas G. Thompson, returned May 8 to its home port after more than two years exploring the world's oceans. A scheduled cruise in Tahiti has been postponed due to the COVID-19 pandemic, so the return is roughly two months earlier than planned.
---
May 7, 2020
What does it feel like to be a mother on this Mother's Day? And how can we make the day seem special when life feels so uncertain and stressful? University of Washington psychology professor Liliana Lengua offers some perspective.
---
May 6, 2020
As the push to relax social and economic restrictions for combating the pandemic gain traction, we need to understand personal motives behind what many experts consider a dangerous rush to "reopen" and how to protect workers most at risk when communities do "go back to work." Three UW experts weigh in.
---
A new international study led by the University of Washington aims to gauge the perception of ethical situations as the COVID-19 pandemic evolves around the world.
---
April 28, 2020
During the COVID-19 pandemic, the University of Washington community – students, staff, donors and alumni – is rethinking traditional programs and services to try to meet the needs that arise. Emergency aid grants and a newly-online food pantry are coming to the rescue.
---
April 27, 2020
A little after 10 p.m. on March 19, University of Washington graduate students Anne Massey and David Coomes happened to be online when they received an email that would give them an unexpected role in Washington's rapidly evolving response to the outbreak of a novel coronavirus. As context, the World Health Organization had just declared the…
---
April 23, 2020
A team of staff and students are sewing masks and offering them for free to UW housing, custodial, dining and food service workers.
---
April 22, 2020
Researchers from the University of Washington and UW Medicine, along with volunteers from Microsoft, have developed a new contact-tracing app called CovidSafe.
---
Next page