UW News
Carl Bergstrom
---
March 18, 2019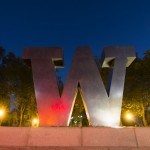 The UW Information School is taking a leading role in helping people better navigate this era of increasing online fakery and falsehood. On March 19, the school will welcome 200-some Seattle-area high school students for "MisInfo Day," a daylong workshop on how to navigate the misinformation landscape, from Jevin West and Carl Bergstrom, the faculty duo behind "Calling BS in the Age of Big Data."
---
March 4, 2019
A new website from the UW's Jevin West and Carl Bergstrom, the duo behind the popular "Calling BS" class, asks viewers to choose which of two realistic face photos is real and which is a complete fake.
---
January 2, 2019
In a paper published Jan. 2 in PLOS Biology, two scientists at the University of Washington and North Carolina State University use the economic theory of contests to illustrate how the competitive grant-application system has made the pursuit of research funding inefficient and unsustainable — and that alternative methods, such as a partial lottery to award grants, could relieve pressure on professors and free up time for research.
---
March 28, 2017
The very name of the class, when proposed, seemed to fire imaginations nationwide and beyond. Now with the beginning of spring quarter, the UW Information School's new course "Calling Bullshit in the Age of Big Data" is getting started.
---
February 6, 2017
It's almost unheard-of for a university class to spark global press attention — and offers of book deals — before instruction even begins. But such is the case with the UW Information School's new course, "Calling Bullshit in the Age of Big Data."
---
December 20, 2016
In an article published Dec. 20 in the journal eLife, researchers present a mathematical model that explores whether "publication bias" — the tendency of journals to publish mostly positive experimental results — influences how scientists canonize facts. Their results offer a warning that sharing positive results comes with the risk that a false claim could be canonized as fact. But their findings also offer hope by suggesting that simple changes to publication practices can minimize the risk of false canonization.
---
October 3, 2014
Using evolutionary biology is one way to try to outwit evolution where it is happening too quickly and to perhaps find accommodations when evolution occurs too slowly.
---