UW News
---
October 8, 2020
UW researchers have created a sensor system that can ride aboard a small drone or an insect, such as a moth, until it gets to its destination.
---
September 30, 2020
UW researchers developed a project that scans the streets every few weeks to document how Seattle has reacted to the pandemic and what recovery looks like.
---
September 28, 2020
A study by UW researchers found that both mainstream and misinformation news sites displayed similar levels of problematic ads. UW News had a conversation with the team about this research, where ads on news sites come from, and how things might change leading up to the election.
---
August 14, 2020
A UW team has received a grant to develop a model that uses local data to generate policy recommendations that could help lower COVID-19 infections in King County.
---
July 15, 2020
Researchers at the University of Washington have developed a tiny wireless steerable camera that can ride aboard an insect or an insect-sized robot.
---
June 17, 2020
Using air quality data from U.S. Environmental Protection Agency monitors across the U.S., a UW-led team looked for changes in two common pollutants over the course of 2020.
---
April 22, 2020
Researchers from the University of Washington and UW Medicine, along with volunteers from Microsoft, have developed a new contact-tracing app called CovidSafe.
---
April 16, 2020
When the UW announced it was moving its spring quarter 2020 classes entirely online to combat the novel coronavirus, instructors across campus faced a new, uncharted challenge.
---
April 14, 2020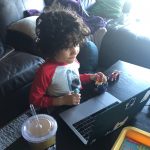 UW researchers are beginning a national study to help families discover technology that helps them both successfully navigate home-based learning and combat social isolation.
---
April 13, 2020
When the first U.S. COVID-19 patient emerged in Washington, UW Medicine, as the state's foremost provider of advanced medical care, was thrust into the role of trailblazer. Its clinicians and researchers have since mustered a speedy and sometimes ingenious response.
---
After surveying smartphone users, UW researchers found that many people misunderstand online status indicators but still carefully shape their behavior to control how they are displayed to others.
---
March 31, 2020
UW researchers are developing an app that will allow health organizations to monitor coughs from self-quarantined COVID-19 patients from home.
---
March 18, 2020
UW researchers watched 25 participants scroll through their Facebook or Twitter feeds while, unbeknownst to them, a Google Chrome extension randomly added debunked content on top of some of the real posts.
---
March 17, 2020
UW researchers are inviting the public to share their experiences on their regular commutes in a survey.
---
March 2, 2020
UW researchers interviewed 22 athletes and staff members from three college athletics programs to see how collecting data from college athletes might encroach on their autonomy.
---
February 18, 2020
UW researchers have developed a mathematical model that describes how rotating detonation engines work.
---
February 13, 2020
Using 30 years of satellite data, UW researchers discovered that within one year of the opening of a major dam in the Mekong River basin, downstream river temperatures during the dry season dropped by up to 3.6 degrees F (2 degrees C).
---
February 3, 2020
UW researchers have created AuraRing, a ring and wristband combination that can detect the precise location of someone's index finger and continuously track hand movements.
---
January 22, 2020
Using a new "non-targeted" approach, UW and UW Tacoma researchers screened samples from multiple regions of Puget Sound to look for potentially harmful compounds that might be present.
---
December 4, 2019
UW researchers have found that warmer temperatures, at levels expected under most climate change projections, can lead to higher concentrations of arsenic in rice grains.
---
December 2, 2019
UW researchers have created Carpentry Compiler, a digital tool that allows users to design woodworking projects. Once a project is designed, the tool creates optimized fabrication instructions based on the materials and equipment a user has available.
---
November 20, 2019
UW researchers have found that air pollution from electricity generation emissions in 2014 led to about 16,000 premature deaths in the continental U.S. In many states, the majority of the health impacts came from emissions originating in other states.
---
November 4, 2019
UW researchers aimed to understand both the prevalence of discrimination events and how these events affect college students in their daily lives. Over the course of two academic quarters, the team compared students' self-reports of unfair treatment to passively tracked changes in daily activities, such as hours slept, steps taken or time spent on the phone.
---
October 29, 2019
UW researchers have found that the third-party genealogy site GEDmatch is vulnerable to multiple kinds of security risks.
---
October 15, 2019
UW researchers have developed a new smart speaker skill that lets a device use white noise to both soothe sleeping babies and monitor their breathing and movement.
---
October 7, 2019
University of Washington transportation researchers looked into why the docked bike-share program Pronto failed while dockless bike sharing has been so successful.
---
September 16, 2019
Are you willing to ride in a driverless car? Researchers at the University of Washington studied how Americans' perceived cost of commute time changes depending on who's driving.
---
August 20, 2019
UW security researchers have created ShareAR, a toolkit that lets developers build collaborative and interactive features into AR apps without sacrificing their users' privacy and security.
---
August 19, 2019
Researchers at the UW have used machine learning to develop a new system that can monitor factory and warehouse workers and tell them how ergonomic their jobs are in real time.
---
July 29, 2019
In a pilot study led by the UW, researchers explored art-based mindfulness activities that schools could use to reduce headaches, a common side effect of stress in adolescent girls. After three weeks of twice-weekly mindfulness and art therapy sessions, eight teenage girls reported experiencing significantly fewer headaches.
---
July 1, 2019
UW researchers created a method for two people help a third person solve a task using only their minds.
---
June 19, 2019
UW researchers have developed a new tool to monitor people for cardiac arrest while they're asleep — all without touching them. The tool is essentially an app for a smart speaker or a smartphone that allows it to detect the signature sounds of cardiac arrest and call for help.
---
June 11, 2019
UW researchers have figured out how to take a person from a 2D photo or a work of art and make them run, walk or jump out of the frame. The system also allows users to view the animation in three dimensions using augmented reality tools.
---
May 24, 2019
University of Washington researchers used the paper folding art of origami to develop a novel solution to help reduce the forces associated with impact — like in car crashes, football helmets, landing spacecraft and more.
---
May 16, 2019
University of Washington researchers have defined for the first time what children mean when they say technology is "creepy."
---
May 15, 2019
Researchers at the UW have created a new smartphone app that can detect fluid behind the eardrum by simply using a piece of paper and the phone's microphone and speaker.
---
April 29, 2019
UW researchers conducted in-depth interviews to learn why we compulsively check our phones.
---
April 18, 2019
UW researchers have led the development of Project Sidewalk, an online crowdsourcing game that lets anyone with an internet connection use Google Street View to virtually explore neighborhoods and label curb ramps, missing or rough sidewalks, obstacles and more.
---
April 8, 2019
A UW team tested how well current water and wastewater disinfecting methods affect antibiotic resistance genes in bacterial DNA. While these methods work well to deter bacterial growth, they had varied success in either degrading or deactivating a representative antibiotic resistance gene.
---
March 13, 2019
UW researchers have created a novel system that can measure platelet function within two minutes and can help doctors determine which trauma patients might need a blood transfusion upon being admitted to a hospital.
---
Next page