UW News
---
May 21, 2019
Sometimes when science gets stuck, art can come to the rescue. Such is the case, a new study shows, with the UW Design Help Desk, which guides faculty, students and staff in improving the more artistic aspects of presenting research or reports — figures, diagrams, posters and such.
---
May 1, 2019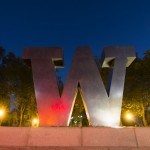 Americans appear more willing to support a pathway to citizenship for undocumented immigrants if that path includes serving in the United States military, according to new research from UW political scientists Sophia Jordán Wallace and Geoffrey Wallace.
---
April 19, 2019
A new space race is underway, characterized by the intersecting trends of democratization, commercialization and militarization. Saadia Pekkanen, UW professor of international relations, is lead guest editor for a group of essays addressing such issues and more published online this month in the American Journal of International Law.
---
April 11, 2019
Joe Janes of the UW Information School presents a timely installment of his Documents that Changed the World podcast series, about the most infamous tax form of all — IRS Form 1040.
---
Emily Levesque, UW assistant professor of astronomy, is gathering material for a new book to be called "The Last Stargazers: True Tales of the Colorful and Vanishing World of Observational Astronomy."
---
March 18, 2019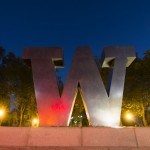 The UW Information School is taking a leading role in helping people better navigate this era of increasing online fakery and falsehood. On March 19, the school will welcome 200-some Seattle-area high school students for "MisInfo Day," a daylong workshop on how to navigate the misinformation landscape, from Jevin West and Carl Bergstrom, the faculty duo behind "Calling BS in the Age of Big Data."
---
March 14, 2019
Devin Naar, UW professor of international studies and history, is featured in "Children of the Inquisition," a new documentary film about descendants of the Spanish and Portuguese inquisitions discovering their Sephardic Jewish heritage. The film will premiere March 24 as part of the Seattle Jewish Film Festival.
---
March 4, 2019
A new website from the UW's Jevin West and Carl Bergstrom, the duo behind the popular "Calling BS" class, asks viewers to choose which of two realistic face photos is real and which is a complete fake.
---
February 19, 2019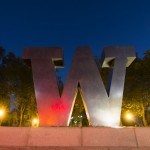 What geopolitical challenges is global climate change creating for the national security of the United States and throughout the world? The UW's Jackson School of International Studies will host a public panel discussion of these issues on March 6, featuring Washington Gov. Jay Inslee.
---
February 6, 2019
Last year, local station KIRO-TV donated thousands of hours of old news videotapes of its news broadcasts from the 1970s through about the year 2000 — about 15,000 videotapes in all — to UW Libraries.
---
January 28, 2019
The Stroum Center for Jewish Studies, in the UW Jackson School of International Studies, was well represented at the 50th annual conference of the Association for Jewish Studies Dec. 16-18 in Boston.
---
January 22, 2019
Recent notable books by University of Washington faculty members explore the importance of Hebrew to modern America, remember the 1919 Seattle General Strike and look at issues in education, among other topics. Practical advice for healthy travel, near or far A new book by Dr. Christopher Sanford offers simple, practical recommendations for those traveling…
---
January 14, 2019
The Labor Archives of Washington, housed in UW Libraries, will celebrate the 100th anniversary of the 1919 Seattle General Strike with a series of events in coming weeks, as well as a new library exhibit on campus.
---
January 10, 2019
If Washington state were to establish a public bank, what type of bank might work best? One that can provide targeted products and services to local governments across the state, says a new report by UW researchers from the Evans School of Public Policy & Governance.
---
December 17, 2018
Suggested upgrades to technology, training and communication — and funding them appropriately — lie at the heart of recommendations to the state from UW Evans School researchers after a study of service at the Fauntleroy Ferry Terminal in West Seattle.
---
December 13, 2018
As the year comes to a close and festivities abound, some UW faculty creations can make great gifts for the thinking Dawg on your giving list.
---
December 3, 2018
Kate Simonen, architect, engineer and UW associate professor of architecture, discusses recent work by her and the Carbon Leadership Forum toward reducing embodied carbon in construction materials.
---
November 26, 2018
What is a "book" in the digital age — and what will it become? Amaranth Borsuk, assistant professor in the UW Bothell School of Interdisciplinary Studies, discusses the idea of "the book," from clay tablets and papyrus scrolls to the hyperlinked, multimedia format of the digital age. She has her own new book out on the topic, titled "The Book."
---
November 20, 2018
Not all stars are like the sun, so not all planetary systems can be studied with the same expectations. New research from a University of Washington-led team of astronomers gives updated climate models for the seven planets around the star TRAPPIST-1.
---
November 19, 2018
Here in what is called the Anthropocene era, humans and our urban environments appear to be driving accelerated evolutionary change in plants, animals, fungi, viruses and more — changes that could affect key ecosystem functions and thus human well-being. These interactions between evolution and ecology are called "eco-evolutionary feedback." The National Science Foundation has awarded…
---
November 13, 2018
Ralina Joseph, associate professor of communication, discusses here new book "Postracial Resistance: Black Women, Media, and the Uses of Strategic Ambiguity," published this October by New York University Press.
---
October 29, 2018
Recent notable books by UW faculty members study politics and culture in post-World War II Japan, explore regime change, nonprofit management, documents from the ancient world and more.
---
October 25, 2018
In her new book, Kathryn Rogers Merlino, UW associate professor of architecture, argues for the environmental benefit of reusing buildings rather than tearing them down and building anew.
---
October 16, 2018
Today, Britain is not known as a land of camps, but through much of the 20th century — from after World War I to the 1980s —  the country was home to dozens of refugee camps housing thousands of Belgians, Jews, Basques, Poles, Hungarians, Anglo-Egyptians, Ugandan Asians and Vietnamese. As University of Washington history professor…
---
October 8, 2018
A new book by University of Washington history professor George Behlmer seeks to improve understanding of the British colonial era by "reconsidering the conduct of islanders and the English-speaking strangers who encountered them."
---
September 24, 2018
David Shields, UW professor of English, discusses his latest book, "Nobody Hates Trump More than Trump: An Intervention."
---
September 18, 2018
Margaret O'Mara, UW professor of history, explores the impact of a December 1968 computer presentation that came to be called "the mother of all demos" in an essay and podcast from the news website The Conversation.
---
Patrick Dobel, professor emeritus of the UW Evans School of Public Policy & Governance, discusses his new book, "Public Leadership Ethics: A Management Approach."
---
September 10, 2018
Justin Marlowe, a professor in the UW's Evans School of Public Policy & Governance, has been named a member of Washington Governor Jay Inslee's Council of Economic Advisors. He will be among those advising the governor on local and state economic conditions and national developments that affect state policies.
---
August 13, 2018
Hans Scholl, professor in the UW Information School, discusses the challenges and opportunities of digital government. The website Apolitical has named him among the "Top 100 Most Influential People in digital government."
---
August 7, 2018
Hilary Wething, a doctoral student in the University of Washington's Evans School of Public Policy & Governance, has received a grant to study the effects of Seattle's law requiring paid sick leave.
---
August 2, 2018
Recent notable books by University of Washington authors tell of the struggle to break free of racism in higher education, taking an "urban diary" approach to documenting city life and more.
---
July 9, 2018
Earth's oxygen levels rose and fell more than once hundreds of millions of years before the planetwide success of the Great Oxidation Event about 2.4 billion years ago, new research from the University of Washington shows.
---
June 27, 2018
UW Libraries Special Collections has a new exhibit called "Captured in Ink: Historical Cartoons and Caricatures." The exhibit features the editorial cartoons of Howard Fisher, who worked and drew for decades for the Oregon Journal, a Portland newspaper that folded in 1982. Many other historical caricatures are included as well in the display, which stays up until October 19.
---
June 25, 2018
Researchers with the UW-led Virtual Planetary Laboratory are central to a group of papers published by NASA researchers today in the journal Astrobiology outlining the history — and suggesting the future — of the search for life on exoplanets, or those orbiting stars other than the sun.
---
June 18, 2018
The Washington State Legislature has commissioned faculty members with the University of Washington's Evans School of Public Policy & Governance to study ticketing and loading procedures at the West Seattle ferry dock and suggest ways to improve terminal operations. Evans School professor Alison Cullen and associate professor Stephen Page will lead the study, which begins…
---
June 1, 2018
Art and design can amaze, inform, entertain, challenge or even gently baffle the viewer — and the annual thesis exhibition for Master of Fine Arts and Master of Design at the Henry Art Gallery reliably offers a little of each.
---
May 24, 2018
What makes a good artificial reef, for divers, and for marine life? University of Washington landscape architecture students have done designs for a state-funded project to replace the artificial reef at the Redondo Beach dive site. They will present and discuss their work in a public meeting May 30, in Des Moines. The landscape architecture…
---
May 14, 2018
Aspects of an otherwise Earthlike planet's tilt and orbital dynamics can severely affect its potential habitability — even triggering abrupt "snowball states" where oceans freeze and surface life is impossible, according to new research from UW astronomers.
---
It's a challenge to write a biography of a man who was functionally illiterate and whose papers were mostly destroyed, but UW lecturer Taso Lagos has achieved it with his new book, "American Zeus: The Life of Alexander Pantages, Theater Mogul."
---
Next page